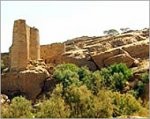 Alomotamar.net(BREAKING NEWS)-
- Head of Abu Dhabi Development Fund Ahmed Baqer said the technical study on the projects of Hassan and Surded dams has completed.
in a meeting with the Yemeni Ambassador to Abu Dhabai held Monday, Baqer stated the Fund allocated USD 150 million to the Hassan and Surded projects.
The two sides also discussed the process of completing Marib Dam's canals, and ways of enhancing the relations between Yemen and United Arab Emirates.