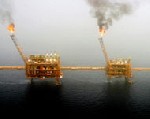 (Reuters)-
-
Opec is considering holding an emergency meeting to discuss the possibility of cutting output, Nigeria's oil minister has said.
"We are toying with the idea of an emergency meeting," Edmund Daukoru, who also serves as president of the Organization of Petroleum Exporting Countries, said on Thursday.
Other opec officials said on Thursday that "the direction and spirit are there" for the organisation, which pumps more than a third of the world's oil, to cut production as the US economy slows and rival producers bring new supplies to market.
Any reduction would aim to stem a price slide that has brought prices to just under $60 a barrel - 25% lower than prices were in mid-July, Opec trackers say.
The Financial Times newspaper reported on Thursday that Opec was poised to cut at least one million barrels, or four percent of daily production.
The 11-member organisation is due to meet in Nigeria on December 14 but some states, including Saudi Arabia, the world's biggest exporter, are already trimming supplies, shipping sources and customers have said.
Last week Nigeria, Opec's sixth biggest producer and Venezuela, the fourth biggest, announced token output cuts, totalling 170,000 barrels per day or less than one percent of Opec's output.
But since then oil prices have fallen further on rising US stockpiles, drawing the first reaction from Opec's core Gulf producers.
Gulf concerns
Sheikh Ali al-Jarrah al-Sabah, the Kuwaiti oil minister, raised the chance of broader action on Wednesday, saying that his country might also cut back if prices continued to fall sharply.
The Opec delegate said that while Saudi Arabia had not commented on the market so far, the fact that it raised the price of its heavier crude to Europe on Wednesday indicated the kingdom may be cutting supply.
Iran and Libya also support a cutback while the UAE is also likely to do so, the Financial Times newspaper reported on Thursday, quoting Opec insiders.
US oil prices have trebled in the space of four years, but are currently far below their mid-July peak of $78.40.
Andrew Harrington, a resource analyst at ANZ Bank, said: "Obviously, Opec has seen that the world economy can keep going at $65 to $75, so they don't see any reason why prices should fall too much further."
Conflicting signals
On Wednesday, Saudi Arabia's ambassador to the US reiterated the kingdom's long-standing view that there was an abundance of crude oil.
The price for Opec's own basket of crudes fell to $54.19 a barrel on Wednesday.
Opec members have sent conflicting signals on price.
Iran's oil minister said last month he wanted to see Opec oil at or above $60, equating to around $65 for US oil.
At the other extreme, Kuwait's oil minister said on Wednesday he would be worried by US oil at $50, putting the Opec basket at about $45.