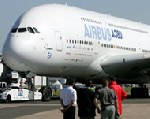 (Reuters)-
- The new head of Airbus, the European plane maker, has said that re-structuring the organisation will cause "painful" job losses among its 55,000 staff during the next few months.
"It will be painful, yes, because there will be job cuts " Louis Gallois, the new head of the Airbus, said on Tuesday.
Gallois hinted that there would be job losses both France and Germany.
"We cannot ask everything from one country and nothing of the other," he said.
Gallois became head of Airbus on Monday when Christian Streiff resigned after just 100 days in the post.
Gallois said he would also remain in his existing role as co-chief executive at Airbus's parent EADS in order to help simplify the firm's structure.
"There will no longer be potential conflicts between the co-president [chief executive] of EADS and the head of Airbus. That allows a simpler and more unified command structure," he told Europe 1 radio in an interview in Paris on Tuesday.
Technical problems
Airbus has faced increasing financial and technical difficulties over the last few years.
The company's A380 superjumbo, a double-decked plane for more than 550 passengers, has now been delayed by two years following production problems due to the complicated wiring runs.
Gallois said the company's structure, and parallel assembly plants in Toulouse, France, and in Hamburg, Germany, were the cause of many of the problems.
"If we have a problem with the wiring, it is because Airbus is not yet a fully-integrated company and now we have to meld it together," he said, "We have no longer a choice."
Airbus began as a Franco-German consortium in 1970 that was soon joined by Spain and later by Britain.
In 2001 it was converted into a single company, which is about to become 100 per cent owned by EADS after the sale by Britain's BAE Systems of its 20 per cent stakes to Airbus' parent company.
There have been media reports recently that Airbus could concentrate the A380 production in Toulouse and the new A350 in Hamburg, but Gallois declined to comment.