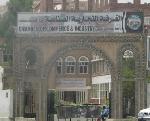 Almotamar Net
- A number of Yemeni businessmen and investors will partake in the Islamic Trade Exhibition that will take place in Kuwait during the period of 10-13 December.
The trade bulletin issued by the chamber of commerce and industry stated that the Yemeni trade delegation would meet with some of the participating delegations to create an economic partnership in the investment and development fields and to make good use of the participants' expertise.
In addition, the delegation will highlight Yemeni achievements in this field and the facilities available for investments in Yemen, particularly in the Free Zone of Aden.