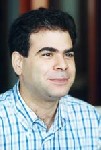 Times Online and agencies
- Pierre Gemayel, the Lebanese Industry Minister and a prominent anti-Syrian Christian politician, has been assassinated in a Beirut suburb, security sources confirmed this afternoon.
Witnesses said that the minister, 34, was shot while in a car in Jdeideh, his constituency on the northern edge of Beirut.
Gunmen are said to have opened fire as his convoy drove through the Christian Sin el-Fil neighbourhood. He was taken to hospital, but died after being critically wounded in the attack.
Once his death was confirmed Lebanese television channels interrupted their broadcasts and played classical music. He is the first anti-Syrian politician to be killed since Gebran Tueni, who was assassinated in a car bomb blast on December 12 last year.
The shooting could intensify the crisis in Lebanese politics, which has seen six Cabinet ministers resign in the last week in an attempt to bring down the government.
Gemayel was a member of the Phalange party and supporter of the anti-Syrian parliamentary majority, which is in the midst of a power struggle, with Hezbollah threatening to topple the government if it does not get a bigger say in Cabinet decision making.
Saad Hariri, the head of the anti-Syrian majority in parliament and son of Rafiq Hariri, the former prime minister, interrupted a press conference to accuse the Syrian regime of "trying to kill every free person" in Lebanon
"The cycle (of killings) has resumed," he said, in reference to a number of assassinations of government ministers in the past two years, including the killing of his own father.
Fouad Siniora, Lebanonís Prime Minister, said today that his depleted cabinet was legitimate despite the resignations, warning that any anti-government protests could turn violent.
Margarett Beckett, the British Foreign Secretary, has condemned the assassination.