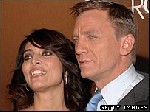 BBC-
- Bond film Casino Royale has stormed to the top of the UK box office, taking £13.37m in its debut weekend.
Daniel Craig's 007 ended the two-week run in the top spot for spoof-Kazak
journalist Borat, who dropped to number two, according to early figures.
Casino Royale has also been illegally downloaded 200,000 times, according to internet monitoring company Envisional.
Two pirated versions were available for free access on public file-sharing networks over the weekend, it said.
'Conspiracy'
It is believed that one was recorded by camcorder in Russia, while the other is thought to have come from Italy.
The announcement follows reports that pirated DVDs of Casino Royale were on sale in London and Scotland last week
Envisional claims the film - which opened in the UK on Thursday and the US on Friday - was available to download by Saturday morning.
"In the face of this international conspiracy Bond is really up against it," said Dr David Price, head of piracy intelligence at the Cambridge-based company.
Last week, distributor Columbia Pictures said Casino Royale had taken £1.7m on its first day of release in the UK - a new record for a Bond film.
Including previews, Bond's opening weekend box office in the UK and Ireland was about double that of Borat's but still around £5m short of record-setters like Harry Potter.
In the US, Casino Royale was narrowly outperformed by the animated comedy Happy Feet, which is yet to open in the UK