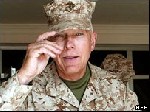 BBC-
- The new commandant of the US marines says the force may need to increase in size to meet its commitments in Afghanistan and Iraq.
Gen James Conway said the size of the increase would depend on current strategic reviews.
He said the peacetime force of 180,000 had to be more "variable" in wartime.
Gen Conway also warned the timeline for training Iraq's security forces could be years - longer than "we probably feel... our country will support".
'Slow process'
The general said Iraq and Afghanistan were straining the elite force's ability to meet other commitments.
He said marines spent in general seven months in Iraq or Afghanistan and seven to nine at home.
This was increasing the stress on the marines.
The general said to maintain a balanced rotation of 14 months at home bases, the force would need to grow "for what we call the long war" or have their requirements reduced.
"There aren't a lot of other options," he said.
There are about 22,000 marines in the 144,000-strong US military in Iraq.
The general said training Iraqi security forces was a "long, slow process".
"Unfortunately I think that the timeline that we see that it would take to build a fully capable, competent force... is longer than the timeline we probably feel now that our country will support," he said.