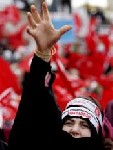 Associated Press-
- More than 25,000 people joined demonstrations Sunday against Pope Benedict XVI's upcoming visit, police said.
The demonstration was the largest anti-pope protest so far ahead of Benedict's arrival Tuesday for a four-day visit, his first as pope to a predominantly Muslim country. Some 4,000 police backed by riot trucks, armored vehicles and helicopters monitored the protest as the crowds grew.
The protest was organized by a pro-Islamic political party called Felicity whose leaders have said they were offended by Benedict's comments in September linking violence and Islam.
Benedict has expressed regret for offending Muslims by his remarks and said they did not reflect his personal views.
The protesters shouted "God is great" in Arabic and carried posters asking the pope not to come to Turkey. They also draped signs on the way from the Istanbul airport.
Benedict has few fans in Turkey, which is hoping to become the first predominantly Muslim member of the European Union. The pope has previously spoken out against Turkey's EU bid, and has called for a return to fundamental Christian values in Europe.
His trip to Turkey will be his first official visit to a Muslim country.
Benedict is scheduled to stay for four days. He will meet the Istanbul-based leader of the world's 300 million Orthodox Christians, Patriarch Bartholomew I.
On Sunday, Benedict expressed his "feelings of esteem and of sincere friendship" for Turks and their leaders.