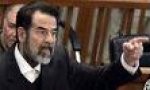 Baghdad, Iraq (AHN)
- An Iraqi official says that if former leader Saddam Hussein loses his appeal, he could face an immediate execution and possibly be buried in secret.
The official, speaking anonymously to AFP says Hussein and two of his co-defendants, Awad Hamed al-Bandar and Barzan al-Tikriti, may not spend years on death row as is the reality in the West.
According to the news source, the official confirms, "We will not waste time. We will look at the security situation and they will be executed immediately at the very first opportunity we get after the appeals chamber finalizes the verdicts."
However, the official denied a statement by Iraqi Prime Minister Nouri al-Maliki saying the death sentence would be carried out by the end of the year, citing the review by the high court will continue past December.