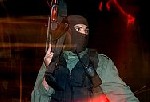 AP-
- Fierce gunbattles raged in the streets of Gaza City today between forces of the rival Hamas and Fatah movements, killing at least four people in renewed factional violence that left a shaky truce in tatters. At least 18 people were wounded, including five schoolchildren hit by stray gunfire.
Automatic gunfire echoed throughout Gaza City, and a Fatah security installation was attacked with mortar fire. Masked Hamas gunmen set up makeshift checkpoints on main roads, forces from the two sides took up strategic positions, and terrified residents shut themselves indoors.
The fighting marked the latest unrest in a week of factional violence and showed no signs of slowing, despite a cease-fire declaration by the sides on Sunday.
"It's a real war. Since the morning, I've been praying to God that this is going to end," said Suleiman Tuman, a 53-year-old shopkeeper who was trapped in his Gaza City grocery store by the fighting.
"Both sides used to fight the Israelis together. Now they are directing their weapons toward each other and we're in the middle," he said. "Both sides are responsible for this war."
Hamas and Fatah have been locked in a power struggle since the Islamic group defeated Fatah in legislative elections in January. Fatah, which seeks peace with Israel, controls the presidency, while the radical Hamas, which is committed to Israel's destruction, controls parliament and the Palestinian Cabinet.
The fighting has centered around President Mahmoud Abbas' plan to call early elections as a way to end the impasse. Hamas has condemned the plan as a coup.
In all, 13 people have died in the weeklong clashes, making it one of the deadliest bouts of Palestinian infighting ever.
Prime Minister Ismail Haniyeh of Hamas planned a televised speech later today. Seeking to ease the tensions, Haniyeh cancelled a planned Hamas demonstration, Hamas officials said.
Sunday night's truce declaration had brought a brief lull to Gaza. But after nightfall yesterday the gunfire resumed.
The heavy fighting began early today at Gaza's Shifa hospital shortly after a member of the Fatah-controlled intelligence service arrived at Gaza City's Shifa Hospital with a broken leg. He was accompanied by two armed colleagues.
Hamas militiamen guarding the hospital blocked the entry of the armed men and attempted to arrest them. When more Fatah forces arrived, they were fired upon, sparking the gunfight, Fatah officials said.
Hamas accused Fatah of storming the hospital, and said a 23-year-old member of a Hamas police unit was killed. It also said one of its men was kidnapped.
The battle raged for nearly an hour, sending schoolchildren scurrying for cover as they made their way to school. The fighting later spread to one of the main offices of the intelligence service, which was attacked by mortars and grenades, security officials said.
Hospital officials said two pro-Fatah security men sitting in a parked vehicle were killed in fighting. During the same incident, five schoolchildren were wounded by stray gunfire, the officials said. There were no immediate details on their conditions.
In other fighting, a Fatah security official was kidnapped and killed by Hamas gunmen, Fatah officials said. Elsewhere, the car of the governor of northern Gaza, a prominent Fatah loyalist, was hit by gunfire. The governor, Ismail Abu Shamallah, escaped injury, officials said.
Hamas and Fatah officials said they remained committed to the truce, and accused each other of violating the deal.
"Hamas is abiding by the cease-fire," said spokesman Ismail Radwan. "The problem is that not all of Fatah's militias are participating in this decision."
Ibrahim Abu al-Najah, a mediator who helped arrange the truce, appealed for calm. "What is going on is a violation and sabotage and I have called on both parties to shoulder their responsibility and to end what is going on in the streets," he said.
But the heavy fighting today signalled the truce had all but collapsed.