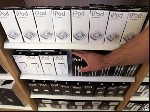 almotamar.net Google
- Jan. 18 (Bloomberg) -- Apple Inc., after posting record first-quarter sales and profit on holiday demand for iPods and Macintosh computers, disappointed analysts with its forecast for this quarter.
Second-quarter sales, which typically slide after the holidays, will be as much as to $4.9 billion, Apple said yesterday, shy of the $5.23 billion average analyst estimate compiled by Bloomberg. Apple forecasts profit of as much as 56 cents a share, compared with estimates for 60 cents.
``You had people wondering whether they should jump for joy or be concerned,'' said James Grossman, a fund manager at Thrivent Financial for Lutherans in Appleton, Wisconsin, which oversees $65 billion including Apple shares. ``When all is said and done, it was an absolutely fantastic quarter and I'm going to stick with Apple.''
Shares of Cupertino, California-based Apple fell about 1 percent in extended trading yesterday as some investors focused more on the forecast than the 50 percent jump in iPod music player shipments to 22.1 million units. Chief Executive Officer Steve Jobs sparked sales by introducing smaller, less-costly and higher-capacity models. Apple also reported ``robust demand'' for Macintosh PCs using faster chips from Intel Corp.
First-quarter profit surged 78 percent to $1 billion, or $1.14 a share, exceeding the 78 cents analysts projected. Sales topped $7 billion for the first time, rising 24 percent to $7.12 billion in the period ended Dec. 30, Apple said in a statement.
`They Delivered'
Long-time Apple investor Stephen Coleman, chief investment officer at St. Louis-based Daedalus Capital, said first-quarter results were enough to convince him to keep adding to the 50,000 shares his company already holds.
``They delivered -- it was a fabulous quarter,'' said Coleman, who started buying Apple shares in 2004. The forecast doesn't worry him because Apple ``always understates and over delivers.''
Shares of Apple fell 78 cents to $94.17 late yesterday after results came out. They fell $2.15 to $94.95 in regular trading on Nasdaq Stock Market.
While iPod shipments were ``phenomenal,'' some investors may have been disappointed in Mac sales, said Gene Munster of Piper Jaffray & Co. in Minneapolis. Mac shipments increased 28 percent to 1.61 million machines, fewer than the 1.75 million computers many Wall Street analysts had anticipated, he said.
``People wanted a bigger Mac number,'' Munster said.
Investors including Coleman are counting on the results to divert attention from Apple's stock-option backdating scandal.
Options Probe
Apple said in December an internal investigation led by board member and former U.S. Vice President Al Gore cleared Jobs of any misconduct in the backdating of options. While Jobs, 51, knew about and recommended backdating, in which recipients receive more favorable pricing on stock-option grants, Apple said he didn't benefit personally.
Federal prosecutors in San Francisco are reviewing the company's stock-option grants.
``He's more important to the company than almost any other CEO is to any other company,'' said Roger Kay, an analyst at Endpoint Technologies Associates in Wayland, Massachusetts. ``He embodies the company. Any vulnerability on his part is definitely negative.''
Jobs, who co-founded Apple in 1976, didn't mention the stock-option probe last week when he unveiled the iPhone, which combines an iPod and a cell phone with Internet access.
Apple plans to sell 10 million iPhones next year to capture a 1 percent slice of the cell-phone market, Jobs said at the San Francisco Macworld Expo conference.
Chief Financial Officer Peter Oppenheimer said the company will have ``to see'' whether customers hold off buying iPods as they wait for the iPhone. He said Apple is counting on its network of 170 retail stores to help sell the iPhone when it's released in June.