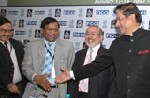 almoyamar.net Google
- New Delhi, Jan 17 (IANS) India's Oil and Natural Gas Corp. (ONGC) has been approached to set up crude oil refineries in Yemen with a capacity of 100,000 barrels per day, the country's Oil and Minerals Minister Khalid Mahfoudh Dahah said Wednesday.
"We have approached ONGC to set up the refineries in our country with a minimum capacity of 100,000 barrels per day," the minister told the Petrotech conference on hydrocarbons sector here.
"They have shown interest but they want to acquire an oil block first," he said adding, while indicating that Yemen would be offering 5-10 offshore oil blocks for bidding by the second half of this year.
Dahah had a meeting with top officials of the state-run exploration major ONGC Tuesday, which, according to him, turned out to be "fruitful". He also urged ONGC to be more "aggressive" when it bids for oil blocks.
"We are ready to offer ONGC what it wants, but ONGC also has to offer something attractive to my country," he told reporters on the margins of the conference.
The minister also hinted at being approached by an Indian company for investing in a Yemen's petrochemical industry. He had said Tuesday that Mukesh Ambani's Reliance Industries was setting up an oil refinery in his country.
Some of the companies and business houses Dahah hopes to interact with during the Petrotech exposition include Essar, Indian Oil Corp, Oil India Ltd, Gujarat State Petroleum Corp and GAIL India.