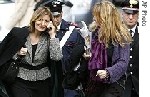 almotamar.net Google
- ROME (Reuters) - A Rome judge ordered a U.S. soldier to stand trial for killing an Italian intelligence agent in Iraq in 2005 while he was escorting a freed hostage to safety, court officials said on Wednesday.
Mario Lozano, of the U.S. Army's 69th Infantry Regiment, was charged with voluntary homicide for shooting Nicola Calipari at a checkpoint near Baghdad airport.
Lozano will almost certainly be tried in absentia. Pentagon spokesman Bryan Whitman said it was "a fair assumption" the U.S. military would not hand over Lozano for trial.
"As far as the U.S. Defence Department is concerned, we and the Ministry of Defence in Italy consider this a closed matter," Whitman said. Both countries have called the death an accident.
Italy's independent prosecutors disagreed and Judge Sante Spinaci granted their request to charge Lozano also on two counts of attempted murder -- one for the other Italian agent driving the vehicle and the second for the freed hostage inside.
Calipari became a national hero in Italy for securing the release of kidnapped left-wing journalist Giuliana Sgrena. He died trying to shield her from gunfire at a U.S. checkpoint shortly after her release.
His widow Rosa, now a member of the Italian Senate, said at the hearing in a criminal court she was "satisfied