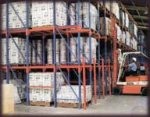 Almotamar.net
- A Yemeni investor businessman Sheikh Naji Yahya Dhaen announced Tuesday he is to begin building a first factory of its kind in Yemen for manufacturing flat glass.
A statement received by almotamar.net mentioned that a contract was earlier signed with a German Investment GSG Company to conduct investment studies, analyzing offers and supervising implementation of the project.
A contract was also signed with Earnst & Young Group of Companies to conduct the economic feasibility of the project that will cover Yemen's market needs of flat glass used in construction, showrooms and other areas.
The statement also mentioned that part of the production of the factory is to be exported to the areas of Horn of Africa and the Gulf
On the other hand director of the project Mahmoud Dhaen said preparations are now underway for obtaining licenses from concerned authorities in order to begin building the factory.
It is scheduled that production of the $ 40 million worth factory will begin in the second half of 2008. Production of the factory will be amounting to 43.800 tonnes a year and that 20% of production will be exported