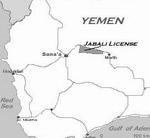 Almotamar Net
- Britain's ZincOx Resources plc on Tuesday announced that its 60% subsidiary company, Jabal Salab, had signed an Exploitation Contract with Yemen's Geological Survey and Mineral Resources Board (GSMRB) to mine and process zinc at the Jabali deposit. The Jabali zinc oxide deposit is located 110km north east of Sana'a, the capital of Yemen, and contains a resource, calculated in accordance with the JORC code of 12.6 million tonnes of ore at a grade of 8.9% zinc, 1.2% lead and 68grams/tonne silver.
Andrew Woollett, Managing Director of ZincOx, commented: "The Jabali deposit was discovered in the early 1980s but it has not been developed until now because of the complex mineralogy. Once again it is the metallurgical expertise at ZincOx which will allow us to realise the potential of this attractive resource for the benefit of our shareholders, our partners and the people of Yemen."
The Exploitation Contract is subject to the approval of the Cabinet and Parliament, which is expected during the first quarter of 2006. It will then be ratified by the President of Yemen and incorporated in law. It sets out the terms under which Jabal Salab can mine and process zinc from the deposit. These include a 20 year lease, a 1.5% net smelter return Royalty, a tax holiday of six years and repayment of past costs incurred by the GSMRB of US$5million commencing in the fourth year. The terms do not differ materially from those assumed in the Feasibility study completed earlier this year (see Press Release dated 15 March 2005).