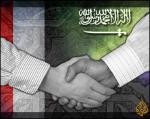 Almotamar.net
- The ambassador of the Kingdom of Saudi Arabia (KSA) to Yemen Ali Bin Mohammed al-Hamdan expressed his preparedness to overcome any difficulties or obstacles facing the Yemeni community in various cities of the KSA out of the belief in importance and particularity of the Saudi-Yemeni deep-rooted and historical relations indicating deepness of brotherly ties and bonds of cordiality and partnership among the sons of the two countries.
Al-Hamdan also said role of the Yemeni community in the KSA receives care anew and attention from all official parties in his country due to roles played by the community serving the interest of the two neighbourly peoples.
In a ceremony held on Wednesday the leadership of the Yemeni community in the KSA, the eastern region honoured the KSA ambassador to Sana'a with the Community Cote of Arm for his efforts in consolidating relations between Yemen and the KSA and is interest in issues of Yemeni expatriates in different parts of the kingdom.
After the awarding ambassador al-Hamdan expressed his happiness and gratitude to leadership of the Yemeni community in his country, praising the Yemeni community role in communication between Yemen and the KSA people.
Member of the Higher Administrative Committee, head of the community branch in Al-Ahsaa province Sheikh Hassan al-Kamali the said Cote of Arm during the ambassador's reception of him at his office on Wednesday. Al-Kamali and al-Hamdan also disused many issues interesting Yemeni expatriates and ways of enhancing and developing the two countries relations through the role played by community in the kingdom.