Intelligence. Hereditary or acquired?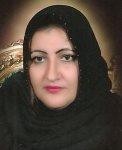 Asia Nasser
- Intelligence is hereditary factor but if it does not be developed and cared for it will get faded gradually. There is intelligence acquired through assiduousness, work obtaining scientific degree and research as well as with the will.
The hereditary intelligence, however, remains stronger it has received attention and care. The inborn intelligence is an indication of extraordinary innovation and creativeness and if it finds encouragement it will reach further than the human brain and becomes supernatural. As for the acquired intelligence it comes through assiduousness, the will and determination and the person may attain his goal at a level equal to the inborn intelligence or more than that. We always identify intelligence from among children as there are very intelligent children but id they do not receive attention and care by the family and discover it and develop it this intelligence will fade away or may be invested in useless matters and not good for the society or it maybe discovered in a time that is late.
Everything begins from childhood, meaning that we discover the dominating aspects from childhood. There are children who are noted to be intelligent geniuses but some familiars do watch attentively the degree of their children cleverness and work on cultivating this intelligence and also channeling and investing it in its proper place. And oppositely some families do not care for that and neglect their children and thus is interred and not to be noticed or sometimes it can be noticed by school but the school is not enough. There must be cooperation by the family with the school.
Intelligence can be pure scientific or poorly literary and it may be in the area of music and painting…etc of genius aspects. There is also asocial intelligence. Some persons are not educated or have not attained a high scientific level, nonetheless we find them successful in their life and possess inborn intelligence assisting them and supporting them successfully in their works. This is called the social intelligence that does not need education but it is rather bestowed upon by God to some individuals leading them to the highest degrees of success but it does not abolish the presence of science and culture fore they are important elements in degrees of intelligence. It is better when someone is distinguished by social intelligence besides the scientific intelligence.
The state of Yemen, at the head of which is President Ali Abdullah Saleh, has established Al- Baihani secondary School specialised and devoted to render care for top students and providing them means of comfort in order to study in a convenient climate not affected by economic and social problems but still the family has to support the state in taking care and paying attention to their children so that the elite of the promising society will be graduating from this secondary school. I hope that every family that observes in its child or children intelligence and geniuses to try to take of them however difficult the living conditions were. So many genius people have graduated from the school of life without depending on money or richness. With strife and hard work one can attain a high standard of success.
---

Over 7000 families displaced by aggression in Mareb
The number of the displaced families from inside and outside Mareb province amounted to 7,700 families due to the Saudi aggression on Yemen.
The internally displaced families in the districts of the province reached 6,200 families distributed on the districts of Majzar, Madghal, Raghwan, Serwah, Mareb city, al-Wadi, Harib al-Qramish, Harib Bihan, Bidbeda and al-Joba, the coordinator of the relief and humanitarian organization in the province Abdulkhaleq al-Sharif explained .
He pointed out that the number of the families displaced from Mareb to the capial Sana'a amounted to about 1,500 families distributed on several areas, including al-Hatarish, Bani al-Harish district, Daress, Mathbah, Aser, Shumilah, al-Sabeen and the 50th Street.


Saudi air raids kill three, injure others in Taiz
Three citizens were killed and other wounded in Saudi airstrikes targeted their house in Bir Basha area in Taiz province, a local official said on Monday.
These airstrikes coincided with other raids launched by the aggression warplanes and targeted Mokha Port and the quarantine premises, causing destruction in the port and the quarantine, the official explained.


One killed, two injured in Saudi raid in Sa'ada
A citizen was killed and his wife and son were seriously injured in a Saudi airstrike targeted their home in Baqem district of Sa'ada province, a security official said on Monday.
The raid led to the destruction of the house in full, the official added.
The aggression warplanes waged two raids on al-Sahn and Al Uqab areas in Sahar district, as well as two other raids on the villages of al-Marqoa and Al Lakon in Saqain district, he said.


Saudi aggression launches five sorties on Ibb
The Saudi-led coalition war jets waged five raids on Qa'a al-Jame'a in Assabrah district of Ibb province on Sunday.
No human casualties were reported due to the raids, a security official said, adding that the aggression strikes destroyed the remaining buildings and facilities in the area.
Qa'a al-Jame'a was hit by the Saudi aggression many times in the last ten days.


Russia calls for immediate cease-fire in Yemen
The Russian Foreign Ministry has described the Saudi-led coalition massacres in Yemen as horrific, calling for an immediate ceasefire and engaging in negations without preconditions.
The Russian Foreign Ministry's spokeswoman Maria Zakharova told a news conference in Moscow that despite the positive signals made by the negotiations between the Yemeni opposing parties in Geneva last December, but the armed confrontation in this country are still continuing, especially after the Saudi-led coalition announced the end of the truce and resumed the military operations.
" In recent days the media circulated horrible news about the Saudi-led coalition bombing on a MSF-supported hospital in Sa'ada, which resulted in deaths and injuries," she added.


Army regains control of three sites in Taiz
The army and popular committees managed on Tuesday to secure three sites in Taiz province, a local official said.
The army and popular committees carried out a military operation before Tuesday dawn ended up with regaining control over three sites in Addar junction between Nagd Qusaim and al-Misrakh in Taiz, the official added.


Three IEDs deactivated in Baidha
The security services and popular committees managed on Tuesday to defuse three improvised explosive devices (IEDs) in Baidha province.
A security official explained that two IEDs were discovered in Masha'ba area and the third one in the Ring Road in Baidha city, and all the IEDs were dismantled and defused by the competent teams.


Saudi aggression strikes MSF facility again
At least four people were killed on Sunday when a missile hit a hospital supported by Medecins Sans Frontieres (MSF) in Sa'ada province.
One projectile struck the Shiara Hospital in Razeh district at 9:20 a.m., according to MSF staff members on the ground. The MSF staff has been working in the hospital since November 2015.
"The hospital was hit by a projectile this morning, killing four people, wounding 10," In a statement issued by Doctors Without Borders/Médecins Sans Frontières (MSF),
Three of the injured are MSF staff members, two of whom are in critical condition, the medical humanitarian organization said. In addition, several buildings of the medical facility were collapsed.
"The number of casualties could rise as there could still be people trapped in the rubble." The organization said the staff has evacuated and patients are being transferred to Al Goumoury hospital in Sa'ada, which is also supported by MSF.
MSF cannot confirm the origin of the attack, but planes were seen flying over the facility at the time. At least one more projectile fell near the hospital.


Aggression strikes kill, injure civilians in Taiz
The Saudi aggression war jets have launched several raids on Mokha district in Taiz province.
A local official explained that the aggression raids killed and wounded a number of the workers in the water desalination plant belonging to Hayel Saeed Anam Companies in Mokha city, as well as destroying the plant and a water factory.
The hostile war jets waged raids on the government compound in Mokha and Warazan area in Dimnat Khadeer district, which resulted in damage in a citizen's farm and injuring civilians, the official said.