Intelligence. Hereditary or acquired?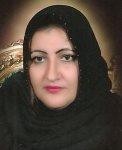 Asia Nasser
- Intelligence is hereditary factor but if it does not be developed and cared for it will get faded gradually. There is intelligence acquired through assiduousness, work obtaining scientific degree and research as well as with the will.
The hereditary intelligence, however, remains stronger it has received attention and care. The inborn intelligence is an indication of extraordinary innovation and creativeness and if it finds encouragement it will reach further than the human brain and becomes supernatural. As for the acquired intelligence it comes through assiduousness, the will and determination and the person may attain his goal at a level equal to the inborn intelligence or more than that. We always identify intelligence from among children as there are very intelligent children but id they do not receive attention and care by the family and discover it and develop it this intelligence will fade away or may be invested in useless matters and not good for the society or it maybe discovered in a time that is late.
Everything begins from childhood, meaning that we discover the dominating aspects from childhood. There are children who are noted to be intelligent geniuses but some familiars do watch attentively the degree of their children cleverness and work on cultivating this intelligence and also channeling and investing it in its proper place. And oppositely some families do not care for that and neglect their children and thus is interred and not to be noticed or sometimes it can be noticed by school but the school is not enough. There must be cooperation by the family with the school.
Intelligence can be pure scientific or poorly literary and it may be in the area of music and painting…etc of genius aspects. There is also asocial intelligence. Some persons are not educated or have not attained a high scientific level, nonetheless we find them successful in their life and possess inborn intelligence assisting them and supporting them successfully in their works. This is called the social intelligence that does not need education but it is rather bestowed upon by God to some individuals leading them to the highest degrees of success but it does not abolish the presence of science and culture fore they are important elements in degrees of intelligence. It is better when someone is distinguished by social intelligence besides the scientific intelligence.
The state of Yemen, at the head of which is President Ali Abdullah Saleh, has established Al- Baihani secondary School specialised and devoted to render care for top students and providing them means of comfort in order to study in a convenient climate not affected by economic and social problems but still the family has to support the state in taking care and paying attention to their children so that the elite of the promising society will be graduating from this secondary school. I hope that every family that observes in its child or children intelligence and geniuses to try to take of them however difficult the living conditions were. So many genius people have graduated from the school of life without depending on money or richness. With strife and hard work one can attain a high standard of success.
---

Aggression, hirelings continue to breach ceasefire
The Saudi-led coalition's warplanes and its mercenaries continued to breach the UN-announced ceasefire in several provinces during the past 24 hours, a military official said Sunday.
The aggression's war jets dropped sound bombs on al-Nahdain and Noqm areas in the Capital and launched two sorties on Nehm district and two on al-Shurfa area in Bani Hushaish district in Sana'a province, the official said.
He added the aggression dropped also four sound bombs on al-Shahel district and petrol bombs on al-Mazraq in Haradh district in Hajjah province.
In Jawf province, three children were wounded by the Saudi air bombing on al-Muaimerah area in al-Moton district, which was targeted by two air raids.


Aggression drops sound bombs on Unification Day
The Saudi aggression launched on Sunday a number of air raids on the Capital Sana'a, using sound bombs, a security official said.
The war jets dropped more than ten high-explosive sound bombs on Noqm and al-Nahdain areas, the official explained.
He pointed out that the aggression aimed through using those bombs at disturbing the atmosphere of the celebration on the National Day, May 22nd, which was held in al-Sabeen Square in the capital.


Saudi aggression, mercenaries still breach ceasefire in Yemen
The Saudi-led coalition's warplanes and its mercenaries continued to breach the UN-announced ceasefire in several provinces during the past 24 hours, a military official said Saturday.
The official said that the Saudi war jets kept flying in the skies of the provinces of Sana'a, Jawf, Mareb, Sa'ada, Amran, Hajjah, Hodeidah and Mahweet.
The hostile warplanes waged six raids on al-Majaweha area in Nehm district and two others on Bani Hoshish district in Sana'a province, while Riyadh's mercenaries pounded the areas of Dhaboa'a, Mabda'a, al-Majaweha and al-Houl in Nehm with missiles, the official elaborated.
In Jawf, the war jets of the Saudi aggression launched two raids on the districts of al-Masloub and al-Ghail, while the hirelings pounded al-Maton district with artillery shells.
A military vehicle carrying 23-caliber machine gun belonging to the mercenaries was burned when the army and popular committees forces repelled their failed attempt to advance on Waqaz area in al-Masloub district


Security services seize weapons in Dhalea
The security services in cooperation with popular committees captured on Saturday a car loaded with weapons in Dhalea province.
The car was captured in Damt district and was coming from Aden province heading for the Capital, the official said.
He added the security services and popular committees will spare no efforts to arrest


Saudi airstrike kills one, injures five in Taiz
At least a citizen was killed and five others were wounded on Friday in an airstrike by the Saudi-led coalition on Moza' district in Taiz province.
A local official said that the raid targeted a truck loaded with cement on the main road in al-Hardain area of Moza' district, which led to the killing of a citizen, injuring five others and damaging the truck's load.
The aggression's warplanes waged two raids on the coastal city of Mocha, the official added.


UN official warns of worsening humanitarian crisis in Yemen
A senior United Nations relief official has warned of the worsening humanitarian crisis in Yemen due to the continuing conflict.
"Seeing the plight of the Yemeni people first-hand reinforces the need for national and international humanitarian actors to scale up their response to protect and support the population," John Ging, Director of Operations in the Office for the Coordination of Humanitarian Affairs (OCHA), said in a statement issued on Tuesday.
More than 13 million people in need of immediate life-saving assistance in Yemen, Ging stated following his three-day visit to the country with Emergency Director of the World Health Organization (WHO), Rick Brennan, and Deputy Emergency Director of the World Food Programme (WFP), Gian Carlo Cirri.
He pointed out that the healthy food and access to health care are among the more requirements of the population.
Since mid-March 2015, the conflict has prompted a widening protection crisis, exacerbating an already dire humanitarian situation brought on by years of poverty, poor governance and instability. Over 7.6 million people are severely food insecure, and 2.5 million people have been displaced by violent conflict since January 2014.


National delegation holds two sessions with UN envoy
The national delegation consisting of representatives of the General People's Congress headed by Mr. Aref Awad Azwkaand and Ansarullah headed by Mr. Mohammed Abdulsalam held on Thursday, two sessions with the UN envoy to Yemen, Ismail Ould Cheikh Ahmed,.
The two sessions discussed a roadmap for a transitional period and the need to completely stop hostilities.
The national delegation stressed the need for supporting the ceasefire the existing stage is governed by consensus and partnership, and that the key solution is consensus on a transitional authority.


Army foils attempt to advance on Ham Mount
The army and popular committees repulsed on Wednesday an attempt of the hirelings to advance towards Ham Mount in al-Moton district of Jawf province.
A local official said a number of the hirelings were killed and injured in the failed attempt, including Col. Hamoud Jarad, the operation commander in the province.