Intelligence. Hereditary or acquired?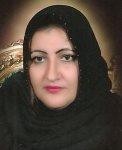 Asia Nasser
- Intelligence is hereditary factor but if it does not be developed and cared for it will get faded gradually. There is intelligence acquired through assiduousness, work obtaining scientific degree and research as well as with the will.
The hereditary intelligence, however, remains stronger it has received attention and care. The inborn intelligence is an indication of extraordinary innovation and creativeness and if it finds encouragement it will reach further than the human brain and becomes supernatural. As for the acquired intelligence it comes through assiduousness, the will and determination and the person may attain his goal at a level equal to the inborn intelligence or more than that. We always identify intelligence from among children as there are very intelligent children but id they do not receive attention and care by the family and discover it and develop it this intelligence will fade away or may be invested in useless matters and not good for the society or it maybe discovered in a time that is late.
Everything begins from childhood, meaning that we discover the dominating aspects from childhood. There are children who are noted to be intelligent geniuses but some familiars do watch attentively the degree of their children cleverness and work on cultivating this intelligence and also channeling and investing it in its proper place. And oppositely some families do not care for that and neglect their children and thus is interred and not to be noticed or sometimes it can be noticed by school but the school is not enough. There must be cooperation by the family with the school.
Intelligence can be pure scientific or poorly literary and it may be in the area of music and painting…etc of genius aspects. There is also asocial intelligence. Some persons are not educated or have not attained a high scientific level, nonetheless we find them successful in their life and possess inborn intelligence assisting them and supporting them successfully in their works. This is called the social intelligence that does not need education but it is rather bestowed upon by God to some individuals leading them to the highest degrees of success but it does not abolish the presence of science and culture fore they are important elements in degrees of intelligence. It is better when someone is distinguished by social intelligence besides the scientific intelligence.
The state of Yemen, at the head of which is President Ali Abdullah Saleh, has established Al- Baihani secondary School specialised and devoted to render care for top students and providing them means of comfort in order to study in a convenient climate not affected by economic and social problems but still the family has to support the state in taking care and paying attention to their children so that the elite of the promising society will be graduating from this secondary school. I hope that every family that observes in its child or children intelligence and geniuses to try to take of them however difficult the living conditions were. So many genius people have graduated from the school of life without depending on money or richness. With strife and hard work one can attain a high standard of success.
---

Army raids terrorist cell in Hadramout
Military units of the second Military Region raided on Monday a villa in 60 street in Mukala, which was used as a den by a terrorist cell to carry out terrorist acts.
A military source at the Military Region command said on Tuesday that the military forces surrounded the villa after receiving the information about the existence of a terrorist cell and clashed with the terrorists.


IFJ demands Yemeni authorities to increase media protection
The International Federation of Journalists (IFJ) demanded on Monday Yemeni authorities to immediately increase protection for media workers in the country.
IFJ's renewed appeal is following an escalation in attacks over the last few days, including the murder of a senior journalist.
According to the Yemeni Journalists' Syndicate (YJS), Abdul-Rahman Hameed Aldin, who worked for Sana'a Radio, was shot in the head last Friday [15 August] by an armed group in the capital Sana'a. He was taken to hospital where he passed away the following day.


GPC Leader delivered a speech in front of the leaders of CSOs
GPC Leader, Ali Abdullah Saleh, expressed his thanks and appreciation for the brotherly feelings the leaders and representatives of civil society organizations who have expressed strong disapproval and condemnation of the criminal and terrorist attempt that targeted his life through the tunnel, which was dug to his home.


Security Committee lifts night-time curfew in Hadramout
Hadramout Security Committee lifted on Saturday the night-time curfew throughout the governorate as of Saturday evening.
The curfew was imposed yesterday [Friday] as a part of mane other measures the committee has approved to hunt down al-Qaeda militants.
The security committee said that the decision on curfew lifting was taken to facilitate the work of the emergency sectors of water, electricity, health and other public services.


Security foils terrorist attack in Hadhramout
Security forces have destroyed three car bombs in the Sixty-Meter Street in Mukalla, Hadramout governorate before arriving their targets, a military source said on Thursday.
The source said that a number of terrorists were killed and three soldiers wounded during their clashes with the terrorist attackers.
The defense ministry announced to reinforce the armed forces after the militants have killed 14 soldiers near Shibam city, Hadramout governorate.


President Hadi performs Eid prayer at Al-Saleh Mosque
President Abdu Rabbu Mansour Hadi along with former President Ali Abdullah Saleh performed on Monday the prayer of Eid al-Fitr at Al-Saleh Mosque in the capital Sana'a.
The Eid prayer was also attended by parliament Speaker, Yahya al-Raei his deputy Hamir al-Ahmer, President Hadi's advisors, and Prime Minister's deputies, Ahmed Obaid Bin Daghr and Abdullah Mohssen al-Akwa'a, besides a number of ministers, military and security leaders, the heads of the political parties, civil society organizations, and social, political and cultural figures.


GPC leader congratulates President Hadi and the Lead Saleh by Eid al-Fitr
Assistant General Secretaries and head of the GPC regulatory agency sent telegrams of congratulations on the occasion of Eid al-Fitr on behalf of all the leaders of their regulators sectors to the leader Ali Abdullah Saleh, GPC Chairman, and to Abed Rabbo Mansour Hadi - President of Yemen and First Deputy Chairman of the Conference GPC, on the occasion of Eid al-Fitr.


4 soldiers killed, 2 injured in terrorist attack in Baydha
Militants likely to be members of al-Qaeda attacked on Friday evening a security checkpoint in Azza area in Baydha province, killing 4 soldiers and wounding 2 others, a security source said.
The source explained that the terrorist elements after they carried out the coward attack burned a security vehicle and then fled.


Saba Board Chairman meets Russian ambassador
Saba Board Chairman and Editor- in-Chief Tariq al-Shami met here on Thursday with Russian ambassador to Yemen Vladimir Didohchin.
During the meeting, the two sides discussed aspects of cooperation between Yemen News Agency (SABA) and the Russian news agency and the different Russian media in exchanging news services, expertise and experiences in press areas.