Intelligence. Hereditary or acquired?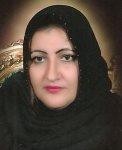 Asia Nasser
- Intelligence is hereditary factor but if it does not be developed and cared for it will get faded gradually. There is intelligence acquired through assiduousness, work obtaining scientific degree and research as well as with the will.
The hereditary intelligence, however, remains stronger it has received attention and care. The inborn intelligence is an indication of extraordinary innovation and creativeness and if it finds encouragement it will reach further than the human brain and becomes supernatural. As for the acquired intelligence it comes through assiduousness, the will and determination and the person may attain his goal at a level equal to the inborn intelligence or more than that. We always identify intelligence from among children as there are very intelligent children but id they do not receive attention and care by the family and discover it and develop it this intelligence will fade away or may be invested in useless matters and not good for the society or it maybe discovered in a time that is late.
Everything begins from childhood, meaning that we discover the dominating aspects from childhood. There are children who are noted to be intelligent geniuses but some familiars do watch attentively the degree of their children cleverness and work on cultivating this intelligence and also channeling and investing it in its proper place. And oppositely some families do not care for that and neglect their children and thus is interred and not to be noticed or sometimes it can be noticed by school but the school is not enough. There must be cooperation by the family with the school.
Intelligence can be pure scientific or poorly literary and it may be in the area of music and painting…etc of genius aspects. There is also asocial intelligence. Some persons are not educated or have not attained a high scientific level, nonetheless we find them successful in their life and possess inborn intelligence assisting them and supporting them successfully in their works. This is called the social intelligence that does not need education but it is rather bestowed upon by God to some individuals leading them to the highest degrees of success but it does not abolish the presence of science and culture fore they are important elements in degrees of intelligence. It is better when someone is distinguished by social intelligence besides the scientific intelligence.
The state of Yemen, at the head of which is President Ali Abdullah Saleh, has established Al- Baihani secondary School specialised and devoted to render care for top students and providing them means of comfort in order to study in a convenient climate not affected by economic and social problems but still the family has to support the state in taking care and paying attention to their children so that the elite of the promising society will be graduating from this secondary school. I hope that every family that observes in its child or children intelligence and geniuses to try to take of them however difficult the living conditions were. So many genius people have graduated from the school of life without depending on money or richness. With strife and hard work one can attain a high standard of success.
---

President convenes with Supreme Military and Security Committee
President Abd-Rabbu Mansour Hadi chaired on Thursday a meeting of the Supreme Military and Security Committee.
The meeting touched upon the latest developments on the ground and the current Houthi escalation in and around the capital Sana'a which represents a threat to security, stability and public tranquility in the city and coincides with current efforts to bring in a solution for the current crisis.


UN: Yemen is one of most food-insecure countries in world
The UN annual report of the State of Food Insecurity in the World (SOFI 2014) has said that Yemen is one of the most food-insecure countries in the world.
"Conflict, economic downturn, low agricultural productivity and poverty have made Yemen one of the most food-insecure countries in the world", according to the SOFI 2014 report published on Tuesday by the Food and Agriculture Organization (FAO), the International Fund for Agricultural Development (IFAD) and the World Food Programme (WFP).
"Besides restoring political security and economic stability, the government aims to reduce hunger by one-third by 2015 and to make 90 percent of the population food-secure by 2020."
The report showed that the government also "aims to reduce the current critical rates of child malnutrition by at least one percentage point per year."


Benomar: talks with al-Houthi constructive and positive
The Assistant of the UN Secretary-General and his Special Adviser for Yemen Jamal Benomar on Wednesday held talks with Abdul Malik al-Houthi in the province of Saada in the framework of consultations with concerned parties in order to find a peaceful solution to the current crisis in Yemen.
Benomar said that the talks, which lasted three hours, focused on solutions to the crisis that can be agreed on by all parties and be based on the outcomes of the comprehensive national dialogue conference.


Yemeni female activist wins HRW's Prestigious Award
The Human Rights Watch has announced today granting its Alison Des Forges Award for the Extraordinary Activism for 2014 to four activists including Yemeni female activist Arwa Abdu Othman.
HRW said in a release posted in the organization's website, the prestigious award has been granted this year to four courageous activists from North Korea, Africa, India and Yemen.
"The winners are among voices calling for justice in their countries and working tirelessly for protecting rights of others and their dignity," said the organization, making it clear that it chose Arawa Othman because she is a key activist working for ending child marriage in Yemen.


President Hadi receives new ambassadors' credentials
President Abd-Rabbu Mansour Hadi received here on Monday the credentials of a number of Arab and foreign ambassadors to Yemen.
Hadi received the credentials of Egyptian ambassador, Yousef al-Sharqawi, Eritrean ambassador Mohammed Sheikh Abdul Jalil, Dutch ambassador Aldrik Gierveld, and French ambassador Jean Marc Grosjean.
During separate meetings, President Hadi welcomed the diplomats, affirming that they will receive all the care and facilities to carry out their missions in Yemen.


Three terrorists elements arrested in Lahj
A military raid on houses in Hota town of Lahj province resulted on Sunday in arresting three terrorists elements, a military source at the Fourth Military Region Command said.
The military source said that a number of automatic weapons and RPG launchers and silencer pistol were found during the raid, noting that the military and security services are still investigating and pursuing the remnants of the terrorist elements and cells who fled from the area.


EU denounces diminishing transfer in Yemen
The European Union has denounced any act aiming at diminishing the political transfer in Yemen, stressing that parties involved in armed clashes must abandon their weapons they seized from state's army and to abide by effective laws.
In a release issued by the EU Commission today on the occasion of the International Day of Democracy under the motto "Sharing Youth in the Democratic Process," it made it clear the world is focusing on involving youth in the democratic process.
"Half of the population in Yemen is under 15 years and one third of the population is between 15-29," the release said. The released added that the Yemeni youth cannot wait more as they are aspiring for more prosperous future and calling for a new Yemen people share power and resources away of dominance of any group or individuals.


Yemen, US discuss bilateral cooperation
Deputy Prime Minister and Minister of Telecommunications and Information Technology Ahmed Bindaghr met here on Sunday with US ambassador to Yemen Matthew Tueller.
During the meeting, they discussed the current situation and latest political developments in Yemen and its security repercussions on the security situation in the capital and the country as well.
Bindaghr called on the sponsor states of the Gulf initiative to continue to support the efforts of President Abd Rabbu Mansour Hadi to succeed the political settlement in the country.


President Hadi receives sheikhs, social figures of Heziaz area
President Abd-Rabb Mansour Hadi on Saturday met with a number of Sheikhs, dignitaries, and social figures from Heziaz area, southern the capital Sana'a.
Hadi during the meeting said that Yemen now is facing critical situation due to current Houthi escalation in and around the capital Sana'a, which needs more caution and avoiding not entering in a conflict with Houthi armed militias.
"We don't mind, and under the constitution and laws, to organize peaceful protests, but trying to storm government facilities, schools, police stations or houses is something forbidden,'' President Hadi said.
He urged everyone to bear his national responsibility in order to avoid fighting in the capital


Yemen, UK discuss arrangements of Yemen Friends meeting
Yemen's ambassador to the United Kingdom Abdullah al-Radi met on Friday in London with British Minister of State for Middle East Affairs Tobias Ellwood.
In the meeting, al-Radi and Ellwood discussed the underway arrangements for the next meeting of Friends of Yemen Group scheduled on September 24 in New York, as well as the aspects of bilateral cooperation between the two countries.
The British minister confirmed his country's strong support to President Abd Rabbo Mansour Hadi to complete the entitlements of the transitional stage and translate the outcomes of the national dialogue conference (NDC). He stressed that the international community would not allow any group or party to obstruct Yemen's exit march to the prospects of harmony ,peace, development and prosperity.