Intelligence. Hereditary or acquired?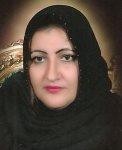 Asia Nasser
- Intelligence is hereditary factor but if it does not be developed and cared for it will get faded gradually. There is intelligence acquired through assiduousness, work obtaining scientific degree and research as well as with the will.
The hereditary intelligence, however, remains stronger it has received attention and care. The inborn intelligence is an indication of extraordinary innovation and creativeness and if it finds encouragement it will reach further than the human brain and becomes supernatural. As for the acquired intelligence it comes through assiduousness, the will and determination and the person may attain his goal at a level equal to the inborn intelligence or more than that. We always identify intelligence from among children as there are very intelligent children but id they do not receive attention and care by the family and discover it and develop it this intelligence will fade away or may be invested in useless matters and not good for the society or it maybe discovered in a time that is late.
Everything begins from childhood, meaning that we discover the dominating aspects from childhood. There are children who are noted to be intelligent geniuses but some familiars do watch attentively the degree of their children cleverness and work on cultivating this intelligence and also channeling and investing it in its proper place. And oppositely some families do not care for that and neglect their children and thus is interred and not to be noticed or sometimes it can be noticed by school but the school is not enough. There must be cooperation by the family with the school.
Intelligence can be pure scientific or poorly literary and it may be in the area of music and painting…etc of genius aspects. There is also asocial intelligence. Some persons are not educated or have not attained a high scientific level, nonetheless we find them successful in their life and possess inborn intelligence assisting them and supporting them successfully in their works. This is called the social intelligence that does not need education but it is rather bestowed upon by God to some individuals leading them to the highest degrees of success but it does not abolish the presence of science and culture fore they are important elements in degrees of intelligence. It is better when someone is distinguished by social intelligence besides the scientific intelligence.
The state of Yemen, at the head of which is President Ali Abdullah Saleh, has established Al- Baihani secondary School specialised and devoted to render care for top students and providing them means of comfort in order to study in a convenient climate not affected by economic and social problems but still the family has to support the state in taking care and paying attention to their children so that the elite of the promising society will be graduating from this secondary school. I hope that every family that observes in its child or children intelligence and geniuses to try to take of them however difficult the living conditions were. So many genius people have graduated from the school of life without depending on money or richness. With strife and hard work one can attain a high standard of success.
---

UN: Yemeni IDPs number doubled
The United Nations has announced that the number of Yemeni internally displaced persons (IDPs) due the military aggression had doubled in less than two weeks.
In a statement issued on Wednesday, the United Nations Office for the Coordination of Humanitarian Affairs (OCHA) said that the number of Yemeni IDPs had increased twice in 19 governorates since 17 April 2015 when 150 thousand Yemeni IDPs were registered.
It warned of the gravity of situations in Yemen because of the aggression.
The statement pointed out that the big number of IDPs are from the northern Hajjah governorate, in addition to southern Al-Dhalea and Abyan governorates.


AI calls for probing into Yemen's civilian deaths by Saudi-led airstrikes
Amnesty International has called for investigating the killing of hundreds of civilians, including scores of children, by the Saudi Arabian-led airstrikes across Yemen.
"The month-long campaign of air strikes carried out by Saudi Arabia and its allies has transformed many parts of Yemen into a dangerous place for civilians," said Said Boumedouha, Deputy Director of Amnesty International's Middle East and North Africa Programme.
"Millions of people have been forced to live in a state of utter terror, afraid of being killed at home. Many feel they are left with no choice but to move away from their destroyed villages to an uncertain future."
The UN has stated that more than 550 civilians have been killed including more than 100 children since the military campaign began on 25 March.
Amnesty International said it has documented eight strikes in five densely populated areas, which are Sa'ada, Sana'a, Hodeida, Hajjah and Ibb, noting that several of these strikes raised concerns about compliance with the rules of international humanitarian law.
According its research, Amnesty International said at least 139 people, including at least 97 civilians, 33 of whom were children were killed during the strikes, and 460 individuals were injured, at least 157 whom are civilians.


OIC appeals to support Yemen with medical aid
The Organization of Islamic Cooperation (OIC) has appealed member states and civil society organizations (CSOs) to provide humanitarian aid to the Yemeni people, especially medical supplies to cope with the big number of injured as a result of the military aggression.
The Secretary General of the OIC Iyad Madani said, in a statement issued Monday, that the OIC is holding consultations with several civil society organizations that have consultative status in the organization to provide food and medical and humanitarian assistance to the Yemeni people.


Pakistan calls on resolving Yemen's crisis through dialogue
Pakistani Prime Minister Nawaz Sharif has renewed his country's desire to resolve Yemen's crisis in Yemen through talks, revealing that his government urges Iran to play a role in bringing various Yemeni parties to the dialogue.
In his statement issued Monday, Sharif said that his country wants to resolve Yemen crisis through talks.
He added that Islamabad urged Tehran to play a role to bring conflicting parties in Yemen to the dialogue table, the official news agency of Pakistan quoted the Prime Minister as saying in a statement.


Yemen: Zeid calls for investigations into civilian casualties
UN High Commissioner for Human Rights Zeid Ra'ad Al Hussein on Tuesday reminded all sides to the conflict in Yemen to ensure that attacks resulting in civilian casualties are promptly investigated and that international human rights and international humanitarian law are scrupulously respected during the conduct of hostilities in the country.
In addition to hundreds of fighters, at least 364 civilians are reported to have lost their lives since March 26, including at least 84 children and 25 women. Another 681 civilians – possibly more – have been injured. Dozens of public buildings, including hospitals, schools, airports and mosques have been destroyed in airstrikes, through shelling and other attacks.


Ban Ki-Moon Urges Return To Political Talks In Yemen
The UN secretary-general has said that two weeks of Saudi-led air strikes against Yemen, "have turned an internal political crisis into a violent conflict that risks deep and long-lasting regional repercussions".
Ban Ki-moon on Thursday told reporters that he was urging all countries in the region to go beyond national priorities and help the Yemeni people, saying "the last thing the region and our world need is more of the chaos and crimes we have seen in Libya and Syria".


Pakistan's Parliament Rejects Joining Saudi Coalition In Yemen
ISLAMABAD: On day five of the joint parliamentary session on Yemen, lawmakers approved a draft resolution proposing that Pakistan "should maintain neutrality in the conflict so as to be able to play a proactive diplomatic role to end the crisis".
It further said that the crisis in Yemen could "plunge the region into turmoil", calling upon the warring factions in Yemen to resolve their differences "peacefully and through dialogue".
The resolution noted that while the war in Yemen was not sectarian in nature, it had the potential of turning into a sectarian conflict and thereby having a critical fallout in the region, including within Pakistan.


UNICEF, ICRC medical aid landed in Sana'a
Two planeloads of medical aid landed in Sana'a on Friday.
The planes were sent by the United Nations Children's Fund (UNICEF) and the International Committee of the Red Cross (ICRC).
The UNICEF plane contained almost 37 tons of medical aid, which "will be delivered to the Ministry of Public Health and Population, to distribute them to hospitals in the needed areas," said Mohammed al-Asadi, the communication officer at UNICEF.