Intelligence. Hereditary or acquired?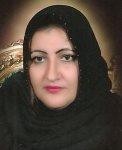 Asia Nasser
- Intelligence is hereditary factor but if it does not be developed and cared for it will get faded gradually. There is intelligence acquired through assiduousness, work obtaining scientific degree and research as well as with the will.
The hereditary intelligence, however, remains stronger it has received attention and care. The inborn intelligence is an indication of extraordinary innovation and creativeness and if it finds encouragement it will reach further than the human brain and becomes supernatural. As for the acquired intelligence it comes through assiduousness, the will and determination and the person may attain his goal at a level equal to the inborn intelligence or more than that. We always identify intelligence from among children as there are very intelligent children but id they do not receive attention and care by the family and discover it and develop it this intelligence will fade away or may be invested in useless matters and not good for the society or it maybe discovered in a time that is late.
Everything begins from childhood, meaning that we discover the dominating aspects from childhood. There are children who are noted to be intelligent geniuses but some familiars do watch attentively the degree of their children cleverness and work on cultivating this intelligence and also channeling and investing it in its proper place. And oppositely some families do not care for that and neglect their children and thus is interred and not to be noticed or sometimes it can be noticed by school but the school is not enough. There must be cooperation by the family with the school.
Intelligence can be pure scientific or poorly literary and it may be in the area of music and painting…etc of genius aspects. There is also asocial intelligence. Some persons are not educated or have not attained a high scientific level, nonetheless we find them successful in their life and possess inborn intelligence assisting them and supporting them successfully in their works. This is called the social intelligence that does not need education but it is rather bestowed upon by God to some individuals leading them to the highest degrees of success but it does not abolish the presence of science and culture fore they are important elements in degrees of intelligence. It is better when someone is distinguished by social intelligence besides the scientific intelligence.
The state of Yemen, at the head of which is President Ali Abdullah Saleh, has established Al- Baihani secondary School specialised and devoted to render care for top students and providing them means of comfort in order to study in a convenient climate not affected by economic and social problems but still the family has to support the state in taking care and paying attention to their children so that the elite of the promising society will be graduating from this secondary school. I hope that every family that observes in its child or children intelligence and geniuses to try to take of them however difficult the living conditions were. So many genius people have graduated from the school of life without depending on money or richness. With strife and hard work one can attain a high standard of success.
---

UN: Negotiation is the only option for resolving Yemen's crisis
The United Nations Secretary-General underlined that the only option for resolving the crisis in Yemen is negotiation.
Mr. Ban Ki-moon "is aware of reports that other States, in particular members of the Gulf Cooperation Council, are also supporting these [Military] operations," said a statement released from the office of the UN chief's spokesperson.
Mr. Ban called for ensuring the protection of civilians and emphasized that "negotiations remain the only option for ultimately resolving the crisis."


Pakistan Denies Allegations Of Air Strikes Involvement In Yemen
A clarification message from the Pakistani embassy in Sana'a denies the rumors of Pakistan involvement on the air strikes against Yemen.
The source was surprised of including the name of Pakistan to the list of countries who participated in last night air strikes on Sana'a and other Yemeni cities.
Ambassador to Yemen Dr. Irfan Shami said, Several international media reports are erroneously reporting that Pakistani aircraft were involved in the air strikes launched by the GCC coalition against Yemen in the early morning of Thursday, 26 March 2015.


OIC calls Yemeni parties to give priority to Yemen interests
The Secretary-General of the Organization of Islamic Cooperation (OIC) Iyad Madani called on all Yemeni parties to act wisely and put the interests of Yemen above all political, tribal and sectarian accounts.
In a statement aired by Saudi Press Agency (SPA), Madani described the developments that are currently taking place in Yemen as "serious".
Madani urged all parties to avoid the military option and to response to the international and regional efforts that call for a comprehensive national dialogue to find a peaceful way out of the deepening crisis in Yemen


UN envoy says Yemen on 'rapid downward spiral' as tensions rise
Yemen stands on the brink of civil war amid deepening political tensions and an uptick in sectarian violence, United Nations Special Adviser Jamal Benomar warned [Yesterday] as he explained that only through dialogue could the country achieve a peaceful political transition.
Briefing the Security Council via video conference in a rare Sunday session, Mr. Benomar told the UN body that Yemen was on a "rapid downward spiral" as the conflict took on "worrying sectarian tones and deepening north-south divisions."
"Emotions are running extremely high and, unless solutions can be found, the country will fall into further violent confrontations," Mr. Benomar declared. "Events in Yemen are leading the country away from political settlement and to the edge of civil war."
The situation in Yemen has been rapidly deteriorating since the country formed a new Government in November 2014 aimed at ending a period of political turbulence and bringing about a full transition towards democracy. Nonetheless, the country has continued to be plagued by violence and mass political demonstrations despite UN efforts to bring about a peaceful political resolution


Yemen's unity, stability face huge threats : Egyptian FM
Yemen's unity and stability are under huge threats, which casts serious consequences for the Arab region and the international peace and security, Egypt's Foreign Minister Sameh Shoukry said on Monday.
"Yemen is facing multiple challenges, which makes it imperative to help Yemen and drag it away from the edge of the abyss ", Shoukry said in his speech during the Arab League Council meeting at the ministerial level held in Cairo.
He reiterated Egypt's support for the institutions of the state in Yemen to carry out their national responsibilities in maintaining the unity of Yemeni territory.


Humanitarian response plan requires US $747.5 mln for 2015: UN
The United Nations announced on Sunday the launch of the humanitarian response plan for Yemen for 2015 with an amount of US $747.5 million to deliver humanitarian aid to 8.2 million people.
Humanitarian Coordinator in Yemen Johannes Van Der Klaauw said that the latest developments in Yemen confirm the importance of continuing humanitarian aid and expanding its domain to reach millions of vulnerable Yemeni people.
"Despite the political unrest in Yemen, the humanitarian community will continue to work in Yemen at its full capacity and within strong partnerships with local communities and local partners," Klaauw added.
He said that the humanitarian agencies are adhered to continue to deliver emergency humanitarian assistance and to provide protection services for people within the vulnerable groups.
He called on all donors and concerned parties to support such efforts and provide humanitarian response plan for Yemen during the current year.


UN envoy denies deal with Houthis on presidential council formula
The UN envoy to Yemen Jamal Benomar has denied what was reported by some Arab and Yemeni media about an alleged deal between him and Houthis' leader on a presidential council formula.
"I deny altogether these erroneous interpretations", the UN envoy said.
Those who sit at the dialogue table to negotiate with the Houthis (Ansarullah) are Yemeni parties, including the party of the person who made the false statements referred to above, Benomar added.
The UN envoy's role is limited to facilitating the negotiation process and mediation between the parties, and therefore he is not a party to the negotiations, he explained.
He went on: "The UN envoy will not be a party to any agreement because he represents a neutral party that does not have political interests in Yemen."
The presidential council formula is not the idea of the UN envoy, but it is an option adopted by several negotiating parties", he affirmed.


UNSC calls on political parties to reach political agreement
The United Nations Security Council (UNSC) renewed on Wednesday its call for all political parties in Yemen to implement the Council's relevant resolutions, especially the resolution 2201.
The council urged Yemeni political parties to reach a political agreement based on the Gulf initiative and the Peace and National Partnership Agreement (PNPA), confirming its respect to the unity, sovereignty and territorial integrity of Yemen.
Chaired by Francois Delattre, the ambassador and Permanent Mission of France to the United Nations in New York, the UNSC confirmed its support for the efforts made by the UN Special adviser on Yemen Jamal Benomar.
In closed consultations which lasted for more than two hours, Delattre said, "We have heard Benomar's briefing over the latest developments in Yemen, reviewing our concerns the lack of political solutions as well as growing of terrorist threats due to the ongoing security vacuum."