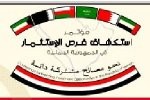 Almotamar.net
- Economy and Business Group sponsoring the Investment Opportunities Exploration Conference in Yemen announced contribution of 5 parties from both public and private sectors to sponsor the conference organized by Yemen in collaboration with the general secretariat of the Gulf Cooperation Council scheduled on 22-23 of this month.
The Group said in a statement Tuesday the Arab-Yemeni Company for Cement, Agricultural Cooperative Lending Bank, SabaFon Mobile Telephone Company and Bin Farid Gulfweb Company are to contribute to sponsorship of the conference.
Economy and Business Group described the investment conference in Yemen as a convenient opportunity for all companies and businessmen and investment sides interested in the Yemeni market to demonstrate their businesses and services.
It added that the conference forms an important opportunity for all parties in the neighbouring and world markets due to the promising investment opportunities available at the Yemeni market.
It is expected that representatives for more than Arab and foreign companies to take part in the conference in addition to large number of Yemeni investors and businessmen. The conference is to offer more than 100 investment opportunities in various sectors estimated at $ 10 billion. It is also expected that more than 400 businessmen from the federation of the chambers of commerce and industry to take part in the conference.