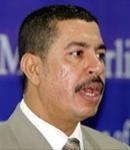 Almotamar.net
- Sana'a, Yeme (Reuters)- n plans to offer 10 offshore oil and gas exploration blocks in a bidding round for international firms in the third quarter, Oil Minister Khaled Mahfoudh Bahah said Wednesday.
The bidding round, Yemen's fourth, has already attracted interest from Canada's Nexen, Norway's Statoil and US company Occidental, Bahah said.
"The fourth exploration round is expected to be announced in the third quarter of 2007 for 10 blocks. They will be in the Gulf of Aden and the Red Sea, all are offshore blocks," he said in an interview.
.
Bahah reiterated that the country aimed to raise oil output to 500,000 bpd, but could not say when as achieving the target was dependent on finds in the new blocks
"This year we are expecting 55 exploration wells and 87 development wells," he said. That would be the most wells ever drilled in one year in Yemen, he added.
Yemen has finalised the award of the third bidding round for eight blocks this year and awarded them to five companies, he said. The country was in the process of negotiating the contracts and expected to finalise them in May and June, he added.
Yemen has already awarded exploration and production sharing agreements this year to Occidental and Australian firm Oil Search.
Yemen plans to issue a tender to upgrade its two domestic refineries next year, Bahah said. The Aden plant has a capacity of 100,000bpd and Marib processes about 10,000 bpd, he said.
"Those two refineries ... will be (offered in) an international tender open to everyone," he said. Yemen wants to bring Aden to 150,000bpd and the Marib to 25,000bpd.
The government has signed two refinery projects with two different investors, one of which was in Ras Issa with Yemeni firm Hood Oil in partnership with India's Reliance Energy Ltd, he said.
"Construction will begin this year. Initial capacity will be 50,000 bpd."
The other project, the Hadramout refinery, is in the Gulf of Aden and was signed with a local partner.
"Unfortunately no major progress achieved since we signed with this investor," Bahah said. The government was pushing the partner to begin construction soon, he added.
Yemen has more than five applications pending for the construction of more refineries in Yemen, he said, adding that Sana'a was looking into these applications and would decide on whether to proceed with any of them this year.
"Most of the new applications that we have received, since signing the previous two agreements, are for refineries with 100,000 bpd plus," he said.
"There is a lot of demand from investors to set up refineries in Yemen due to the strategic location which is close to Asia as well as the Horn of Africa."
Asked about progress on Total's $3.7bn project to build a liquefied natural gas export terminal in Yemen, he said: "As member of the board I am telling you we are on schedule with Yemen LNG. It is over 50 per cent finished, expecting first shipment by end of 2008."
The LNG terminal will have output capacity of 6.7 million tonnes a year. The main shareholders in Yemen LNG are Total with 39.6 per cent, and US Hunt Oil with 17.2 per cent.
Yemen hopes to award a tender soon for the second of four gas-fuelled power plants, each with capacity of 400 megawatts, that it plans to build, he said. Construction is about to begin on the first, he added.
Two of the power plants are to be built in Marib, and two in Mabar. Yemen will also build a 200km pipeline from its gas fields to feed the Mabar plants, he said.