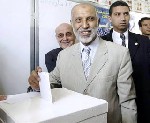 Almotamar.net Google News
- Algerians headed to the polls today amid tight security following bomb attacks which left a police officer dead and five people injured. The interior minister, Noureddine Yazid Zerhouni, condemned the explosions in the eastern city of Constantine as an attempt "to disturb the advance of the democratic process".
His comments came as 15,000 members of the security services guarded over polling stations across the country, and sporting events and street markets were restricted.
________________________________________
"The best way of responding to this kind of attack is strong participation in the legislative elections," he said after the bombings.
The election, to decide 389 seats for the lower house of parliament, comes five weeks after suicide bombers killed 30 people in two attacks, including one on the prime minister's office in the capital Algiers, which were claimed by a group with links to al-Qaida.
Today's parliamentary election is the third since an Islamist revolt erupted after the cancellation of a general election in January 1992, which a now-outlawed Muslim fundamentalist party was poised to win.
Up to 200,000 people were killed as the country collapsed into violence.
The insurgency largely ended in 2004 when the president, Abdelaziz Bouteflika, was re-elected in a peaceful and relatively free vote, with the army staying in the background.
President Abdelaziz Bouteflika launched a programme of national reconciliation in 2005, but Islamists are still banned from politics and militants have called on Algerians to boycott the election.
But even as the remaining Islamist armed movements suffered further setbacks, they retained the power to strike at the government.
Algerian security forces continue a military campaign against extremists in the mountainous interior.
Fears of a terrorist campaign across north Africa have been mounting in recent months after incidents in Tunisia, Algeria and Morocco, where three bombers died in Casablanca in April.
Some 18 million people are registered to vote today but the turnout is expected to be low amid widespread frustration over the lack of credible opposition to counter the National Liberation Front, or FLN, which has dominated politics in Algeria since the nation won independence from France in 1962.
Observers expect the FLN, which currently holds 199 out of the 389 seats, to again come out as the largest single party.
The party, led by prime minister Abdelaziz Belkhadem, a close ally of the president, is part of the governing coalition. The "presidential alliance" also includes the National Democratic Rally, a nationalist grouping, and the Movement for Society and Peace, a moderate Islamist party.
Economic problems for many of Algeria's 33 million people remain acute, with unemployment among adults under 30 at 75 per cent despite income from exports of natural gas and oil.
More than 10,000 voting stations will close at 8pm (BST) and results due to be announced by interior minister N oureddine Yazid Zerhouni tomorrow morning at 10 am (BST).