no comments in "Entertainment"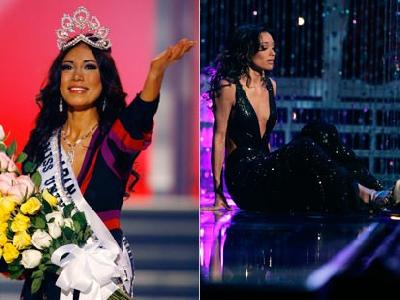 Ms. USA Booed, Falls at Universe Pageant
Almotamar.net Google - A 20-year-old dancer from Japan was crowned Miss Universe 2007 on Monday night, marking only the second time her country has won the world beauty title.
Dressed in a black, red and purple Japanese-style gown, Riyo Mori nervously grabbed the hands of first runner-up, Natalia Guimaraes of Brazil, just before the winner was announced. Then she threw her hands up and covered her mouth, overcome with emotion.
But she gathered herself together enough to catch the diamond-and-pearl-studded headpiece valued at $250,000 as it slipped off her head when Miss Universe 2006 Zuleyka Rivera of Puerto Rico crowned her. Mori immediately placed it back on her head.
The last time Japan won the pageant was in 1959 when Akiko Kojima became the first Miss Universe from Asia.
"She is an amazing champion, an amazing woman and I hear that they go totally insane in Japan, so that's good," said Donald Trump, who co-owns the pageant with NBC.
Miss USA Rachel Smith, who slipped and fell to the floor during the evening gown competition and was jeered by the Mexican audience during the interview phase, was the contest's fourth runner-up.
Mori, from the small town of Shizuoka at the base of Mount Fuji, won the cheers of the Mexico City audience when she opened her interview, saying 'Hola, Mexico!'
"I learned how to always be happy, be patient and to be positive, and this is what I want to teach to the next generation," she said during the interview competition.
The daughter of a dance school operator, Mori said her grandmother told her as a child that she wanted her to be Miss Japan before she turned 20.
"From the very beginning, I entered the competition with high hopes and an unswerving determination to make this dream a reality," she said in a pre-competition interview.
She wants to someday open an international dance school in Tokyo.
"Right now I am only 20 years old, so I'm really excited about what I'm going to be able to do at this age to benefit society," Mori said after winning.
Smith was booed during her interview and several audience members chanted "Mexico! Mexico!" until she spoke in Spanish, saying "Buenas noches Mexico. Muchas gracias!" which earned her applause. Mexico has a fierce rivalry with its northern neighbor.
Also finishing in the top five were second runner-up Ly Jonaitis of Venezuela and third runner-up Honey Lee of Korea.
The winner travels the world for a year on behalf of charities and pageant sponsors.
The 15 finalists from a field of 77 contestants were announced early in Monday's show. They were picked last week during preliminary judging in the contest's swimsuit, evening gown and interview categories. Their names were not announced until Monday, allowing all 77 to be introduced to the television audience.
As soon as the final 15 had been selected, they immediately strutted across the stage in animal-print bikinis for the swimsuit competition. After the evening gown competition, five contestants were eliminated, and the judges chose the winner from the five remaining.
Missing from this year's contest was Miss Sweden, whose country is one of the few to win the crown three times. Isabel Lestapier Winqvist, 20, dropped out because many Swedes say the competition does not represent the modern woman.
Hours before the pageant began, dozens of protesters held a mock ceremony in downtown Mexico City that featured "Miss Marijuana," "Miss Sexual Health," "Miss Human Rights" and other candidates with obscenities written across their sashes. The group yelled "Neither ugly nor beautiful, should a woman be considered an object!"
Pageant organizers say the Miss Universe contest carefully selects women who are intelligent, well-mannered and cultured.
1999 Miss Teen USA Vanessa Minnillo and "Extra" weekend correspondent Mario Lopez hosted the live, two-hour telecast, broadcast on NBC and Telemundo, expected to be viewed by more than 600 million people in more than 180 countries.
The celebrity judges included actor James Kyson Lee, model Lindsay Clubine, Dallas Cowboys quarterback Tony Romo, rocker Dave Navarro, Olympic figure skating champion Michelle Kwan, celebrity hairstylist Ken Paves, fashion designer Marc Bouwer, "Project Runway" judge and Elle magazine fashion director Nina Garcia and former Miss Universe Dayanara Torres.
The pageant was last held in Mexico City in 1993, when Torres was crowned.
Miss Universe: http://www.missuniverse.com

More from "Entertainment"
---

Cabinet urges quick formation of new government
The Cabinet on Wednesday urged all the concerned political parties to accelerate the formation of a new government.
In its meeting, which was chaired by Acting Prime Minister and Minister of Electricity Abdullah al-Akwa, the cabinet pointed to the importance of the new government formation in stabilizing the political, economic and security situation and overcoming the current problems.
The cabinet's meeting touched on a number of topics, especially the issues related to the service and development aspects.
The cabinet stressed the need to keep the different educational institutions away from any conflicts and the importance of commitment of all parties to maintain the safety of employees and students in these education institutions.


President Hadi chairs meeting of his advisors panel
President Abd-Rabbu Mansour Hadi chaired on Monday a meeting of the panel of presidential advisors along with Prime Minister-designate Khalid Bahah.
They reviewed the latest developments in the local arena, besides procedures to form a new government and distribution of the ministerial portfolios in accordance with criteria agreed upon by all components.


Ibb University suspends study for security reasons
Ibb University Council approved Sunday the halt of study in different colleges for a week due to security reasons in the governorate.
The council formed a committee to communicate with the local authority and concerned political forces to withdraw their militants from near the university for it is an educational institution to the governorate's sons.


President urges PM-designate to accelerate forming new gov't
President Abd-Rabbu Mansour Hadi stressed on Sunday the importance of accelerating the formation of the new government based on the peace and national partnership agreement.
During the meeting, Hadi urged Khalid Bahah, the Prime Minister-designate, to meet with all political powers and components in order to form a new government based on the standards of integrity, competence and experience.
He also emphasized the importance of combining efforts of all political and societal components to face economic and security challenges in the country.


Bahah calls the international community to honor pledges to Yemen
The newly appointed Prime Minister Khaled Bahah has called the International Community to speed up honor their pledges they announced about during Yemen Friends' Meetings held in Riyadh, New York and London.
During a formal ceremony held at the UN Premises on Friday on the occasion of ending duties as Yemen's Permanent Representative to the UN, Bahah talked about providing suitable environment to enhance Yemen's economy to help improving humanitarian and political situation in Yemen, as well as providing protection to weak social categories.
He reviewed a series of political, security, economic, humanitarian and social challenges that will face the expected national partnership government he will form after his arrival to the country.


Yemen calls for int'l efforts to combat human trafficking
Yemen has called for gathering regional and international efforts to confront and combat the crime of human trafficking.
At the Regional Conference on combating human trafficking hosted by Sudan's capital Khartoum during October 13-16, Yemen stressed in its speech, which was delivered by the ambassador Abdulelah Hajar, the importance of seeking to eliminate the main causes of the growing phenomenon of asylum and illegal immigration, represented in poverty, illiteracy, unemployment ,oppression ,armed conflicts and natural disasters


Government discusses security, economic situations
The Cabinet discussed in its meeting held Thursday security and economic situations in the country, as well as the performance of the government's institutions.
Presided over by Deputy Prime Minister, Minister of Electricity Abdullah al-Akwa', the government studied measures must be adopted by all ministries and government bodies to deal with present challenges and the implementation of Peace and Partnership Agreement signed by political parties


Japan strongly condemns recent attacks in Yemen
Japan expressed on Wednesday deep concern and strong condemnation of the terrorist attacks taken place in Sana'a and Hadramout last week.
At least 66 people were killed on October 9 in a suicide bombing in the capital Sana'a and a car bomb attack on an army checkpoint in eastern Hadramout governorate.
"Japan expresses its absolute condemnation of these terrorist acts, and offers sincere condolences to the families of the victims and wishes a speedy recovery to the injured," the Japanese Foreign Ministry spokesman said in a statement posted on the Ministry's