no comments in "Entertainment"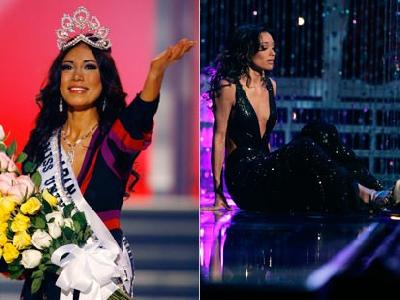 Ms. USA Booed, Falls at Universe Pageant
Almotamar.net Google - A 20-year-old dancer from Japan was crowned Miss Universe 2007 on Monday night, marking only the second time her country has won the world beauty title.
Dressed in a black, red and purple Japanese-style gown, Riyo Mori nervously grabbed the hands of first runner-up, Natalia Guimaraes of Brazil, just before the winner was announced. Then she threw her hands up and covered her mouth, overcome with emotion.
But she gathered herself together enough to catch the diamond-and-pearl-studded headpiece valued at $250,000 as it slipped off her head when Miss Universe 2006 Zuleyka Rivera of Puerto Rico crowned her. Mori immediately placed it back on her head.
The last time Japan won the pageant was in 1959 when Akiko Kojima became the first Miss Universe from Asia.
"She is an amazing champion, an amazing woman and I hear that they go totally insane in Japan, so that's good," said Donald Trump, who co-owns the pageant with NBC.
Miss USA Rachel Smith, who slipped and fell to the floor during the evening gown competition and was jeered by the Mexican audience during the interview phase, was the contest's fourth runner-up.
Mori, from the small town of Shizuoka at the base of Mount Fuji, won the cheers of the Mexico City audience when she opened her interview, saying 'Hola, Mexico!'
"I learned how to always be happy, be patient and to be positive, and this is what I want to teach to the next generation," she said during the interview competition.
The daughter of a dance school operator, Mori said her grandmother told her as a child that she wanted her to be Miss Japan before she turned 20.
"From the very beginning, I entered the competition with high hopes and an unswerving determination to make this dream a reality," she said in a pre-competition interview.
She wants to someday open an international dance school in Tokyo.
"Right now I am only 20 years old, so I'm really excited about what I'm going to be able to do at this age to benefit society," Mori said after winning.
Smith was booed during her interview and several audience members chanted "Mexico! Mexico!" until she spoke in Spanish, saying "Buenas noches Mexico. Muchas gracias!" which earned her applause. Mexico has a fierce rivalry with its northern neighbor.
Also finishing in the top five were second runner-up Ly Jonaitis of Venezuela and third runner-up Honey Lee of Korea.
The winner travels the world for a year on behalf of charities and pageant sponsors.
The 15 finalists from a field of 77 contestants were announced early in Monday's show. They were picked last week during preliminary judging in the contest's swimsuit, evening gown and interview categories. Their names were not announced until Monday, allowing all 77 to be introduced to the television audience.
As soon as the final 15 had been selected, they immediately strutted across the stage in animal-print bikinis for the swimsuit competition. After the evening gown competition, five contestants were eliminated, and the judges chose the winner from the five remaining.
Missing from this year's contest was Miss Sweden, whose country is one of the few to win the crown three times. Isabel Lestapier Winqvist, 20, dropped out because many Swedes say the competition does not represent the modern woman.
Hours before the pageant began, dozens of protesters held a mock ceremony in downtown Mexico City that featured "Miss Marijuana," "Miss Sexual Health," "Miss Human Rights" and other candidates with obscenities written across their sashes. The group yelled "Neither ugly nor beautiful, should a woman be considered an object!"
Pageant organizers say the Miss Universe contest carefully selects women who are intelligent, well-mannered and cultured.
1999 Miss Teen USA Vanessa Minnillo and "Extra" weekend correspondent Mario Lopez hosted the live, two-hour telecast, broadcast on NBC and Telemundo, expected to be viewed by more than 600 million people in more than 180 countries.
The celebrity judges included actor James Kyson Lee, model Lindsay Clubine, Dallas Cowboys quarterback Tony Romo, rocker Dave Navarro, Olympic figure skating champion Michelle Kwan, celebrity hairstylist Ken Paves, fashion designer Marc Bouwer, "Project Runway" judge and Elle magazine fashion director Nina Garcia and former Miss Universe Dayanara Torres.
The pageant was last held in Mexico City in 1993, when Torres was crowned.
Miss Universe: http://www.missuniverse.com

More from "Entertainment"
---

Aggression, hirelings continue to breach ceasefire
The Saudi-led coalition's warplanes and its mercenaries continued to breach the UN-announced ceasefire in several provinces during the past 24 hours, a military official said Sunday.
The aggression's war jets dropped sound bombs on al-Nahdain and Noqm areas in the Capital and launched two sorties on Nehm district and two on al-Shurfa area in Bani Hushaish district in Sana'a province, the official said.
He added the aggression dropped also four sound bombs on al-Shahel district and petrol bombs on al-Mazraq in Haradh district in Hajjah province.
In Jawf province, three children were wounded by the Saudi air bombing on al-Muaimerah area in al-Moton district, which was targeted by two air raids.


Aggression drops sound bombs on Unification Day
The Saudi aggression launched on Sunday a number of air raids on the Capital Sana'a, using sound bombs, a security official said.
The war jets dropped more than ten high-explosive sound bombs on Noqm and al-Nahdain areas, the official explained.
He pointed out that the aggression aimed through using those bombs at disturbing the atmosphere of the celebration on the National Day, May 22nd, which was held in al-Sabeen Square in the capital.


Saudi aggression, mercenaries still breach ceasefire in Yemen
The Saudi-led coalition's warplanes and its mercenaries continued to breach the UN-announced ceasefire in several provinces during the past 24 hours, a military official said Saturday.
The official said that the Saudi war jets kept flying in the skies of the provinces of Sana'a, Jawf, Mareb, Sa'ada, Amran, Hajjah, Hodeidah and Mahweet.
The hostile warplanes waged six raids on al-Majaweha area in Nehm district and two others on Bani Hoshish district in Sana'a province, while Riyadh's mercenaries pounded the areas of Dhaboa'a, Mabda'a, al-Majaweha and al-Houl in Nehm with missiles, the official elaborated.
In Jawf, the war jets of the Saudi aggression launched two raids on the districts of al-Masloub and al-Ghail, while the hirelings pounded al-Maton district with artillery shells.
A military vehicle carrying 23-caliber machine gun belonging to the mercenaries was burned when the army and popular committees forces repelled their failed attempt to advance on Waqaz area in al-Masloub district


Security services seize weapons in Dhalea
The security services in cooperation with popular committees captured on Saturday a car loaded with weapons in Dhalea province.
The car was captured in Damt district and was coming from Aden province heading for the Capital, the official said.
He added the security services and popular committees will spare no efforts to arrest


Saudi airstrike kills one, injures five in Taiz
At least a citizen was killed and five others were wounded on Friday in an airstrike by the Saudi-led coalition on Moza' district in Taiz province.
A local official said that the raid targeted a truck loaded with cement on the main road in al-Hardain area of Moza' district, which led to the killing of a citizen, injuring five others and damaging the truck's load.
The aggression's warplanes waged two raids on the coastal city of Mocha, the official added.


UN official warns of worsening humanitarian crisis in Yemen
A senior United Nations relief official has warned of the worsening humanitarian crisis in Yemen due to the continuing conflict.
"Seeing the plight of the Yemeni people first-hand reinforces the need for national and international humanitarian actors to scale up their response to protect and support the population," John Ging, Director of Operations in the Office for the Coordination of Humanitarian Affairs (OCHA), said in a statement issued on Tuesday.
More than 13 million people in need of immediate life-saving assistance in Yemen, Ging stated following his three-day visit to the country with Emergency Director of the World Health Organization (WHO), Rick Brennan, and Deputy Emergency Director of the World Food Programme (WFP), Gian Carlo Cirri.
He pointed out that the healthy food and access to health care are among the more requirements of the population.
Since mid-March 2015, the conflict has prompted a widening protection crisis, exacerbating an already dire humanitarian situation brought on by years of poverty, poor governance and instability. Over 7.6 million people are severely food insecure, and 2.5 million people have been displaced by violent conflict since January 2014.


National delegation holds two sessions with UN envoy
The national delegation consisting of representatives of the General People's Congress headed by Mr. Aref Awad Azwkaand and Ansarullah headed by Mr. Mohammed Abdulsalam held on Thursday, two sessions with the UN envoy to Yemen, Ismail Ould Cheikh Ahmed,.
The two sessions discussed a roadmap for a transitional period and the need to completely stop hostilities.
The national delegation stressed the need for supporting the ceasefire the existing stage is governed by consensus and partnership, and that the key solution is consensus on a transitional authority.


Army foils attempt to advance on Ham Mount
The army and popular committees repulsed on Wednesday an attempt of the hirelings to advance towards Ham Mount in al-Moton district of Jawf province.
A local official said a number of the hirelings were killed and injured in the failed attempt, including Col. Hamoud Jarad, the operation commander in the province.