no comments in "Entertainment"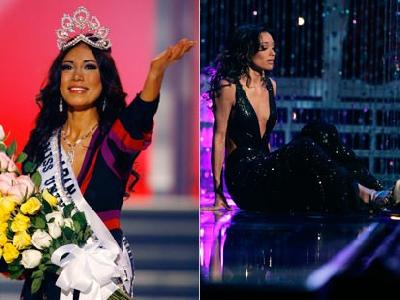 Ms. USA Booed, Falls at Universe Pageant
Almotamar.net Google - A 20-year-old dancer from Japan was crowned Miss Universe 2007 on Monday night, marking only the second time her country has won the world beauty title.
Dressed in a black, red and purple Japanese-style gown, Riyo Mori nervously grabbed the hands of first runner-up, Natalia Guimaraes of Brazil, just before the winner was announced. Then she threw her hands up and covered her mouth, overcome with emotion.
But she gathered herself together enough to catch the diamond-and-pearl-studded headpiece valued at $250,000 as it slipped off her head when Miss Universe 2006 Zuleyka Rivera of Puerto Rico crowned her. Mori immediately placed it back on her head.
The last time Japan won the pageant was in 1959 when Akiko Kojima became the first Miss Universe from Asia.
"She is an amazing champion, an amazing woman and I hear that they go totally insane in Japan, so that's good," said Donald Trump, who co-owns the pageant with NBC.
Miss USA Rachel Smith, who slipped and fell to the floor during the evening gown competition and was jeered by the Mexican audience during the interview phase, was the contest's fourth runner-up.
Mori, from the small town of Shizuoka at the base of Mount Fuji, won the cheers of the Mexico City audience when she opened her interview, saying 'Hola, Mexico!'
"I learned how to always be happy, be patient and to be positive, and this is what I want to teach to the next generation," she said during the interview competition.
The daughter of a dance school operator, Mori said her grandmother told her as a child that she wanted her to be Miss Japan before she turned 20.
"From the very beginning, I entered the competition with high hopes and an unswerving determination to make this dream a reality," she said in a pre-competition interview.
She wants to someday open an international dance school in Tokyo.
"Right now I am only 20 years old, so I'm really excited about what I'm going to be able to do at this age to benefit society," Mori said after winning.
Smith was booed during her interview and several audience members chanted "Mexico! Mexico!" until she spoke in Spanish, saying "Buenas noches Mexico. Muchas gracias!" which earned her applause. Mexico has a fierce rivalry with its northern neighbor.
Also finishing in the top five were second runner-up Ly Jonaitis of Venezuela and third runner-up Honey Lee of Korea.
The winner travels the world for a year on behalf of charities and pageant sponsors.
The 15 finalists from a field of 77 contestants were announced early in Monday's show. They were picked last week during preliminary judging in the contest's swimsuit, evening gown and interview categories. Their names were not announced until Monday, allowing all 77 to be introduced to the television audience.
As soon as the final 15 had been selected, they immediately strutted across the stage in animal-print bikinis for the swimsuit competition. After the evening gown competition, five contestants were eliminated, and the judges chose the winner from the five remaining.
Missing from this year's contest was Miss Sweden, whose country is one of the few to win the crown three times. Isabel Lestapier Winqvist, 20, dropped out because many Swedes say the competition does not represent the modern woman.
Hours before the pageant began, dozens of protesters held a mock ceremony in downtown Mexico City that featured "Miss Marijuana," "Miss Sexual Health," "Miss Human Rights" and other candidates with obscenities written across their sashes. The group yelled "Neither ugly nor beautiful, should a woman be considered an object!"
Pageant organizers say the Miss Universe contest carefully selects women who are intelligent, well-mannered and cultured.
1999 Miss Teen USA Vanessa Minnillo and "Extra" weekend correspondent Mario Lopez hosted the live, two-hour telecast, broadcast on NBC and Telemundo, expected to be viewed by more than 600 million people in more than 180 countries.
The celebrity judges included actor James Kyson Lee, model Lindsay Clubine, Dallas Cowboys quarterback Tony Romo, rocker Dave Navarro, Olympic figure skating champion Michelle Kwan, celebrity hairstylist Ken Paves, fashion designer Marc Bouwer, "Project Runway" judge and Elle magazine fashion director Nina Garcia and former Miss Universe Dayanara Torres.
The pageant was last held in Mexico City in 1993, when Torres was crowned.
Miss Universe: http://www.missuniverse.com

More from "Entertainment"
---

GPC chairman receives the ICRC delegation of the Red Cross
Ali Abdullah Saleh, chairman of the General People's Congress (GPC), received Mr. Sidrek Shafaizer, Chief of the International Committee Mission of the Red Cross. The meeting discussed the ICRC humanitarian activities in Yemen in order to provide services in the areas affected by conflict armed.
Shafaizer confirmed that International Committee almost has 250 activist disrupted among many Yemeni governorate like Sana'a, Aden, Taiz, Sa'ada, and Dalea.


124 children kidnapped in Yemen in 2013
The number of kidnapped children in Yemen during the last year reached 124, including 105 males and 19 females, Head of Seyaj Organization for childhood protection Ahmed Al-Qershi has said.
Al-Qershi added that most of the abducted children were victims of human trafficking .
In a press conference organized in Sana'a by the Monitoring and Advocating Center in Seyaj on the occasion of launching the first annual report on kidnapping children in Yemen 2013
al-Qershi confirmed that only 19 of children kidnapping cases were reported by their parents.


Yemeni Female Prisoners: Between Bitterness And Social Rejection
Safi did not commit any crime that deserved imprisonment. She was only friends with a man in a society that did not believe in that. Since her childhood, she used to have her friend drive her places because she trusted him, and never thought about it. One night, though, his car stalled and he went to repair it. A group of men demanded money from them, otherwise they would call the police and imprison them for immorality. The two friends did not listen, and as a result, Safi found herself in jail.
Safi didn't face as many problems in prison as she did with society and her family. Once they found out, they left her to face things alone. One year passed, and when she was released, her eyes were filled with tears.


AL-Qirbi meets GCC office director
Foreign Minister Abu Bakr al-Qirbi met here on Tuesday with director of the GCC office in Sana'a Saad al-Arifi.
During the meeting, they reviewed the ongoing arrangements for the Friends of Yemen next meeting to be held in London on 29 April, as well as the latest developments in the local and international arenas.


Yemen, US discuss cooperation in information technology
Yemen and the US reviewed here on Tuesday aspects of joint cooperation in the telecommunication and information technology fields.
During their meeting, Minister of Telecommunication and Information Technology Ahmed bin Daghr and Chargé d'affaires of the US embassy Karen Sasahara discussed the possible means of Yemen to benefit from the US telecommunication experiences and technologies.


President Hadi congratulates Marie-Louise Coleiro for being elected as new President
President Abdu Rabbu Mansour Hadi sent a cable of congratulations to new President of Malta, Marie-Louise Coleiro Preca.
Hadi in his cable congratulated Coleiro for being elected by Malta's parliament as a new President of the Republic of Malta, wishing her all success in carrying out her new tasks.
Last week, Marie-Louise Coleiro Preca was elected President of the Republic of Malta. A Parliamentary resolution on 1st April 2014, approved her nomination as the ninth President of Malta.


Poverty And Early Marriage Two Sides For The Same Problem
Anxiety is affecting many Yemeni girls who are groaning under the burden of economic problems, which is one of the primary motivations for child marriage in the country. Mohammed Ali, a father of five daughters, said that he was fired from his job three years ago, and lost the income needed to provide them with a good education and comfortable life.
"I really feel guilty when I accept a marriage proposal for one of my daughters while she is still a child, but nothing is in my hands. Poverty leaves no way in front of me."
Academic studies say that 52% of Yemeni girls accept marriage in their early years to escape poverty. The study also said that boys are also affected by the phenomenon.


Yemen, UK review arrangements for Friends' meeting
Yemen and Britain reviewed on Monday the current arrangements for the Friends of Yemen meeting scheduled to be held in London on 29 April 2014.
This came during a meeting gathered in London Yemen's ambassador to Britain Abdullah al-Radhi and the British Minister of State for International Development Alan Duncan .
Al-Radhi underlined the importance of activating the Group of Friends through the new mechanism to be adopted in the London meeting.
In the meeting, Duncan praised the role and steps made by President Abd Rabbo Mansour Hadi during the transitional phase.


Friends of Yemen meeting in London 29 April
The governments of the UK, Saudi Arabia and Yemen will co-chair the next Friends of Yemen meeting in London on 29 April, the UK Foreign & Commonwealth Office said in a press release on Monday.
The Friends of Yemen was established in 2010 to co-ordinate international support for Yemen and comprises 39 countries and organisations.
"With the conclusion of the National Dialogue Conference (NDC) earlier this year, Yemen has entered a new stage in its transition towards a constitutional referendum and elections", the UK Foreign & Commonwealth Office added.


President Hadi receives sheiks and dignitaries from al-Mahra and Socotra Archipelago
President Abdu Rabbu Mansour Hadi received on Sunday at the Presidential Palace sheiks and dignitaries of al-Mahra and Socotra Archipelago provinces.
At the meeting, Hadi indicated to the critical situation Yemen has been experiencing nowadays, which needs as he said all national efforts in order to translate the NDC outcomes on the ground. "Yemen has got out of its crisis fairly and honorable,'' the President said.
He confirmed that the cooperation by the international community averted Yemen from dragging into several risks and dangers based on the expending the responsibility, wealth, and power under a new federal system which would achieve justice and fair.