no comments in "Entertainment"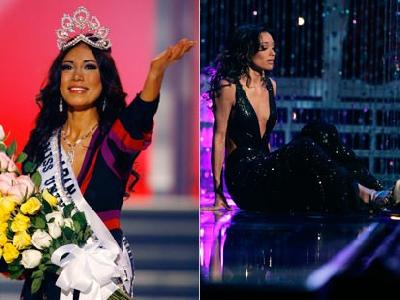 Ms. USA Booed, Falls at Universe Pageant
Almotamar.net Google - A 20-year-old dancer from Japan was crowned Miss Universe 2007 on Monday night, marking only the second time her country has won the world beauty title.
Dressed in a black, red and purple Japanese-style gown, Riyo Mori nervously grabbed the hands of first runner-up, Natalia Guimaraes of Brazil, just before the winner was announced. Then she threw her hands up and covered her mouth, overcome with emotion.
But she gathered herself together enough to catch the diamond-and-pearl-studded headpiece valued at $250,000 as it slipped off her head when Miss Universe 2006 Zuleyka Rivera of Puerto Rico crowned her. Mori immediately placed it back on her head.
The last time Japan won the pageant was in 1959 when Akiko Kojima became the first Miss Universe from Asia.
"She is an amazing champion, an amazing woman and I hear that they go totally insane in Japan, so that's good," said Donald Trump, who co-owns the pageant with NBC.
Miss USA Rachel Smith, who slipped and fell to the floor during the evening gown competition and was jeered by the Mexican audience during the interview phase, was the contest's fourth runner-up.
Mori, from the small town of Shizuoka at the base of Mount Fuji, won the cheers of the Mexico City audience when she opened her interview, saying 'Hola, Mexico!'
"I learned how to always be happy, be patient and to be positive, and this is what I want to teach to the next generation," she said during the interview competition.
The daughter of a dance school operator, Mori said her grandmother told her as a child that she wanted her to be Miss Japan before she turned 20.
"From the very beginning, I entered the competition with high hopes and an unswerving determination to make this dream a reality," she said in a pre-competition interview.
She wants to someday open an international dance school in Tokyo.
"Right now I am only 20 years old, so I'm really excited about what I'm going to be able to do at this age to benefit society," Mori said after winning.
Smith was booed during her interview and several audience members chanted "Mexico! Mexico!" until she spoke in Spanish, saying "Buenas noches Mexico. Muchas gracias!" which earned her applause. Mexico has a fierce rivalry with its northern neighbor.
Also finishing in the top five were second runner-up Ly Jonaitis of Venezuela and third runner-up Honey Lee of Korea.
The winner travels the world for a year on behalf of charities and pageant sponsors.
The 15 finalists from a field of 77 contestants were announced early in Monday's show. They were picked last week during preliminary judging in the contest's swimsuit, evening gown and interview categories. Their names were not announced until Monday, allowing all 77 to be introduced to the television audience.
As soon as the final 15 had been selected, they immediately strutted across the stage in animal-print bikinis for the swimsuit competition. After the evening gown competition, five contestants were eliminated, and the judges chose the winner from the five remaining.
Missing from this year's contest was Miss Sweden, whose country is one of the few to win the crown three times. Isabel Lestapier Winqvist, 20, dropped out because many Swedes say the competition does not represent the modern woman.
Hours before the pageant began, dozens of protesters held a mock ceremony in downtown Mexico City that featured "Miss Marijuana," "Miss Sexual Health," "Miss Human Rights" and other candidates with obscenities written across their sashes. The group yelled "Neither ugly nor beautiful, should a woman be considered an object!"
Pageant organizers say the Miss Universe contest carefully selects women who are intelligent, well-mannered and cultured.
1999 Miss Teen USA Vanessa Minnillo and "Extra" weekend correspondent Mario Lopez hosted the live, two-hour telecast, broadcast on NBC and Telemundo, expected to be viewed by more than 600 million people in more than 180 countries.
The celebrity judges included actor James Kyson Lee, model Lindsay Clubine, Dallas Cowboys quarterback Tony Romo, rocker Dave Navarro, Olympic figure skating champion Michelle Kwan, celebrity hairstylist Ken Paves, fashion designer Marc Bouwer, "Project Runway" judge and Elle magazine fashion director Nina Garcia and former Miss Universe Dayanara Torres.
The pageant was last held in Mexico City in 1993, when Torres was crowned.
Miss Universe: http://www.missuniverse.com

More from "Entertainment"
---

Yemen, Saudi Arabia discuss cooperation in higher education field
Minister of Higher Education and Scientific Research Hisham Sharaf met on Monday with Charge d'Affaires of Saudi Embassy in Yemen Bandar al-Otaibi.
Sharaf and al-Otaibi discussed the bilateral cooperation aspects in the field of higher education and scientific research.
The meeting touched on a request made by Yemen for increasing the scholarships for Yemenis to study in the Saudi universities and the possibility of supporting the scientific research in Yemen.


Presidential decrees appointing officials at COCA and HATC issued
The Presidential decree No. 43 for 2014 was issued on Sunday on the regulation of the Supreme Judicial Council (SJC).
Also the Presidential decree No. 44 for 2014 was issued appointing officials at the Central Organization for Control and Auditing, (COCA) as follows;
- Ameen Mohamed Qassem al-Sherai, Undersecretary of Administrative Units & Subsidized Entities of Sector;
- Fahmi Mohamed Mansour Mohamed, Undersecretary of Audit Sector of Administrative Units & Subsidized Entities;


Hadi expresses condolences over Malaysian Airlines flight crash
President Abdu Rabbu Mansour Hadi sent on Friday a cable of condolences to King Almu'tasimu Billahi Muhibbuddin Tuanku of Malaysia, following Thursday's crash of a Malaysia Airlines plane in Ukraine.
Hadi in the cable offered his deep condolences to the families and loved ones of the victims and people of Malaysia.


WFP allocates $ 500 mln to improve food security in Yemen
Yemen and the United Nations World Food Programme (WFP) signed on Thursday a memorandum of understanding included providing support worth $ 500 million to improve the food security in Yemen.
The memorandum of understanding signed by Minister of Planning and International Cooperation Dr. Mohammed al-Saadi and the WFP representative in Yemen Bishaw Parajuli stipulated the allocation of the support to help about six million Yemenis to face the challenges of food scarcity and food insecurity.


Gunmen kill policeman, loot 1.6 mln in Hadramout
Gunmen have attacked a post office in Hadramout province, killing a security man and looting over 1.6 million rials.
Director General of Post Office of Hadramut valley and desert ,Ibrahim Ba-shuaib, explained to Saba that 12 militants riding a car stormed on Tuesday evening the post office in Hura town after they fired at the office guard who died immediately.


UN Survey shows 10 million Yemenis still struggle for food
A UN survey shows over 40 % of the Yemeni population still struggle for food, UNICEF said on Tuesday.
The survey's preliminary findings indicated that over 10 million Yemenis don't know where their next meal will come from, while around five million people were found to be severely food insecure, suffering from levels of hunger where external food assistance is generally required.
The Comprehensive Food Security Survey also shows that the prevalence of chronic malnutrition among children under the age of five is beyond the international


President Hadi receives GCC Director in Sana'a
President Abdu Rabbu Mansour Hadi received on Monday the Director of the Gulf Cooperation Council (GCC) office in Sana'a Sa'ad al-Arifi.
The nature of bilateral relations between Yemen and the GCC at various levels were discussed at the meeting along with the latest developments on the ground.
Hadi at the meeting expressed his thanks and appreciation to the efforts of the GCC's Countries and their support to Yemen at various circumstances and at different arenas.


G10 ambassadors condemn violence in Amran
The Group of Ten Ambassadors condemned on Monday the violence that has occurred in Amran and its surrounding areas.
In a statement issued by the Group on Monday and handed over to President Abdo Rabbo Mansour Hadi by the U.S. and British ambassadors to Yemen, the Group of Ten Ambassadors condemned the violence that has occurred in Amran and surrounding areas in the north including the taking of the 310th Brigade with all its equipment and burning of the compound.
The Group called on all parties to cease armed conflict that has claimed and continues to claim Yemeni lives. The Group stressed that the Houthis, militias affiliated with political parties, and all armed groups and parties involved in the violence, must stop the fighting, respect all cease-fire agreements they all have committed to, especially that of June 22nd, withdraw from Amran, and turn over weapons to authorities loyal to the national government.


President Hadi chairs meeting on latest developments
President and Supreme Commander of the Armed Forces Abdu Rabbu Mansour Hadi has chaired a meeting with Defense Minister Major General Mohammed Nasser Ahmed, Chief of staff, Major General Ahmed Ali al-Ashwal along with a number of military leaders..
The meeting discussed the latest developments on the ground especially events occurred in Amran province. He gave his orders to put security and military forces on alert in the capital Sana'a and neighboring provinces, praising the role played by security and armed forces in consolidating security, stability and public tranquility in


Decrees appointing officials at Ministry of Telecommunications issued
The Republican decree No. 111 for 2014 was issued on Thursday appointing officials at Ministry of Telecommunications and Information Technology as follows:
- Omar Awad Obid, Undersecretary for Technical Affairs;
- Mohamed Qassim al-Asebahi, Undersecretary for Supervision, Following-up and Inspection Affairs;
- Musleh Mohssen Al-Aziz, Assistant Undersecretary for Administrative Affairs;