no comments in "Entertainment"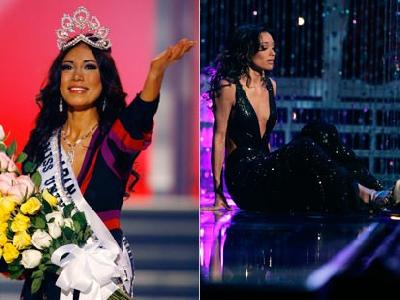 Ms. USA Booed, Falls at Universe Pageant
Almotamar.net Google - A 20-year-old dancer from Japan was crowned Miss Universe 2007 on Monday night, marking only the second time her country has won the world beauty title.
Dressed in a black, red and purple Japanese-style gown, Riyo Mori nervously grabbed the hands of first runner-up, Natalia Guimaraes of Brazil, just before the winner was announced. Then she threw her hands up and covered her mouth, overcome with emotion.
But she gathered herself together enough to catch the diamond-and-pearl-studded headpiece valued at $250,000 as it slipped off her head when Miss Universe 2006 Zuleyka Rivera of Puerto Rico crowned her. Mori immediately placed it back on her head.
The last time Japan won the pageant was in 1959 when Akiko Kojima became the first Miss Universe from Asia.
"She is an amazing champion, an amazing woman and I hear that they go totally insane in Japan, so that's good," said Donald Trump, who co-owns the pageant with NBC.
Miss USA Rachel Smith, who slipped and fell to the floor during the evening gown competition and was jeered by the Mexican audience during the interview phase, was the contest's fourth runner-up.
Mori, from the small town of Shizuoka at the base of Mount Fuji, won the cheers of the Mexico City audience when she opened her interview, saying 'Hola, Mexico!'
"I learned how to always be happy, be patient and to be positive, and this is what I want to teach to the next generation," she said during the interview competition.
The daughter of a dance school operator, Mori said her grandmother told her as a child that she wanted her to be Miss Japan before she turned 20.
"From the very beginning, I entered the competition with high hopes and an unswerving determination to make this dream a reality," she said in a pre-competition interview.
She wants to someday open an international dance school in Tokyo.
"Right now I am only 20 years old, so I'm really excited about what I'm going to be able to do at this age to benefit society," Mori said after winning.
Smith was booed during her interview and several audience members chanted "Mexico! Mexico!" until she spoke in Spanish, saying "Buenas noches Mexico. Muchas gracias!" which earned her applause. Mexico has a fierce rivalry with its northern neighbor.
Also finishing in the top five were second runner-up Ly Jonaitis of Venezuela and third runner-up Honey Lee of Korea.
The winner travels the world for a year on behalf of charities and pageant sponsors.
The 15 finalists from a field of 77 contestants were announced early in Monday's show. They were picked last week during preliminary judging in the contest's swimsuit, evening gown and interview categories. Their names were not announced until Monday, allowing all 77 to be introduced to the television audience.
As soon as the final 15 had been selected, they immediately strutted across the stage in animal-print bikinis for the swimsuit competition. After the evening gown competition, five contestants were eliminated, and the judges chose the winner from the five remaining.
Missing from this year's contest was Miss Sweden, whose country is one of the few to win the crown three times. Isabel Lestapier Winqvist, 20, dropped out because many Swedes say the competition does not represent the modern woman.
Hours before the pageant began, dozens of protesters held a mock ceremony in downtown Mexico City that featured "Miss Marijuana," "Miss Sexual Health," "Miss Human Rights" and other candidates with obscenities written across their sashes. The group yelled "Neither ugly nor beautiful, should a woman be considered an object!"
Pageant organizers say the Miss Universe contest carefully selects women who are intelligent, well-mannered and cultured.
1999 Miss Teen USA Vanessa Minnillo and "Extra" weekend correspondent Mario Lopez hosted the live, two-hour telecast, broadcast on NBC and Telemundo, expected to be viewed by more than 600 million people in more than 180 countries.
The celebrity judges included actor James Kyson Lee, model Lindsay Clubine, Dallas Cowboys quarterback Tony Romo, rocker Dave Navarro, Olympic figure skating champion Michelle Kwan, celebrity hairstylist Ken Paves, fashion designer Marc Bouwer, "Project Runway" judge and Elle magazine fashion director Nina Garcia and former Miss Universe Dayanara Torres.
The pageant was last held in Mexico City in 1993, when Torres was crowned.
Miss Universe: http://www.missuniverse.com

More from "Entertainment"
---

UN: Yemeni IDPs number doubled
The United Nations has announced that the number of Yemeni internally displaced persons (IDPs) due the military aggression had doubled in less than two weeks.
In a statement issued on Wednesday, the United Nations Office for the Coordination of Humanitarian Affairs (OCHA) said that the number of Yemeni IDPs had increased twice in 19 governorates since 17 April 2015 when 150 thousand Yemeni IDPs were registered.
It warned of the gravity of situations in Yemen because of the aggression.
The statement pointed out that the big number of IDPs are from the northern Hajjah governorate, in addition to southern Al-Dhalea and Abyan governorates.


AI calls for probing into Yemen's civilian deaths by Saudi-led airstrikes
Amnesty International has called for investigating the killing of hundreds of civilians, including scores of children, by the Saudi Arabian-led airstrikes across Yemen.
"The month-long campaign of air strikes carried out by Saudi Arabia and its allies has transformed many parts of Yemen into a dangerous place for civilians," said Said Boumedouha, Deputy Director of Amnesty International's Middle East and North Africa Programme.
"Millions of people have been forced to live in a state of utter terror, afraid of being killed at home. Many feel they are left with no choice but to move away from their destroyed villages to an uncertain future."
The UN has stated that more than 550 civilians have been killed including more than 100 children since the military campaign began on 25 March.
Amnesty International said it has documented eight strikes in five densely populated areas, which are Sa'ada, Sana'a, Hodeida, Hajjah and Ibb, noting that several of these strikes raised concerns about compliance with the rules of international humanitarian law.
According its research, Amnesty International said at least 139 people, including at least 97 civilians, 33 of whom were children were killed during the strikes, and 460 individuals were injured, at least 157 whom are civilians.


OIC appeals to support Yemen with medical aid
The Organization of Islamic Cooperation (OIC) has appealed member states and civil society organizations (CSOs) to provide humanitarian aid to the Yemeni people, especially medical supplies to cope with the big number of injured as a result of the military aggression.
The Secretary General of the OIC Iyad Madani said, in a statement issued Monday, that the OIC is holding consultations with several civil society organizations that have consultative status in the organization to provide food and medical and humanitarian assistance to the Yemeni people.


Pakistan calls on resolving Yemen's crisis through dialogue
Pakistani Prime Minister Nawaz Sharif has renewed his country's desire to resolve Yemen's crisis in Yemen through talks, revealing that his government urges Iran to play a role in bringing various Yemeni parties to the dialogue.
In his statement issued Monday, Sharif said that his country wants to resolve Yemen crisis through talks.
He added that Islamabad urged Tehran to play a role to bring conflicting parties in Yemen to the dialogue table, the official news agency of Pakistan quoted the Prime Minister as saying in a statement.


Yemen: Zeid calls for investigations into civilian casualties
UN High Commissioner for Human Rights Zeid Ra'ad Al Hussein on Tuesday reminded all sides to the conflict in Yemen to ensure that attacks resulting in civilian casualties are promptly investigated and that international human rights and international humanitarian law are scrupulously respected during the conduct of hostilities in the country.
In addition to hundreds of fighters, at least 364 civilians are reported to have lost their lives since March 26, including at least 84 children and 25 women. Another 681 civilians – possibly more – have been injured. Dozens of public buildings, including hospitals, schools, airports and mosques have been destroyed in airstrikes, through shelling and other attacks.


Ban Ki-Moon Urges Return To Political Talks In Yemen
The UN secretary-general has said that two weeks of Saudi-led air strikes against Yemen, "have turned an internal political crisis into a violent conflict that risks deep and long-lasting regional repercussions".
Ban Ki-moon on Thursday told reporters that he was urging all countries in the region to go beyond national priorities and help the Yemeni people, saying "the last thing the region and our world need is more of the chaos and crimes we have seen in Libya and Syria".


Pakistan's Parliament Rejects Joining Saudi Coalition In Yemen
ISLAMABAD: On day five of the joint parliamentary session on Yemen, lawmakers approved a draft resolution proposing that Pakistan "should maintain neutrality in the conflict so as to be able to play a proactive diplomatic role to end the crisis".
It further said that the crisis in Yemen could "plunge the region into turmoil", calling upon the warring factions in Yemen to resolve their differences "peacefully and through dialogue".
The resolution noted that while the war in Yemen was not sectarian in nature, it had the potential of turning into a sectarian conflict and thereby having a critical fallout in the region, including within Pakistan.


UNICEF, ICRC medical aid landed in Sana'a
Two planeloads of medical aid landed in Sana'a on Friday.
The planes were sent by the United Nations Children's Fund (UNICEF) and the International Committee of the Red Cross (ICRC).
The UNICEF plane contained almost 37 tons of medical aid, which "will be delivered to the Ministry of Public Health and Population, to distribute them to hospitals in the needed areas," said Mohammed al-Asadi, the communication officer at UNICEF.