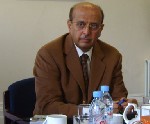 Dr. Saad Guerraoui Middle East Online
-
Yemen's Foreign Minister Dr Abu Bakr Al-Qirbi held a press conference Friday in the Yemeni embassy in London during which he talked about many issues evolving in his country and in the Middle East.
Qirbi was asked about the current situation in Saada province where the Houthi rebels are still surrounded by Yemeni military and security forces; the influx of Somali refugees; Yemen's bid to join the Gulf Corporation Council; and the crises in Palestinian territories, Iraq and Lebanon.
Developments in Yemen
Qirbi said that "there is misinformation about the Houthi rebels. They took up arms without any pretext. The Yemeni stance is that there are some Iranian sources which financed the rebels in addition to other Shiite groups in Iraq, Bahrain and other countries in the region where this sect exists."
The insurgency of the so-called "Faithful Youth" movement has been unfolding around Saada, capital of Saada province near the border with Saudi Arabia.
The rebels are referred to as "Houthis" after their slain commander, Hussein Badr Eddin al-Houthi. They reject the republican regime as "illegitimate" and call for the restoration of the Zaidi imamate, which was overthrown in a 1962 the September 26 revolution.
Al-Qirbi said that Yemeni forces "are still besieging them and hopefully they will surrender soon as the government does want to use force to intervene because they remain Yemenis," adding that "it is difficult to pinpoint which country is financing them."
As for Somali refugees, Qirbi noted that Somalia and Yemen share a long history of mutual relationships.
"We are suffering from the huge influx of Somali refugees and it is affecting our country's economy," the Yemeni FM said.
"There are currently more than 300,000 Somali refugees living in Yemen and the government is unable to provide the basic needs such as education and healthcare. Unfortunately, the United Nations High Commission for Refugees (UNHCR) is not taking into account our demands to get more relief assistance to refugees."
On the economic aspect, Qirbi said that more than 40% of international donors' aid has been allocated to various projects including schools, roads, electricity and so on.
International donors pledged $4.73 billion for Yemen last November in London in order to improve the country's infrastructure and fight poverty and illiteracy.
According to the British government, almost 50% of Yemenis are illiterate and 4 out of 10 live on less than $2 a day.
"Yemen's objective is to focus on an economic integration, boost trade with GCC and lure more investment from the bloc. Let's not forget that the GCC is Yemen's partner in foreign trade," Qirbi said.
"Many Gulf Corporation Council (GCC) countries are enthusiastic about Yemen becoming a member of the bloc, but we believe that working on the economic front is the real key to both parties' interests, which, therefore lead to a full integration."
GCC states, which forged their alliance in 1981, have been in no hurry to admit Yemen into their ranks. However, in December 2001, Yemen won GCC approval to join some of the bloc's councils - in the fields of education, social affairs, health and sports.
Situation in Iraq
Qirbi said that "what we see in Iraq is a very complicated matter. Neither the US nor Britain are able to come up with a solution to restore peace in Iraq. Yemen reiterated that the solution is, first and foremost, in the hands of Iraqis who should not exclude any party from reconciliation.
"I think there is a need for an Arab role to help find a solution to the crisis, which was previously opposed by Iraq. I think restoring stability in Iraq will not come from the Iraqi government only, but also from a national reconciliation and reviewing the constitution," he added.
US Defence Secretary Robert Gates urged on Friday Prime Minister Nouri al-Maliki to make stronger efforts at reconciliation amid fears that another round of mosque bombings will further inflame sectarian violence.
Palestinian crisis
"It is saddening to see Palestinians kill each other while there is an enemy out there. Palestinian unity is the only weapon to fight the Israeli enemy who is benefiting from the internecine strife to achieve its plans. It was the Palestinian unity which kept the struggle, and today we see it being torn apart," the Yemeni FM said.
Qirbi thinks that preserving Palestinian unity is the essence of the struggle against the Israeli occupation.
"Sadly, there is conspiracy from many parties against Palestinian unity. Because they think that, by dividing Palestinians, they will achieve their aims.
Hamas fighters consolidated their capture of the Gaza Strip, creating an "Islamist" enclave on Israel's doorstep and further dashing hopes for peace and Palestinian statehood.
Palestinian leader Mahmud Abbas named a new prime minister for his emergency cabinet after his secular Fatah forces were routed by Hamas in the besiege territory in the culmination of days of deadly gun battles.
The dramatic developments have effectively split the Palestinians into two geographically divided and separately ruled entities in Gaza and the occupied West Bank.
"Arab foreign ministers need to find ways to contain the escalating strife because we do not know the fate of Gaza Strip," Qirbi stressed.
Syrian-Lebanese crisis
Qirbi noted that "both Lebanon and Syria need to work together and prepare the ground for bilateral talks in a bid to find ways to resolve the political crisis. That's the stance that President Saleh took during his last visit to Washington and stressed that Syria should be considered as a key player in the region."
"We hope that Lebanese leaders will put Lebanon's interests in the forefront of their political agenda rather than factional interests. Dialogue is the only way to solve all the conflicts," he went on.
The 2005 assassination of former Lebanese PM Rafiq Hariri has been widely blamed on Syria, which itself condemned the murder and denies involvement.
Hariri's murder triggered protests dubbed the Cedar Revolution in Lebanon and international outrage that forced Syria to end 29 years of military domination of its smaller neighbour.
Source: Middle East Online