no comments in "Entertainment"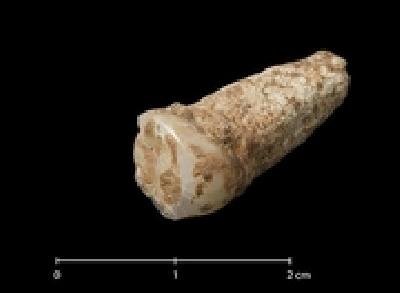 Million-year-old human tooth found in Spain
AFP - MADRID (AFP) - Spanish researchers on Friday said they had unearthed a human tooth more than one million years old, which they estimated to be the oldest human fossil remain ever discovered in western Europe.
Jose Maria Bermudez de Castro, co-director of research at the Atapuerca site said the molar, discovered on Wednesday in the Atapuerca Sierra in the northern province of Burgos, could be as much as 1.2 million years old.
"The tooth represents the oldest human fossil remain of western Europe. Now we finally have the anatomical evidence of the hominids that fabricated tools more than one million years ago," the Atapuerca Foundation said in a statement.
"Since it is an isolated fossil remain, it is not possible at this point to confirm which Homo species this tooth belongs to," the foundation added, but said first analyses "allow us to suppose it is an ancestor of Homo antecessor (pioneer)."
In 1994 at the nearby Gran Dolina site several Homo antecessor fossils were uncovered, suggesting human occupation of Europe around 800,000 years ago, whereas scientists had previously believed the continent had only been inhabited for around half a million years.
Subsequent findings in various sites across Spain lent further credence to the earlier date.
The Sierra Atapuerca contains several caves such as the Gran Dolina site, where fossils and stone tools of Europe's earliest known hominids have been found.
Researchers found the molar in the Sima del Elefante section of the sierra which had previously yielded fossils from mammals including bison, deer and bear as well as birds and a mouse.
The foundation said studies of the geological level suggested it was more than one million years old but that final results were being awaited prior to "publishing this extraordinary finding in a research journal of the highest scientific prestige."
Bermudez de Castro, one of three paleontologists leading the expedition, said the fossil appeared to be "well worn" and from an individual aged between 20-25.
"For the time being we have no idea what species but there is no doubt, from the (geological) level where the tooth was found, that it belonged to the oldest European found to date," he added.
Excavations in recent years in the sierra have uncovered human remains ranging from early humans through the Bronze Age to modern man.
Atapuerca's most famous site is "Sima de los Huesos" (pit of bones) and fossils found there date from at least 350,000 years ago.


More from "Entertainment"
---

Yemeni Female Prisoners: Between Bitterness And Social Rejection
Safi did not commit any crime that deserved imprisonment. She was only friends with a man in a society that did not believe in that. Since her childhood, she used to have her friend drive her places because she trusted him, and never thought about it. One night, though, his car stalled and he went to repair it. A group of men demanded money from them, otherwise they would call the police and imprison them for immorality. The two friends did not listen, and as a result, Safi found herself in jail.
Safi didn't face as many problems in prison as she did with society and her family. Once they found out, they left her to face things alone. One year passed, and when she was released, her eyes were filled with tears.


AL-Qirbi meets GCC office director
Foreign Minister Abu Bakr al-Qirbi met here on Tuesday with director of the GCC office in Sana'a Saad al-Arifi.
During the meeting, they reviewed the ongoing arrangements for the Friends of Yemen next meeting to be held in London on 29 April, as well as the latest developments in the local and international arenas.


Yemen, US discuss cooperation in information technology
Yemen and the US reviewed here on Tuesday aspects of joint cooperation in the telecommunication and information technology fields.
During their meeting, Minister of Telecommunication and Information Technology Ahmed bin Daghr and Chargé d'affaires of the US embassy Karen Sasahara discussed the possible means of Yemen to benefit from the US telecommunication experiences and technologies.


President Hadi congratulates Marie-Louise Coleiro for being elected as new President
President Abdu Rabbu Mansour Hadi sent a cable of congratulations to new President of Malta, Marie-Louise Coleiro Preca.
Hadi in his cable congratulated Coleiro for being elected by Malta's parliament as a new President of the Republic of Malta, wishing her all success in carrying out her new tasks.
Last week, Marie-Louise Coleiro Preca was elected President of the Republic of Malta. A Parliamentary resolution on 1st April 2014, approved her nomination as the ninth President of Malta.


Poverty And Early Marriage Two Sides For The Same Problem
Anxiety is affecting many Yemeni girls who are groaning under the burden of economic problems, which is one of the primary motivations for child marriage in the country. Mohammed Ali, a father of five daughters, said that he was fired from his job three years ago, and lost the income needed to provide them with a good education and comfortable life.
"I really feel guilty when I accept a marriage proposal for one of my daughters while she is still a child, but nothing is in my hands. Poverty leaves no way in front of me."
Academic studies say that 52% of Yemeni girls accept marriage in their early years to escape poverty. The study also said that boys are also affected by the phenomenon.


Yemen, UK review arrangements for Friends' meeting
Yemen and Britain reviewed on Monday the current arrangements for the Friends of Yemen meeting scheduled to be held in London on 29 April 2014.
This came during a meeting gathered in London Yemen's ambassador to Britain Abdullah al-Radhi and the British Minister of State for International Development Alan Duncan .
Al-Radhi underlined the importance of activating the Group of Friends through the new mechanism to be adopted in the London meeting.
In the meeting, Duncan praised the role and steps made by President Abd Rabbo Mansour Hadi during the transitional phase.


Friends of Yemen meeting in London 29 April
The governments of the UK, Saudi Arabia and Yemen will co-chair the next Friends of Yemen meeting in London on 29 April, the UK Foreign & Commonwealth Office said in a press release on Monday.
The Friends of Yemen was established in 2010 to co-ordinate international support for Yemen and comprises 39 countries and organisations.
"With the conclusion of the National Dialogue Conference (NDC) earlier this year, Yemen has entered a new stage in its transition towards a constitutional referendum and elections", the UK Foreign & Commonwealth Office added.


President Hadi receives sheiks and dignitaries from al-Mahra and Socotra Archipelago
President Abdu Rabbu Mansour Hadi received on Sunday at the Presidential Palace sheiks and dignitaries of al-Mahra and Socotra Archipelago provinces.
At the meeting, Hadi indicated to the critical situation Yemen has been experiencing nowadays, which needs as he said all national efforts in order to translate the NDC outcomes on the ground. "Yemen has got out of its crisis fairly and honorable,'' the President said.
He confirmed that the cooperation by the international community averted Yemen from dragging into several risks and dangers based on the expending the responsibility, wealth, and power under a new federal system which would achieve justice and fair.


Children's Parliament conducts election in Yemen next Monday
The Children's Parliament will conclude the election for the period 2014-2016 on Monday in Yemen, Save the Children announced in a press release.
"More than 30,000 students from 60 schools in Yemen will participate in the election to vote for their candidate who will represent them in the Yemeni Children's Parliament", Save the Children said.
The election will be launched by the Ministry of Education, government representatives, INGOs, NGOs representatives and the Media.


TIKA's support to agriculture sector in Marib discussed
Director of the Agriculture Office in Marib province Majed al-Doais discussed on Saturday with a delegation of the Turkish International Cooperation and Development Agency (TIKA) the agency's support to the agriculture sector in Marib.
The meeting also discussed the possibility of training and rehabilitation of rural women and developing the capacities of the agricultural cadres and the establishment of centers for agricultural exports.