no comments in "Entertainment"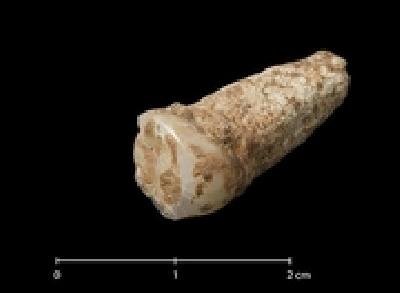 Million-year-old human tooth found in Spain
AFP - MADRID (AFP) - Spanish researchers on Friday said they had unearthed a human tooth more than one million years old, which they estimated to be the oldest human fossil remain ever discovered in western Europe.
Jose Maria Bermudez de Castro, co-director of research at the Atapuerca site said the molar, discovered on Wednesday in the Atapuerca Sierra in the northern province of Burgos, could be as much as 1.2 million years old.
"The tooth represents the oldest human fossil remain of western Europe. Now we finally have the anatomical evidence of the hominids that fabricated tools more than one million years ago," the Atapuerca Foundation said in a statement.
"Since it is an isolated fossil remain, it is not possible at this point to confirm which Homo species this tooth belongs to," the foundation added, but said first analyses "allow us to suppose it is an ancestor of Homo antecessor (pioneer)."
In 1994 at the nearby Gran Dolina site several Homo antecessor fossils were uncovered, suggesting human occupation of Europe around 800,000 years ago, whereas scientists had previously believed the continent had only been inhabited for around half a million years.
Subsequent findings in various sites across Spain lent further credence to the earlier date.
The Sierra Atapuerca contains several caves such as the Gran Dolina site, where fossils and stone tools of Europe's earliest known hominids have been found.
Researchers found the molar in the Sima del Elefante section of the sierra which had previously yielded fossils from mammals including bison, deer and bear as well as birds and a mouse.
The foundation said studies of the geological level suggested it was more than one million years old but that final results were being awaited prior to "publishing this extraordinary finding in a research journal of the highest scientific prestige."
Bermudez de Castro, one of three paleontologists leading the expedition, said the fossil appeared to be "well worn" and from an individual aged between 20-25.
"For the time being we have no idea what species but there is no doubt, from the (geological) level where the tooth was found, that it belonged to the oldest European found to date," he added.
Excavations in recent years in the sierra have uncovered human remains ranging from early humans through the Bronze Age to modern man.
Atapuerca's most famous site is "Sima de los Huesos" (pit of bones) and fossils found there date from at least 350,000 years ago.


More from "Entertainment"
---

Schools of Sana'a province condemn Saudi aggression's massacres against students
Schools of Sana'a province organized a protest rally to condemn the Saudi aggression air strikes the primary al-Falah school in Nehm district of Sana'a province last Tuesday.
The air strikes killed eight students and injured 15 others early morning of Tuesdasy.
The protesters expressed deep indignation against the Saudi aggression air strikes, considering it a new war crime against the Yemeni people and calling for the international community to move to stop Saudi massacres against Yemenis.


Saudi airstrikes kill 7 in Taiz
Saudi aggression airstrikes killed at least seven citizens in Taiz province, a locally official said on Sunday.
The seven citizens were killed by Saudi aggression airstrikes on a car, in- in al-Jahfah village of Maoza'a district. Many people were wounded.
The Saudi warplanes also hit al-Madeen area in the same district, the official said, number of causalities has not been identified yet until the moment.


Army recaptures new military bases from enemy Saudi troops
The army and poplar forces recaptured and secured military bases from the enemies in Najran governorate, an army official said on Sunday.
Enemy Saudi soldiers tried to restore the bases under intense air cover from the enemy warplanes, but they failed.
Dozens of Saudi troops were killed and more others wounded in the national military operations that took place on Saturday, the official added.
Moreover, the artillery of the national army and popular forces fired at a gathering of military vehicles of the enemy Saudi soldiers, destroying three of them and killed their crew members.


President meets sheikhs, notables of Nehm district
President of the Supreme Political Council Saleh al-Sammad met on Saturday at the Republican Palace in Sana'a with sheikhs and notables from Nehm district of Sana'a province.
In the meeting, al-Sammad hailed the national positions of Nehm sons, expressing condolences in his name and on behalf of the political leadership to the district's sheikhs over victims of the heinous massacre that targeted al


Saudi fighter jets continue brutal strikes against citizens in provinces
The Saudi aggression continued strikes against citizens in several province overnight, targeting private and public properties, a military official said on Saturday.
In Taiz province, Saudi war planes waged six strikes on al-Omari Junction in Thubab district and five raids hit citizens' house in al-Mocha district, leaving several dead and wounded among citizens, as well as dropping two sound bombs on al-Wazaiah district.
In Sa'ada province, al-Takhaih, Al-Majda areas


Army foils mercenaries' attempt to progress in Jawf
The army and popular forces repulsed the Saudi-paid mercenaries' attempt to advance toward Souk al-Ethnein in al-Maton district of Jawf province, a military official said on Saturday.
The official confirmed that 18 Saudi-paid mercenaries, including a mercenary leader called Yahya al-Haser, were killed and dozens were wounded, as well as the destruction of three armored and two military vehicles during the confrontations.


FM meets UN Resident Coordinator for Yemen
Foreign Minister Hisham Sharaf met here on Saturday with the Resident Coordinator / Humanitarian Coordinator for Yemen, Jamie McGoldrick.
The meeting dealt with a number of issues relating to the activities of the UN offices working in the country and ways of enhancing them and facilitating their performance to enable them to provide their services to Yemeni citizens.


GPC condemns Saudi aggression massacres in Taiz
General People's Congress (GPC) condemned massacres committed by the Saudi aggression against Rubaie and Mokha areas of Taiz province.
The massacres claimed the lives of 18 people and wounded 16 others.
GPC demanded the United Nations and the Security Council to bear its legal and humanity responsibility to protect civilians and stop the Saudi aggression's crimes against the Yemeni people.


Security raids medical-outfitted house to treat terrorists in Hodaida
Security services and popular committees raided a house outfitted with medical equipments to treat criminals and terrorists in Hodaida province, a security official said on Saturday.
The raid was carried out on Friday after the police was tipped off about the house.
Investigations are underway to pursue the other involved suspects.