no comments in "Entertainment"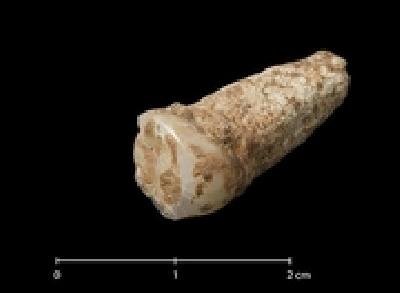 Million-year-old human tooth found in Spain
AFP - MADRID (AFP) - Spanish researchers on Friday said they had unearthed a human tooth more than one million years old, which they estimated to be the oldest human fossil remain ever discovered in western Europe.
Jose Maria Bermudez de Castro, co-director of research at the Atapuerca site said the molar, discovered on Wednesday in the Atapuerca Sierra in the northern province of Burgos, could be as much as 1.2 million years old.
"The tooth represents the oldest human fossil remain of western Europe. Now we finally have the anatomical evidence of the hominids that fabricated tools more than one million years ago," the Atapuerca Foundation said in a statement.
"Since it is an isolated fossil remain, it is not possible at this point to confirm which Homo species this tooth belongs to," the foundation added, but said first analyses "allow us to suppose it is an ancestor of Homo antecessor (pioneer)."
In 1994 at the nearby Gran Dolina site several Homo antecessor fossils were uncovered, suggesting human occupation of Europe around 800,000 years ago, whereas scientists had previously believed the continent had only been inhabited for around half a million years.
Subsequent findings in various sites across Spain lent further credence to the earlier date.
The Sierra Atapuerca contains several caves such as the Gran Dolina site, where fossils and stone tools of Europe's earliest known hominids have been found.
Researchers found the molar in the Sima del Elefante section of the sierra which had previously yielded fossils from mammals including bison, deer and bear as well as birds and a mouse.
The foundation said studies of the geological level suggested it was more than one million years old but that final results were being awaited prior to "publishing this extraordinary finding in a research journal of the highest scientific prestige."
Bermudez de Castro, one of three paleontologists leading the expedition, said the fossil appeared to be "well worn" and from an individual aged between 20-25.
"For the time being we have no idea what species but there is no doubt, from the (geological) level where the tooth was found, that it belonged to the oldest European found to date," he added.
Excavations in recent years in the sierra have uncovered human remains ranging from early humans through the Bronze Age to modern man.
Atapuerca's most famous site is "Sima de los Huesos" (pit of bones) and fossils found there date from at least 350,000 years ago.


More from "Entertainment"
---

Yemen, Saudi Arabia discuss cooperation in higher education field
Minister of Higher Education and Scientific Research Hisham Sharaf met on Monday with Charge d'Affaires of Saudi Embassy in Yemen Bandar al-Otaibi.
Sharaf and al-Otaibi discussed the bilateral cooperation aspects in the field of higher education and scientific research.
The meeting touched on a request made by Yemen for increasing the scholarships for Yemenis to study in the Saudi universities and the possibility of supporting the scientific research in Yemen.


Presidential decrees appointing officials at COCA and HATC issued
The Presidential decree No. 43 for 2014 was issued on Sunday on the regulation of the Supreme Judicial Council (SJC).
Also the Presidential decree No. 44 for 2014 was issued appointing officials at the Central Organization for Control and Auditing, (COCA) as follows;
- Ameen Mohamed Qassem al-Sherai, Undersecretary of Administrative Units & Subsidized Entities of Sector;
- Fahmi Mohamed Mansour Mohamed, Undersecretary of Audit Sector of Administrative Units & Subsidized Entities;


Hadi expresses condolences over Malaysian Airlines flight crash
President Abdu Rabbu Mansour Hadi sent on Friday a cable of condolences to King Almu'tasimu Billahi Muhibbuddin Tuanku of Malaysia, following Thursday's crash of a Malaysia Airlines plane in Ukraine.
Hadi in the cable offered his deep condolences to the families and loved ones of the victims and people of Malaysia.


WFP allocates $ 500 mln to improve food security in Yemen
Yemen and the United Nations World Food Programme (WFP) signed on Thursday a memorandum of understanding included providing support worth $ 500 million to improve the food security in Yemen.
The memorandum of understanding signed by Minister of Planning and International Cooperation Dr. Mohammed al-Saadi and the WFP representative in Yemen Bishaw Parajuli stipulated the allocation of the support to help about six million Yemenis to face the challenges of food scarcity and food insecurity.


Gunmen kill policeman, loot 1.6 mln in Hadramout
Gunmen have attacked a post office in Hadramout province, killing a security man and looting over 1.6 million rials.
Director General of Post Office of Hadramut valley and desert ,Ibrahim Ba-shuaib, explained to Saba that 12 militants riding a car stormed on Tuesday evening the post office in Hura town after they fired at the office guard who died immediately.


UN Survey shows 10 million Yemenis still struggle for food
A UN survey shows over 40 % of the Yemeni population still struggle for food, UNICEF said on Tuesday.
The survey's preliminary findings indicated that over 10 million Yemenis don't know where their next meal will come from, while around five million people were found to be severely food insecure, suffering from levels of hunger where external food assistance is generally required.
The Comprehensive Food Security Survey also shows that the prevalence of chronic malnutrition among children under the age of five is beyond the international


President Hadi receives GCC Director in Sana'a
President Abdu Rabbu Mansour Hadi received on Monday the Director of the Gulf Cooperation Council (GCC) office in Sana'a Sa'ad al-Arifi.
The nature of bilateral relations between Yemen and the GCC at various levels were discussed at the meeting along with the latest developments on the ground.
Hadi at the meeting expressed his thanks and appreciation to the efforts of the GCC's Countries and their support to Yemen at various circumstances and at different arenas.


G10 ambassadors condemn violence in Amran
The Group of Ten Ambassadors condemned on Monday the violence that has occurred in Amran and its surrounding areas.
In a statement issued by the Group on Monday and handed over to President Abdo Rabbo Mansour Hadi by the U.S. and British ambassadors to Yemen, the Group of Ten Ambassadors condemned the violence that has occurred in Amran and surrounding areas in the north including the taking of the 310th Brigade with all its equipment and burning of the compound.
The Group called on all parties to cease armed conflict that has claimed and continues to claim Yemeni lives. The Group stressed that the Houthis, militias affiliated with political parties, and all armed groups and parties involved in the violence, must stop the fighting, respect all cease-fire agreements they all have committed to, especially that of June 22nd, withdraw from Amran, and turn over weapons to authorities loyal to the national government.


President Hadi chairs meeting on latest developments
President and Supreme Commander of the Armed Forces Abdu Rabbu Mansour Hadi has chaired a meeting with Defense Minister Major General Mohammed Nasser Ahmed, Chief of staff, Major General Ahmed Ali al-Ashwal along with a number of military leaders..
The meeting discussed the latest developments on the ground especially events occurred in Amran province. He gave his orders to put security and military forces on alert in the capital Sana'a and neighboring provinces, praising the role played by security and armed forces in consolidating security, stability and public tranquility in


Decrees appointing officials at Ministry of Telecommunications issued
The Republican decree No. 111 for 2014 was issued on Thursday appointing officials at Ministry of Telecommunications and Information Technology as follows:
- Omar Awad Obid, Undersecretary for Technical Affairs;
- Mohamed Qassim al-Asebahi, Undersecretary for Supervision, Following-up and Inspection Affairs;
- Musleh Mohssen Al-Aziz, Assistant Undersecretary for Administrative Affairs;