no comments in "Entertainment"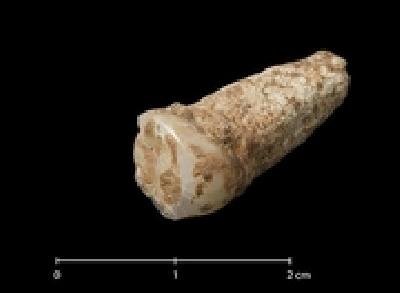 Million-year-old human tooth found in Spain
AFP - MADRID (AFP) - Spanish researchers on Friday said they had unearthed a human tooth more than one million years old, which they estimated to be the oldest human fossil remain ever discovered in western Europe.
Jose Maria Bermudez de Castro, co-director of research at the Atapuerca site said the molar, discovered on Wednesday in the Atapuerca Sierra in the northern province of Burgos, could be as much as 1.2 million years old.
"The tooth represents the oldest human fossil remain of western Europe. Now we finally have the anatomical evidence of the hominids that fabricated tools more than one million years ago," the Atapuerca Foundation said in a statement.
"Since it is an isolated fossil remain, it is not possible at this point to confirm which Homo species this tooth belongs to," the foundation added, but said first analyses "allow us to suppose it is an ancestor of Homo antecessor (pioneer)."
In 1994 at the nearby Gran Dolina site several Homo antecessor fossils were uncovered, suggesting human occupation of Europe around 800,000 years ago, whereas scientists had previously believed the continent had only been inhabited for around half a million years.
Subsequent findings in various sites across Spain lent further credence to the earlier date.
The Sierra Atapuerca contains several caves such as the Gran Dolina site, where fossils and stone tools of Europe's earliest known hominids have been found.
Researchers found the molar in the Sima del Elefante section of the sierra which had previously yielded fossils from mammals including bison, deer and bear as well as birds and a mouse.
The foundation said studies of the geological level suggested it was more than one million years old but that final results were being awaited prior to "publishing this extraordinary finding in a research journal of the highest scientific prestige."
Bermudez de Castro, one of three paleontologists leading the expedition, said the fossil appeared to be "well worn" and from an individual aged between 20-25.
"For the time being we have no idea what species but there is no doubt, from the (geological) level where the tooth was found, that it belonged to the oldest European found to date," he added.
Excavations in recent years in the sierra have uncovered human remains ranging from early humans through the Bronze Age to modern man.
Atapuerca's most famous site is "Sima de los Huesos" (pit of bones) and fossils found there date from at least 350,000 years ago.


More from "Entertainment"
---

ICRC concerned about situation in Yemen's Taiz
The International Committee of the Red Cross (ICRC) is seriously concerned about an increase in fighting in the city of Taiz.
In a press release issued on Friday, the ICRC said that there has been indiscriminate shelling of civilian areas, and essential infrastructure is being destroyed.
"We call on the parties on the ground in Taiz to allow the safe passage of ambulances, medical workers and aid workers so that lives can be saved and the delivery of urgently needed humanitarian assistance can be made possible," said the head of the ICRC in Taiz, Olivier Chassot.
The ICRC indicated that the health situation in the governorate is particularly dire. The handful of hospitals still functioning are having to deal with large numbers of wounded people as well as severe shortage of supplies. The ICRC has had serious difficulties in delivering lifesaving medical and surgical supplies to a number of hospitals in Taiz.


Saudi airstrike kills five in Sa'ada
Around five people were killed and two others injured in a Saudi-led coalition attack on a number of densely populated areas in Razih district in Sa'ada province.
A local source said the Saudi-led coalition launched hundreds of air raids during the past few days on various parts of Sa'ada, including Razih, Ghamer, Shatha, al-Dhaher, Haidan and Ketaf.


EU: Airstrikes against Hodeida port create immediate obstacle to imports
The European Union (EU) has affirmed that the recent airstrikes on Hodeida port imposed an immediate hindrance to imports food, fuel, medicines and other supplies.
A joint Statement by the Spokespersons of the High Representative / Vice-President Federica Mogherini and Commissioner for Humanitarian Aid and Crisis Management Christos Stylianides on the bombings in Yemen of port facilities in Hodeida said:
"The current conflict in Yemen is having a dramatic impact on the civilian population whose needs have reached alarming proportions. Access for the delivery of humanitarian aid and essential supplies, including fuel, food and basic commodities to ordinary Yemenis remains extremely difficult.


ICRC Chief: Humanitarian situation in Yemen is catastrophic
The head of the International Committee of the Red Cross (ICRC) has described the humanitarian situation in Yemen as catastrophic.
"The humanitarian situation is nothing short of catastrophic. Every family in Yemen has been affected by this conflict. The people are facing immense hardship. And it is getting worse by the day. The world needs to wake up to what is going on," said Peter Maurer, who just ended a three-day visit to Yemen on Tuesday.
"The compounded effects of intense fighting and import restrictions are having a dramatic impact on health care," Maurer said. "Health facilities have been massively attacked as well as suffering collateral damage."


ICRC President: We'll expand our activities in Yemen due to the disastrous situation
President of the International Committee of the Red Cross (ICRC) Peter Maurer has said that the ICRC will expand its activities in Yemen.
In a press conference in Sana'a on Sunday, Maurer affirmed that his visit will achieve positive and prompt results with regards to the humanitarian response in Yemen.
He said that he is optimistic that the visit will result in doubling the ICRC efforts to face this "disastrous" situation as what the ICRC and its partners currently provide cannot cover all the humanitarian aspects, specially that the country is under siege.


Saudi aggression continues bombing several governorates
The Saudi aggression continued on Sunday to launch airstrikes on several governorates in the country.
A security source said Saudi war jets launched a number of raids on different parts of Hajjah governorate, destroying the building of the Roads and Bridges Authority in Haradh town in addition to many air raids carried out by drones in the town.
The Saudi warplanes also launched many raids on al-Hamara area of Lahj governorate, which led to numerous fatalities, including women and children. More than 16 sorties were carried out against areas of Muthalath al-Anad, al-Anad Air Base, Abain and Karesh, the source said.
In Dhamar governorate, the Saudi warplanes launched an airstrike targeted the Yemeni Economic Corporation building in Ma'abar city.


UN: Yemeni IDPs number doubled
The United Nations has announced that the number of Yemeni internally displaced persons (IDPs) due the military aggression had doubled in less than two weeks.
In a statement issued on Wednesday, the United Nations Office for the Coordination of Humanitarian Affairs (OCHA) said that the number of Yemeni IDPs had increased twice in 19 governorates since 17 April 2015 when 150 thousand Yemeni IDPs were registered.
It warned of the gravity of situations in Yemen because of the aggression.
The statement pointed out that the big number of IDPs are from the northern Hajjah governorate, in addition to southern Al-Dhalea and Abyan governorates.


AI calls for probing into Yemen's civilian deaths by Saudi-led airstrikes
Amnesty International has called for investigating the killing of hundreds of civilians, including scores of children, by the Saudi Arabian-led airstrikes across Yemen.
"The month-long campaign of air strikes carried out by Saudi Arabia and its allies has transformed many parts of Yemen into a dangerous place for civilians," said Said Boumedouha, Deputy Director of Amnesty International's Middle East and North Africa Programme.
"Millions of people have been forced to live in a state of utter terror, afraid of being killed at home. Many feel they are left with no choice but to move away from their destroyed villages to an uncertain future."
The UN has stated that more than 550 civilians have been killed including more than 100 children since the military campaign began on 25 March.
Amnesty International said it has documented eight strikes in five densely populated areas, which are Sa'ada, Sana'a, Hodeida, Hajjah and Ibb, noting that several of these strikes raised concerns about compliance with the rules of international humanitarian law.
According its research, Amnesty International said at least 139 people, including at least 97 civilians, 33 of whom were children were killed during the strikes, and 460 individuals were injured, at least 157 whom are civilians.