no comments in "Entertainment"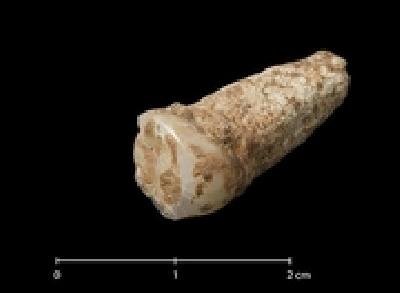 Million-year-old human tooth found in Spain
AFP - MADRID (AFP) - Spanish researchers on Friday said they had unearthed a human tooth more than one million years old, which they estimated to be the oldest human fossil remain ever discovered in western Europe.
Jose Maria Bermudez de Castro, co-director of research at the Atapuerca site said the molar, discovered on Wednesday in the Atapuerca Sierra in the northern province of Burgos, could be as much as 1.2 million years old.
"The tooth represents the oldest human fossil remain of western Europe. Now we finally have the anatomical evidence of the hominids that fabricated tools more than one million years ago," the Atapuerca Foundation said in a statement.
"Since it is an isolated fossil remain, it is not possible at this point to confirm which Homo species this tooth belongs to," the foundation added, but said first analyses "allow us to suppose it is an ancestor of Homo antecessor (pioneer)."
In 1994 at the nearby Gran Dolina site several Homo antecessor fossils were uncovered, suggesting human occupation of Europe around 800,000 years ago, whereas scientists had previously believed the continent had only been inhabited for around half a million years.
Subsequent findings in various sites across Spain lent further credence to the earlier date.
The Sierra Atapuerca contains several caves such as the Gran Dolina site, where fossils and stone tools of Europe's earliest known hominids have been found.
Researchers found the molar in the Sima del Elefante section of the sierra which had previously yielded fossils from mammals including bison, deer and bear as well as birds and a mouse.
The foundation said studies of the geological level suggested it was more than one million years old but that final results were being awaited prior to "publishing this extraordinary finding in a research journal of the highest scientific prestige."
Bermudez de Castro, one of three paleontologists leading the expedition, said the fossil appeared to be "well worn" and from an individual aged between 20-25.
"For the time being we have no idea what species but there is no doubt, from the (geological) level where the tooth was found, that it belonged to the oldest European found to date," he added.
Excavations in recent years in the sierra have uncovered human remains ranging from early humans through the Bronze Age to modern man.
Atapuerca's most famous site is "Sima de los Huesos" (pit of bones) and fossils found there date from at least 350,000 years ago.


More from "Entertainment"
---

Death Stole Them But Their Work Immortalized Them
Yemen has lost many women who have struggled in highlighting the role that women have played in social advancement. Death took these bright minds from Yemen, however, they have left a huge impact in Yemenis hearts and minds that cannot be erased.
In this special issue, National Yemen highlighted stories and achievements of three great women who passed away, though their achievements are still discussed. We are especially pleased to showcase that disabled Yemeni women also have much to contribute


Yemeni-Omani relations discussed in Cairo
Foreign Minister Abo Baker al-Qirbi discussed Sunday with Yousuf Bin Alawi Bin Abdullah, Minister Responsible for Foreign Affairs of Sultanate of Oman, aspects of the Yemeni-Omani distinctive relations and means to enhance them.


Yemeni, Saudi FM discuss issues of common concern
Foreign Minister Abo Baker al-Qirbi met Sunday with Saudi Arabia's Foreign Minister Prince Saud al-Faisal, in the meeting's sidelines of the 141st regular session of the Arab foreign ministers in Cairo.


Decrees identify, form Constitution Drafting Committee actions, members
The Presidential decrees Nos.(26& 27) for 2014 were issued Saturday determining the work mechanism of the Constitution Drafting Committee and forming the committee's members.
The first decree includes six chapters containing objectives and principles, constitution drafting committee and its general secretariat, the committee's mechanism of action, the preparation and publication of the constitution's draft, consultations and amendments, and finally the last chapter is on the final provisions.


FM partakes in Arab FMs meeting in Cairo
Foreign Minister Abu Bakr al-Qirbi headed on Saturday for Cairo, Egypt, to participate in the meeting of the 141st regular session of the Arab foreign ministers.
The meeting to kick off on Sunday at the Arab League's headquarters would discuss many important files, topped by the preparations for the upcoming Arab summit to be held in Kuwait on 25-26 of this month, al-Qirbi said.


Four terrorists, including Saudi, killed in attack in Abyan
Terrorist militants attacked on Saturday a checkpoint of the 115th Brigade in Lawder town in Abyan province, a military official said.
They were equipped with explosive belts, grenades and heavy machineguns, he said, adding that four of the attackers, including a Saudi national, were killed.
Two soldiers were killed and one other injured in the attack, the official said.


GPC delegation meets Prime Minister of Djibouti
General People's Congress (GPC) delegation met Prime Minister of Djibouti, Abdualqader Kamel in their visit to the country. During the meeting, both sides discussed bilateral relations and ways of developing them as well as discussing a number of issues of common interest between the two countries.
The occasion of the GPC delegation visit was to attend the 35 Conference of the ruling Party in Djibouti, which took place during the period from 3 until 4 March.


Statement Of GPC and its Allies on Security Council Resolution 2140
The General Congress Committee of the General People's Congress and the Higher Council of the National Democratic Coalition held an extraordinary meeting presided by Ali Abdullah Saleh , the president of the GPC ,during which they examined The Security Council Resolution 2140 on Yemen .
The General Congress Committee and the Coalition parties appreciated the resolution's reaffirmation of strong commitment to the unity , sovereignty , independence and territorial integrity of Yemen , its welcoming the outcomes of the comprehensive National Dialogue Conference which