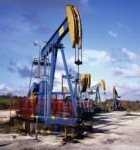 Almotamar.net Google
- TransGlobe Energy Corporation ("TransGlobe" or the "Company") (TSX: TGL)(AMEX: TGA) is pleased to announce a new Lam A oil producer at An Nagyah #26.
Block S-1, Republic of Yemen (25% working interest)
An Nagyah #26, which commenced drilling June 3, 2007, reached a total measured depth of 2,003 meters and was completed as a producing oil well after flowing at an initial rate of 2,609 barrels of light (43 degree API) oil per day and 1.3 million cubic feet of gas per day at a flowing pressure of 400 psi on a 48/64 inch choke. The An Nagyah #26 well was drilled 712 meters horizontally in the Lam A sandstone reservoir. The well will be placed on production through a pipeline connected to the An Nagyah facilities.
TransGlobe Energy is an oil and gas producer with proved reserves and production operations in The Republic of Yemen and in Alberta, Canada. TransGlobe has an active exploration and development program planned for 2007 in The Republic of Yemen, The Arab Republic of Egypt and in Canada. The Company owns working interests in more than 6.8 million acres across their operating regions. In 2006, the Company set new records for total proved reserves and annual production. Calgary-based, TransGlobe Energy's common shares trade as "TGL" on the Toronto Stock Exchange and "TGA" on the American Stock Exchange.