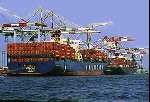 almotamar-net - ADEN
- Yemen exported 164,653 tons of food stuffs in 2005 via Aden port at Yr 13,826,772,000,000.
In 2005, the imports reached 3,303,216,000 tons which provided local markets with foodstuffs and others.
The General Director of Aden Customs Port Essam Shakir stated to Saba that custom revenues in 2005 are estimated at Yr
9,730,125,000,000. He pointed out that 375 ships and containers arrived in Aden port last year.