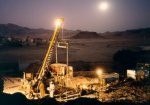 Almotamar.net
- Yemen and China signed Sunday three agreements in minerals area. Two of the agreements on for exploration of minerals in a number of Yemeni regions and a third on cooperation for supporting the Public Authority of Geological survey by the Chinese Stone Group Holding Company.
The agreements were signed for the Yemeni side by president of the Public Authority of Geological Survey and Mineral Wealth Dr Ismael al-Jund and for the Chinese side Governor of Monitoring ministry, the president of the Chinese Stone Group Holding Company.
The first agreement includes the Chinese company carrying out works of exploration and digging for gold, copper, zinc and lead in Malahi region, Abyan governorate.
According to the second agreement there is a concession for research and study of location of ores of copper, nickel and accompanying minerals in Hamour area in Taz governorate.
The third agreements stipulates that the Chinese company would offer the Public Authority of Geological Survey a financial support of $400 thousand in providing group of XRD and XRF apparatuses for developing the Authority's laboratories , microscopes and a group of software programmes.
Meanwhile the Chinese Governor of Monitoring ministry affirmed that success of the agreements would represent a good beginning for enhancement of partnership in other investment areas in the way serving the friendly relations between the Yemeni and Chinese peoples.
That affirmation came in a meeting by the Yemeni Prime Minister Dr Ali Mahmoud Mujawar with the Chinese official and his accompanying delegation presently visiting Yemen. The two sides discussed aspects of economic and investment cooperation in mining sector, communications and information technology and health products in addition to getting acquainted with other investment opportunities available for the Chinese friends for investing in development of industrial zones, energy, oil and tourism. The Yemeni prime minister reiterated his country's welcome of Chinese investments in various areas particularly in minerals field.