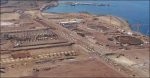 TRIBUNE-REVIEW Almotamar.net
- By C.M. Mortimer
TRIBUNE-REVIEW
Wednesday, July 11, 2007
A local manufacturing company is playing a part in America's energy future. Elliott Turbomachinery Co. is building and testing a series of huge compressors at its plant in Jeannette, Westmoreland County, to make liquid natural gas. The compressors will be shipped to Yemen in the oil- and natural gas-rich Middle East.
The six compressors, each weighing 50 to 60 tons, provide the cooling to chill natural gas and turn it into liquid natural gas -- LNG. It will be shipped to the U.S. to feed the nation's growing demand for natural gas.
"It's a huge effort to get to this level," said Andrew J. Manski, senior project engineer. He said Elliott's share of the project is worth about $60 million.
The U.S. consumes about 60 billion cubic feet of gas per day -- about a quarter of its energy consumption. Gas heats more than 60 million American homes and is the fuel of choice for generating electricity in many areas. The chemical industry also uses gas as a raw ingredient in products.
"Essentially, we're making a freezer for natural gas," said Kevin S. Eads, vice president of worldwide sales for Elliott, which makes industrial turbines and compressors, mostly for petrochemical-, oil- and gas-production markets. The company employs about 1,400 people worldwide, including about 700 at its main plant and headquarters in Jeannette.
The company's equipment was installed in the first LNG plant in Alaska in the 1960s, Eads said. "We have some of the world's largest refrigeration compressors used in the LNG market today."
Eads said the LNG market is important for Elliott in terms of developing engineering expertise, which can be adapted to other markets.
Along with Elliott's compressors, the unit being shipped to Yemen includes motors built by General Electric Co. and Converteam Inc. The components eventually will be linked. A full-scale test will be conducted in Jeannette to make sure they perform correctly before disassembly and shipment by rail to Baltimore, for shipment to Yemen.
There are two principal ways of transporting gas in large volumes.
One is by pipeline in its natural state as a gas, or as a liquid. To produce LNG, gas is chilled to minus 260 degrees Fahrenheit, which reduces volume by about 600 times. It's then shipped to receiving terminals, returned to its natural state and distributed through pipelines.
LNG imports to the United States this year are expected to reach 770 billion cubic feet -- about 210 billion cubic feet more than in 2006 as exports from Nigeria, Trinidad and Tobago increase, according to the federal Energy Information Administration.
Increased natural-gas demand also has caused prices to rise.
In 1999, gas traded on the New York Mercantile Exchange at an average price of $2.35 per million British thermal units. Last year, the price averaged $9.20. In between, there were price spikes as high as $20.
Hurricanes Katrina and Rita in 2005 resulted in the loss of more than 610 billion cubic feet of natural-gas production in the Gulf Coast.
The Yemen LNG project is that country's largest-ever planned investment -- budgeted at $3.7 billion. The plant will be built on the southeast coast of the Arabian peninsula on the Red Sea, and the project expects to tap about 9.15 trillion cubic feet of proven gas reserves.
The project is being developed by Yemen LNG Co. Ltd. Principal project shareholders include Total, a French oil company based in Paris; Hunt Oil, a privately held exploration and production company based in Dallas; Yemen Gas Co.; Korea Gas Corp.; and Hyundai Corp.
The project is expected to export of 6.7 million metric tons of LNG annually for more than 20 years, according to Yemen LNG. Initial production is destined for South Korea and the United States.