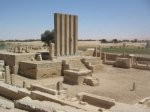 almotamar.net
- The Yemeni businessman Ahmed al-Shalif said Sunday the Yemeni-Gulf Comp [any for Investment would execute investment projects for building factories of cement and iron and steel in Marib governorate at a gross cost amounting to $780 million.
Al-Shalif who supervises construction of cement investment plants in Marib said the cost of Marib cement plant costs amounts to more than $260 million and will provide more than 6 thousand job opportunities for Yemenis with two thousand workers during the stages of construction and implementation. Implementation of the cement plants are to begin during next September and October. That will be followed by stages of investment in building factories for iron and steel and in other fields.
The statements came during al-Shalif meeting Sunday with governor of Marib Arif al-Zouka who informed him on the Yemeni steps and measures taken for the building of two cement plants in addition to a factory of iron and steel and a railroad linking Marib-Al-Jawf and Shabwa. .