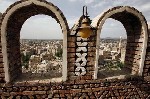 Almotamar.net
- The Yemeni government has hired a European PR firm and increased its security in a move to support its tourism industry following a recent suicide bomb attack, Gulf News reports.
Seven Spanish tourists were killed earlier this month when a suicide bomber drove a bomb-laded truck into the vehicle they were travelling in.
It was the first terrorist attack against tourists in the country, which currently earns around 2% of its GDP from tourism. Tour operators say the attack has lost them more than half of July bookings from European travellers.
Trademark Tourism, which operates affiliates in Europe, Asia and Latin America, has been appointed to portray the country as safe to travel in and emphasise its culture, history and natural beauty.
The government will host a series of summer festivals to attract Gulf tourists, which account for three quarters of tourism revenues. It will also invite foreign media to the country in coming months to report on their experiences and help change perceptions.
Minister of Tourism Nabeel Hassan Al Fakih said security measures include placing 15 additional police vehicles to protect the road to the popular Hadramaut region.
Arabian Business.com