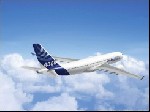 AFP
- Yemen's national airline Yemenia Airways said on Sunday it has initialed an order to purchase six A350 long-haul aircraft from European manufacturer Airbus.
"We have initialed an agreement to buy the planes, and we will finalise the deal in the coming months," Yemenia chairman Abdul Khaliq al-Qadi told Saba official news agency.
Airbus had said in March 2006 that Yemenia had signaled its intention to buy the six aircraft and had taken an option on four additional planes. The catalogue price for the six intended purchases is 972 million dollars (809 million euros).
Yemenia operates a nine-jet fleet, including four Airbus A310-300 and two Airbus A320-200, in addition to three Boeing 737-800, according to its website. It is expecting to take delivery of a new Boeing 737-800 in October, Qadi said.
source: AFP