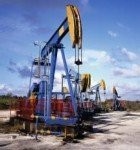 DNO
- OSLO (Thomson Financial) - DNO ASA said its average daily oil production jumped to 17,040 barrels per day during July from 13,580 the previous month, due to the start of production from its Tawke field in Northern Iraq and increased output from Yemen.
This compares with 12,310 bpd in May, and brings the second quarter average production figure to 12,841 bpd.
Norwegian oil minnow DNO said test production at Tawke had started in mid-to-late June, and has been included in the monthly reports for June and July, based on its 55 pct working interest.
As previously stated, the oil from Northern Iraq has been delivered to the domestic marked by tanker trucking.
The test production will continue in August, DNO said.
Elsewhere, DNO said production from its operations in Yemen had risen to 12,695 bpd in July from 11,991 in June, due to a combination of new wells and successful work-overs.
DNO has already said it expects oil production to increase to about 26,000 bpd by the end of the year, with an average 2007 production of 20,000 bpd.