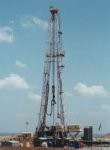 Almotamar.net
- Oil and minerals undersecretary Abdumalik Alama reveled Wednesday that Yemen has recently signed contracts with the Emirates Company of Al-Thani to carry out excavation work for gold in Wadi Binna and Kindy Mountain Company in Hajah governorate.
Alama told almotamar.net there are number of Arab and foreign companies that have shown their readiness to invest in oil sector among them the Kuwaiti Kopic and the Emirates Midas adding that was of the results of the investment opportunities conference held in the mid of this year.
He added that miming agreements have been signed with other companies for the excavation of lead and zinc from mines situated to the east of Sana'a. He pointed out there are indicators on possibility of discovery of new oil fields in the near future and consequently there will be investment in them.
On the question of Aden Refinery company privatization the undersecretary affirmed that the file has been closed for good because it was rejected by the parliament as it is being a sovereignty and strategic company.