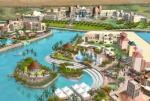 almotamar.net
- Three Kuwaiti companies plan to build real estate and tourist projects in Yemen in three Yemeni cities of Hudeida, Aden and Ibb at a cost of $5 billion.
A project to be built by Al-Kandari World Group consists of three tourist-estate-commercial projects in the tourist city of Ibb in central Yemen costing $ 500 million.
Secretary General of Ibb local council Amin Ali al-Wurafi and Abdulaziz al-Kandari vice-chairman f the board of directors and the executive manager of the al-Kandari Group discussed in a meeting held in Ibb governorate recently construction of the project and signed the understanding memorandum in the late of last June.
T5he two sides agreed to assign an engineer from the office of public works and general authority of
Of land survey to allocate the land and the area on which the project to be built and to be given to the al-Kandari Group to begin implementing the project.