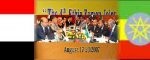 Almotamar.net
- Yemeni-Ethiopian Joint Ministerial Committee concluded meetings of its 4th session in the Ethiopian capital Addis Ababa on Monday. The committee's meetings over two days were co-chaired by Yemen's foreign minister Dr Abu Bake al-Qirbi and his Ethiopian counterpart Seyoum Mesfin.
Yemen and Ethiopia have stressed their keenness on development and expansion their cooperation in all areas. The two countries signed an agreement allowing Yemeni and Ethiopian diplomats into each country without the need for visa. The meetings also resulted in approving a programme on cultural cooperation for the period 2007-2009 and another programme in tourism covering the same period.
Minutes of the Yemeni-Ethiopian common committee also included agreements on enhancing cooperation in economic, investment, cultural, tourism, media, health, higher education, specifications and standardization fields in addition to agricultural, mining and energy areas.
The two sides have also agreed to form a follow-up committee for implementation of signed agreements to hold its meeting every six months.
In their closing statement the two sides emphasised the significance of doubling efforts for developing follow-up mechanisms in both countries. The two sides completed their discussion over a number of draft agreements and protocols of cooperation as well as executive programmes and memorandums of understanding. Among those draft agreements on establishment of a council for Yemeni and Ethiopian businessmen, an agreement on regulating Ethiopian labour in Yemen and an agreement for establishing a free zone including Yemen, Ethiopia, Sudan and Somalia.