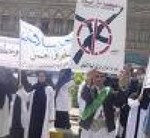 Al- Bawaba
- The Yemeni Interior Ministry has issued Thursday a statement banning the entrance of weapons to the capital Sana'a as of August 23. Official source at the ministry was quoted as saying by SABA that a high security committee has taken in a meeting on Wednesday a decision banning carrying weapons inside the capital and canceling all licenses of carrying weapons.
The source noted that the decision would include also prominent figures from the ruling General People's Congress (GPC) party.
The source affirmed that the ministry would seize the dissenters' weapons, noting that bodyguards of the senior officials could carry pistols only. "This procedure aims to make the capital weapon-free and also comes in line with the government's efforts to encourage tourism and investment", said the ministry.
"The phenomenon of carrying weapons has negative effects on development generally and in addition to the reduction of crimes and combating revenge and murder because of carrying weapons illegally."
Although Interior Ministry is working to cut the number of illegal weapons, unofficial sources said that there are some 50-60 million weapons in circulation, 18 major arms markets and several hundred gun-shops in Yemen.
© 2007 Al Bawaba (www.albawaba.com)