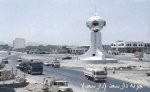 almotamar.net
- Al-A'moudi Group has beginning of this week started the actual work for the implementation of construction works of the sea bridge linking al-Mansourah to Khour Maksar in Aden with a cost amounting to government financing YR 800 million.
Engineer of the project Zahir al-Kuthairi said in a statement to almotamar.net actual work for the construction of the bridge began last Saturday, adding that the bridge is one of the strategic projects in the Yemeni economic capital Aden.
He said implementation of the bridge is based on accurate studies and world specifications securing building a project with excellent characteristics with regard to safety needs, burdens, resisting hard sea circumstances and navigation traffic. He added the bridge will be 83 metres long with 4 lanes; each lane is 3.65 metres wide and expected to be finished in 18 months.