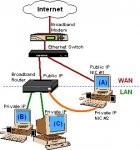 almotamar.net
- Yemen's Minister of Justice Dr Ghazi Shaif al-Aghbari said Sunday network linking of courts currently implemented in five major governorates as a first phase comes as part of reforms the ministry is carrying out in 2007 in implementation of President Ali Abdullah Saleh election platform, affirming that the project will be finished in the next few months.
The minister said the network connection will enable the judicial monitoring committee to watch work of courts and judges and follow up the case under consideration and the case decided for spelling out verdict.
The system, the minister said, would make it easier to follow up judicial procedures taken with regard to each case and to know the ones that are delayed and the reasons behind that and that will solve part of the problem of inability of the judicial cadre at the judicial inspection body.
During his visit on Sunday to the Appeals court at the capital, the first instance commercial court and the two sections of commercial appeal sections and the western capital court the minister inspected the work of judges on duty during the judicial vacation, urging them to commit to instructions regarding urgent cases that must be decided during the judicial vacation.