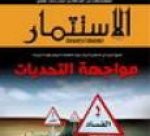 almotamar.net
- Al-Istithmar (investment) Establishment for Press and Printing announced Wednesday results of the poll conducted by Istithmar Magazine the 10 best companies in Yemen for the year 2006.
Winners in the poll were Bajil complex for food industries of the Yemeni Economic Establishment, which capture the first place as the best government industrial company; Yemen Mobile mixed company, al-Muthalath Company for Marketing and Advertising as the best Yemeni advertising company, Yemen Fish Company. Islamic Tadamun Bank occupied the second place as the best financial establishment; the United Company for Insurance came as the best Yemeni insurance company, the Yemeni Oil company as the best company offering oil services.
The National Company for Trade (Natco) came as the best marketing company, the Yemeni company for ghee and soap came as the best private sector industry company, al-Kaboos as the best Trade, industry and investment.
The minister of information Hassan al-Lawzi had earlier delivered a speech calling the joining of forces of both the private and public sectors for the realization of continuous communication resulting true development partnership.
The minister said "We are in need of specialised press realizing what the national economy needs of responsible keeping pace in the media aspect."
Almustathnir company for Press and Printing then awarded investment medal to the prime minister Dr Ali Mahmoud Mujawar, the businessman Ali Mohammed Saeed, chairman of the state authority for investment Salah Mohammed Saeed al-Attar, the minister of information Hassan al-Lawzi, Mohammed Abdeh Saeed, Abdulwahab Ali, Ahmed Abubakr Bazaraa, Abdulsallam al-Qamash, Ali Hassan al-Shatir, Abdulkarim al-Arhabi, Khalid Mahfoudh Bahah, Drs Rashad al-Alimi and Saleh Basura, Hamoud al-Soufi and Dr Amat al-Razzaq Hamad.