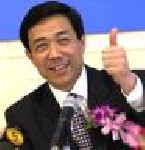 almotamar-net
-
Bilateral trade volume between China and Yemen reached 3 billion U.S. dollars in 2005, said Chinese Minister of Commerce Bo Xilai when meeting with the Yemeni Minister of Communications and Information Technology Abdul Malik al-Maalami.
Abdul Malik al-Maalami came to China to attend the seventh meeting of the China-Yemen economic and trade committee.
China will continue to encourage enterprises to cooperate economically with Yemen in various ways, said Bo, expressing his belief that more cooperation will consolidate traditional friendly and economic ties.
Although China is still a developing country, it is willing to offer Yemen help, he said.
Abdul Malik al-Maalami spoke highly of China's support for debt relief for the least developed countries and its decision to give zero-tariff treatment to some products from the least developed countries.
The two sides can further their economic cooperation in infrastructure, mining and petroleum, he said. Enditem