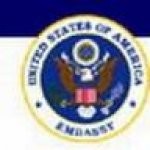 almotamar.net
- The US ambassador to Yemen signed in Sana'a Monday an agreement granting Yemen $ 515, 2144 thousand for help in connecting countryside areas in Yemen to electric power.
The US embassy announced that the aid is offered by the USAID agency to the Yemeni ministry of electricity and energy. In a pres release almotamar.net received a copy of it the embassy pointed out that the grant will be used in the technical help the ministry of electricity and energy needs to build the national programme for countryside electrification.
The Yemeni government at the signing ceremony was rep [resented by deputy premier, the minister of planning and international cooperation Dr Abdulkarim al-Arhabi and Electricity and Energy undersecretary.
The American ambassador stressed after the signing ceremony the United States keenness on supporting the continuous partnership between the US and Yemen. He added that obtaining electricity is a big challenge for economic development in this country and that they were happy to be able to support the Yemeni government in its efforts for facing this problem.
The US ambassador added that among the benefits from this programme is the increase in the agricultural production capacity and finding more job opportunities in addition to providing a better living standard for inhabitants of the rural areas.
Yemen is considered the least country in the Middle East and North Africa with regard to electricity coverage. Electricity provides only 49% of the population and only 20% in the rural areas and most of them get electricity service for a few hours every day, according to the US embassy release.