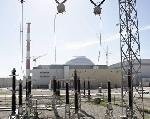 almotamar.net+dpa
- Yemen's Prime Minister Dr Ali Mujawar acquainted himself on Monday with the technical arrangements related to the building of nuclear power plant for production electric power in Yemen with a capacity of 5000 MW under investment system in the light of understanding memorandum signed Monday with the Ministry of Electricity and Power. That came in a meeting Monday of Prime Minister Mujawar with delegation of the American Gulf Investment Companies in the field of nuclear energy chaired by chairman of the board of directors of the American Powered Corporation James Jeffrey.
Jeffrey affirmed in the next year there would be carrying out of different studies related to the project in preparation for beginning the practical steps for construction of the plant.
On his part Dr Mujawar explained to members of the delegation an explanation on the Yemeni government plans for development of electric power sector by depending on clean alternatives for power production particularly the gas, clarifying that the first gas plant for power production would enter the National Electric Network in the first quarter of next year. The Yemeni prime minister pointed out that the new project would cause a qualitative transfer in the power sector in Yemen and would greatly influence the process of development and investment in Yemen.
Yemen on Monday signed an agreement with a US firm to prepare studies needed for building a nuclear reactor in the country and to help it make up for the shortfall in electricity supplies, government sources said.
The sources told Deutsche Presse-Agentur dpa that under the agreement, the Powered Corporation firm would make feasibility studies for building the plant with production capability of 5,000 MW.
Powered Corporation's Director for North & South America and Asia, James Jeffrey, signed the agreement with Yemeni Power and Electricity Minister Mustafa Bahran in Sana'a.
The plant would also help in seawater desalination, sources said.
Yemen, an impoverished country on the south-western tip of the Arabian Peninsula, has a shortage of power production and its cities suffer from daily power outages.
The entire power production capacity of the country's two main power plants is approximately 900 MW, which serves only about half of the population.
In last October, Yemeni President Ali Abdullah Saleh said his country was negotiating with US and Canadian firms to construct a nuclear power production plant in Yemen.
dpa