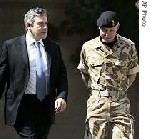 google news
- British Prime Minister Gordon Brown says about 1,000 British troops can soon leave Iraq. As VOA's Jim Randle reports, the Brtish leader visited Baghdad and Basra for talks with top Iraqi officials.
Prime Minister Brown said about one-fifth of the British force can head home in the next few months, leaving a contingent of about 4,500.
Brown met with Iraqi Prime Minister Nuri al Maliki, and told journalists, Iraqi forces can take over security duties in Basra during the next two months. That is the city that British troops turned over to their Iraqi counterparts before withdrawing to a base outside the town. Brown says it will soon be time to turn over responsibility for the whole province.
"I believe that within the next two months, we can move to provincial Iraqi control and that is the Iraqis taking responsibility for their own security in the whole of Basra," he said. "I believe that the 30,000 security forces that have been trained up, are capable of discharging these responsibilities for security."
Basra is the last of four southern Iraqi provinces that Britain was responsible for after the 2003 U.S.-led invasion of Iraq. The others were transferred to Iraqi control earlier.
Brown planned a visit to Basra for talks with British commanders. This is his first visit to Iraq as prime minister.
Brown is scheduled to address Britain's parliament next week to outline the future of Britain's role in Iraq.