no comments in "Entertainment"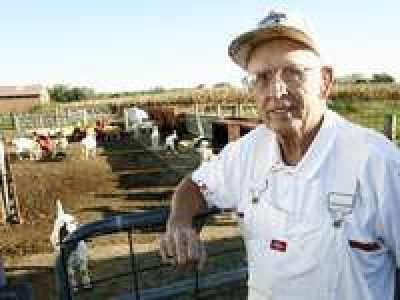 From Yemen to Indiana, then to see the goat man
Tim Evans - Farmer witnesses traditions the world over as immigrants flock to slaughter their own meat

HAZELWOOD, Ind. -- The sun is just beginning to peek over the horizon, but a crowd has already gathered at Tom Prince's farm.

It's an international group; a half-dozen languages echo in Prince's metal-sided barn as a man kneels over a bleating goat and says a brief Muslim prayer, then cuts the animal's throat with a swift slash using a long, sharp knife.
It's hard to imagine a more unlikely scene -- in Indiana or just about anywhere else in the U.S. -- than the early morning gatherings that take place here.
Since 1999, Prince has operated a self-service slaughterhouse 20 miles west of Indianapolis, specializing in providing goat meat to the area's growing international community.
His card reads "You Buy -- You Kill -- You Dress -- You Take Home," and business is booming.
The 80-year-old Prince holds court inside the spotless facility from 7 a.m. to 1 p.m. every Friday and Saturday, selling about 50 goats each weekend. In the weeks before Muslim and other religious holidays, sales often double.
Prince speaks in a slow Southern drawl. It's decidedly domestic compared to the array of languages spoken by customers who have made their way to Central Indiana from Morocco, Yemen, Nigeria, Eritrea, Togo, Kenya, Pakistan, Mexico and other places around the globe where goat is a dietary staple.
"I never thought I'd know so many people from different countries," said Prince, who developed his taste for goat -- often said to taste like a sweet mix of beef and pork -- as a child in rural Tennessee during the Depression.
In the past few years, goat meat has become available in a growing number of grocery stores and specialty markets. But Prince's business continues to grow -- even though he doesn't advertise or have a Web site -- thanks to word of mouth.
The attraction for many is the freshness of the meat and the low price. Prince sells goats for $1.40 a pound based on their live weight, and a 70-pound goat will provide about 35 pounds of meat -- so the meat costs customers an average of about $2.80 a pound, or $98.
For some, butchering their own meat helps maintain a link to cultures they've left behind.
Still others, including the large number of Muslims who buy from Prince, prefer to kill and butcher the animals themselves to ensure food preparation standards of their faith are followed.
Prince said he doesn't know a lot about Islam, but he is savvy enough as a businessman to make sure his operation meets their needs -- including situating the killing table so it faces east, toward Mecca.
Muslim customers like Ahmed Awad, 37, Indianapolis, say they appreciate the nod to their faith. A native of Yemen, Awad has been coming to the slaughterhouse about once a month for the past year to buy meat for his family.
"You can buy goat a lot of places," he explained, "but I want to kill it myself."
Prince raised and sold goats for years, but he didn't open the slaughterhouse until after he ran into trouble with state and local authorities.
"When I moved out here in 1969, I bought four or five goats just for myself," he said. "Then an African fellow came out and asked me if I'd sell him some. I sold him two and he said he'd be back next week for two more, and that's what really got me started."
In those days, Prince let customers butcher the animals in an old corncrib next to his barn. But as more people came to buy goats, the increasing activity -- along with the odd mix of visitors it attracted -- led to complaints.
"A government inspector drove up one day and told me I couldn't kill any more goats here," he said.
So Prince quit selling his goats, but former customers and others who heard about the "goat man" kept calling. The requests prompted him to get back into business and do it right, building a do-it-yourself slaughterhouse that complied with state health and sanitation standards.
"It's interesting learning how people from the different cultures prepare and use all the parts of a goat," said John Hadley, 44, a middle school janitor who lives nearby and is one of five part-time employees who help out at the slaughterhouse on Saturdays.
He said many African customers like to eat the heads, while Mexicans often keep the stomach to make soup.
Some skin the goat carcasses, while others burn off the hair with a propane torch or over a fire smoldering behind the slaughterhouse.
Either way, the customers who come out clearly aren't ready to embrace all of the new ways of their adopted home.
"We get a lot of fathers out here teaching their sons things they learned from their fathers and grandfathers," said Hadley. "It's really neat to see all these people keeping their . . . cultural traditions alive."

Tim Evans
tim.evans@indystar.com
Source: Google Alerts

More from "Entertainment"
---

Cabinet urges quick formation of new government
The Cabinet on Wednesday urged all the concerned political parties to accelerate the formation of a new government.
In its meeting, which was chaired by Acting Prime Minister and Minister of Electricity Abdullah al-Akwa, the cabinet pointed to the importance of the new government formation in stabilizing the political, economic and security situation and overcoming the current problems.
The cabinet's meeting touched on a number of topics, especially the issues related to the service and development aspects.
The cabinet stressed the need to keep the different educational institutions away from any conflicts and the importance of commitment of all parties to maintain the safety of employees and students in these education institutions.


President Hadi chairs meeting of his advisors panel
President Abd-Rabbu Mansour Hadi chaired on Monday a meeting of the panel of presidential advisors along with Prime Minister-designate Khalid Bahah.
They reviewed the latest developments in the local arena, besides procedures to form a new government and distribution of the ministerial portfolios in accordance with criteria agreed upon by all components.


Ibb University suspends study for security reasons
Ibb University Council approved Sunday the halt of study in different colleges for a week due to security reasons in the governorate.
The council formed a committee to communicate with the local authority and concerned political forces to withdraw their militants from near the university for it is an educational institution to the governorate's sons.


President urges PM-designate to accelerate forming new gov't
President Abd-Rabbu Mansour Hadi stressed on Sunday the importance of accelerating the formation of the new government based on the peace and national partnership agreement.
During the meeting, Hadi urged Khalid Bahah, the Prime Minister-designate, to meet with all political powers and components in order to form a new government based on the standards of integrity, competence and experience.
He also emphasized the importance of combining efforts of all political and societal components to face economic and security challenges in the country.


Bahah calls the international community to honor pledges to Yemen
The newly appointed Prime Minister Khaled Bahah has called the International Community to speed up honor their pledges they announced about during Yemen Friends' Meetings held in Riyadh, New York and London.
During a formal ceremony held at the UN Premises on Friday on the occasion of ending duties as Yemen's Permanent Representative to the UN, Bahah talked about providing suitable environment to enhance Yemen's economy to help improving humanitarian and political situation in Yemen, as well as providing protection to weak social categories.
He reviewed a series of political, security, economic, humanitarian and social challenges that will face the expected national partnership government he will form after his arrival to the country.


Yemen calls for int'l efforts to combat human trafficking
Yemen has called for gathering regional and international efforts to confront and combat the crime of human trafficking.
At the Regional Conference on combating human trafficking hosted by Sudan's capital Khartoum during October 13-16, Yemen stressed in its speech, which was delivered by the ambassador Abdulelah Hajar, the importance of seeking to eliminate the main causes of the growing phenomenon of asylum and illegal immigration, represented in poverty, illiteracy, unemployment ,oppression ,armed conflicts and natural disasters


Government discusses security, economic situations
The Cabinet discussed in its meeting held Thursday security and economic situations in the country, as well as the performance of the government's institutions.
Presided over by Deputy Prime Minister, Minister of Electricity Abdullah al-Akwa', the government studied measures must be adopted by all ministries and government bodies to deal with present challenges and the implementation of Peace and Partnership Agreement signed by political parties


Japan strongly condemns recent attacks in Yemen
Japan expressed on Wednesday deep concern and strong condemnation of the terrorist attacks taken place in Sana'a and Hadramout last week.
At least 66 people were killed on October 9 in a suicide bombing in the capital Sana'a and a car bomb attack on an army checkpoint in eastern Hadramout governorate.
"Japan expresses its absolute condemnation of these terrorist acts, and offers sincere condolences to the families of the victims and wishes a speedy recovery to the injured," the Japanese Foreign Ministry spokesman said in a statement posted on the Ministry's