no comments in "Entertainment"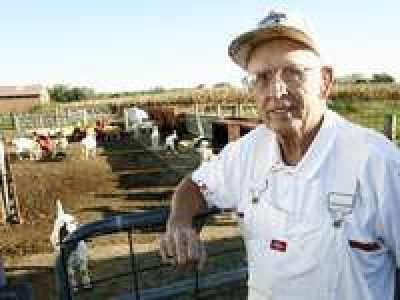 From Yemen to Indiana, then to see the goat man
Tim Evans - Farmer witnesses traditions the world over as immigrants flock to slaughter their own meat

HAZELWOOD, Ind. -- The sun is just beginning to peek over the horizon, but a crowd has already gathered at Tom Prince's farm.

It's an international group; a half-dozen languages echo in Prince's metal-sided barn as a man kneels over a bleating goat and says a brief Muslim prayer, then cuts the animal's throat with a swift slash using a long, sharp knife.
It's hard to imagine a more unlikely scene -- in Indiana or just about anywhere else in the U.S. -- than the early morning gatherings that take place here.
Since 1999, Prince has operated a self-service slaughterhouse 20 miles west of Indianapolis, specializing in providing goat meat to the area's growing international community.
His card reads "You Buy -- You Kill -- You Dress -- You Take Home," and business is booming.
The 80-year-old Prince holds court inside the spotless facility from 7 a.m. to 1 p.m. every Friday and Saturday, selling about 50 goats each weekend. In the weeks before Muslim and other religious holidays, sales often double.
Prince speaks in a slow Southern drawl. It's decidedly domestic compared to the array of languages spoken by customers who have made their way to Central Indiana from Morocco, Yemen, Nigeria, Eritrea, Togo, Kenya, Pakistan, Mexico and other places around the globe where goat is a dietary staple.
"I never thought I'd know so many people from different countries," said Prince, who developed his taste for goat -- often said to taste like a sweet mix of beef and pork -- as a child in rural Tennessee during the Depression.
In the past few years, goat meat has become available in a growing number of grocery stores and specialty markets. But Prince's business continues to grow -- even though he doesn't advertise or have a Web site -- thanks to word of mouth.
The attraction for many is the freshness of the meat and the low price. Prince sells goats for $1.40 a pound based on their live weight, and a 70-pound goat will provide about 35 pounds of meat -- so the meat costs customers an average of about $2.80 a pound, or $98.
For some, butchering their own meat helps maintain a link to cultures they've left behind.
Still others, including the large number of Muslims who buy from Prince, prefer to kill and butcher the animals themselves to ensure food preparation standards of their faith are followed.
Prince said he doesn't know a lot about Islam, but he is savvy enough as a businessman to make sure his operation meets their needs -- including situating the killing table so it faces east, toward Mecca.
Muslim customers like Ahmed Awad, 37, Indianapolis, say they appreciate the nod to their faith. A native of Yemen, Awad has been coming to the slaughterhouse about once a month for the past year to buy meat for his family.
"You can buy goat a lot of places," he explained, "but I want to kill it myself."
Prince raised and sold goats for years, but he didn't open the slaughterhouse until after he ran into trouble with state and local authorities.
"When I moved out here in 1969, I bought four or five goats just for myself," he said. "Then an African fellow came out and asked me if I'd sell him some. I sold him two and he said he'd be back next week for two more, and that's what really got me started."
In those days, Prince let customers butcher the animals in an old corncrib next to his barn. But as more people came to buy goats, the increasing activity -- along with the odd mix of visitors it attracted -- led to complaints.
"A government inspector drove up one day and told me I couldn't kill any more goats here," he said.
So Prince quit selling his goats, but former customers and others who heard about the "goat man" kept calling. The requests prompted him to get back into business and do it right, building a do-it-yourself slaughterhouse that complied with state health and sanitation standards.
"It's interesting learning how people from the different cultures prepare and use all the parts of a goat," said John Hadley, 44, a middle school janitor who lives nearby and is one of five part-time employees who help out at the slaughterhouse on Saturdays.
He said many African customers like to eat the heads, while Mexicans often keep the stomach to make soup.
Some skin the goat carcasses, while others burn off the hair with a propane torch or over a fire smoldering behind the slaughterhouse.
Either way, the customers who come out clearly aren't ready to embrace all of the new ways of their adopted home.
"We get a lot of fathers out here teaching their sons things they learned from their fathers and grandfathers," said Hadley. "It's really neat to see all these people keeping their . . . cultural traditions alive."

Tim Evans
tim.evans@indystar.com
Source: Google Alerts

More from "Entertainment"
---

Aggression launches new raids on Capital Sana'a
The Saudi aggression war jets continued on Saturday afternoon their criminal bombing on the capital Sana'a.
The hostile warplanes launched three violent raids on al-Nahdain area in al-Sabeen district for the fourth time within 24 hours after bombing the same area three times at dawn today, a local official said .


Over 7000 families displaced by aggression in Mareb
The number of the displaced families from inside and outside Mareb province amounted to 7,700 families due to the Saudi aggression on Yemen.
The internally displaced families in the districts of the province reached 6,200 families distributed on the districts of Majzar, Madghal, Raghwan, Serwah, Mareb city, al-Wadi, Harib al-Qramish, Harib Bihan, Bidbeda and al-Joba, the coordinator of the relief and humanitarian organization in the province Abdulkhaleq al-Sharif explained .
He pointed out that the number of the families displaced from Mareb to the capial Sana'a amounted to about 1,500 families distributed on several areas, including al-Hatarish, Bani al-Harish district, Daress, Mathbah, Aser, Shumilah, al-Sabeen and the 50th Street.


Saudi air raids kill three, injure others in Taiz
Three citizens were killed and other wounded in Saudi airstrikes targeted their house in Bir Basha area in Taiz province, a local official said on Monday.
These airstrikes coincided with other raids launched by the aggression warplanes and targeted Mokha Port and the quarantine premises, causing destruction in the port and the quarantine, the official explained.


One killed, two injured in Saudi raid in Sa'ada
A citizen was killed and his wife and son were seriously injured in a Saudi airstrike targeted their home in Baqem district of Sa'ada province, a security official said on Monday.
The raid led to the destruction of the house in full, the official added.
The aggression warplanes waged two raids on al-Sahn and Al Uqab areas in Sahar district, as well as two other raids on the villages of al-Marqoa and Al Lakon in Saqain district, he said.


Saudi aggression launches five sorties on Ibb
The Saudi-led coalition war jets waged five raids on Qa'a al-Jame'a in Assabrah district of Ibb province on Sunday.
No human casualties were reported due to the raids, a security official said, adding that the aggression strikes destroyed the remaining buildings and facilities in the area.
Qa'a al-Jame'a was hit by the Saudi aggression many times in the last ten days.


Russia calls for immediate cease-fire in Yemen
The Russian Foreign Ministry has described the Saudi-led coalition massacres in Yemen as horrific, calling for an immediate ceasefire and engaging in negations without preconditions.
The Russian Foreign Ministry's spokeswoman Maria Zakharova told a news conference in Moscow that despite the positive signals made by the negotiations between the Yemeni opposing parties in Geneva last December, but the armed confrontation in this country are still continuing, especially after the Saudi-led coalition announced the end of the truce and resumed the military operations.
" In recent days the media circulated horrible news about the Saudi-led coalition bombing on a MSF-supported hospital in Sa'ada, which resulted in deaths and injuries," she added.


Army regains control of three sites in Taiz
The army and popular committees managed on Tuesday to secure three sites in Taiz province, a local official said.
The army and popular committees carried out a military operation before Tuesday dawn ended up with regaining control over three sites in Addar junction between Nagd Qusaim and al-Misrakh in Taiz, the official added.


Three IEDs deactivated in Baidha
The security services and popular committees managed on Tuesday to defuse three improvised explosive devices (IEDs) in Baidha province.
A security official explained that two IEDs were discovered in Masha'ba area and the third one in the Ring Road in Baidha city, and all the IEDs were dismantled and defused by the competent teams.


Saudi aggression strikes MSF facility again
At least four people were killed on Sunday when a missile hit a hospital supported by Medecins Sans Frontieres (MSF) in Sa'ada province.
One projectile struck the Shiara Hospital in Razeh district at 9:20 a.m., according to MSF staff members on the ground. The MSF staff has been working in the hospital since November 2015.
"The hospital was hit by a projectile this morning, killing four people, wounding 10," In a statement issued by Doctors Without Borders/Médecins Sans Frontières (MSF),
Three of the injured are MSF staff members, two of whom are in critical condition, the medical humanitarian organization said. In addition, several buildings of the medical facility were collapsed.
"The number of casualties could rise as there could still be people trapped in the rubble." The organization said the staff has evacuated and patients are being transferred to Al Goumoury hospital in Sa'ada, which is also supported by MSF.
MSF cannot confirm the origin of the attack, but planes were seen flying over the facility at the time. At least one more projectile fell near the hospital.