no comments in "Entertainment"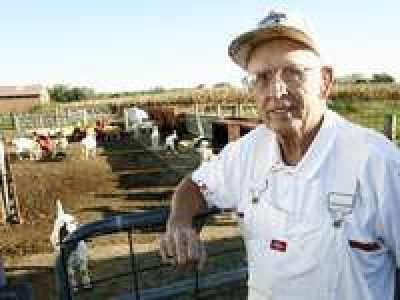 From Yemen to Indiana, then to see the goat man
Tim Evans - Farmer witnesses traditions the world over as immigrants flock to slaughter their own meat

HAZELWOOD, Ind. -- The sun is just beginning to peek over the horizon, but a crowd has already gathered at Tom Prince's farm.

It's an international group; a half-dozen languages echo in Prince's metal-sided barn as a man kneels over a bleating goat and says a brief Muslim prayer, then cuts the animal's throat with a swift slash using a long, sharp knife.
It's hard to imagine a more unlikely scene -- in Indiana or just about anywhere else in the U.S. -- than the early morning gatherings that take place here.
Since 1999, Prince has operated a self-service slaughterhouse 20 miles west of Indianapolis, specializing in providing goat meat to the area's growing international community.
His card reads "You Buy -- You Kill -- You Dress -- You Take Home," and business is booming.
The 80-year-old Prince holds court inside the spotless facility from 7 a.m. to 1 p.m. every Friday and Saturday, selling about 50 goats each weekend. In the weeks before Muslim and other religious holidays, sales often double.
Prince speaks in a slow Southern drawl. It's decidedly domestic compared to the array of languages spoken by customers who have made their way to Central Indiana from Morocco, Yemen, Nigeria, Eritrea, Togo, Kenya, Pakistan, Mexico and other places around the globe where goat is a dietary staple.
"I never thought I'd know so many people from different countries," said Prince, who developed his taste for goat -- often said to taste like a sweet mix of beef and pork -- as a child in rural Tennessee during the Depression.
In the past few years, goat meat has become available in a growing number of grocery stores and specialty markets. But Prince's business continues to grow -- even though he doesn't advertise or have a Web site -- thanks to word of mouth.
The attraction for many is the freshness of the meat and the low price. Prince sells goats for $1.40 a pound based on their live weight, and a 70-pound goat will provide about 35 pounds of meat -- so the meat costs customers an average of about $2.80 a pound, or $98.
For some, butchering their own meat helps maintain a link to cultures they've left behind.
Still others, including the large number of Muslims who buy from Prince, prefer to kill and butcher the animals themselves to ensure food preparation standards of their faith are followed.
Prince said he doesn't know a lot about Islam, but he is savvy enough as a businessman to make sure his operation meets their needs -- including situating the killing table so it faces east, toward Mecca.
Muslim customers like Ahmed Awad, 37, Indianapolis, say they appreciate the nod to their faith. A native of Yemen, Awad has been coming to the slaughterhouse about once a month for the past year to buy meat for his family.
"You can buy goat a lot of places," he explained, "but I want to kill it myself."
Prince raised and sold goats for years, but he didn't open the slaughterhouse until after he ran into trouble with state and local authorities.
"When I moved out here in 1969, I bought four or five goats just for myself," he said. "Then an African fellow came out and asked me if I'd sell him some. I sold him two and he said he'd be back next week for two more, and that's what really got me started."
In those days, Prince let customers butcher the animals in an old corncrib next to his barn. But as more people came to buy goats, the increasing activity -- along with the odd mix of visitors it attracted -- led to complaints.
"A government inspector drove up one day and told me I couldn't kill any more goats here," he said.
So Prince quit selling his goats, but former customers and others who heard about the "goat man" kept calling. The requests prompted him to get back into business and do it right, building a do-it-yourself slaughterhouse that complied with state health and sanitation standards.
"It's interesting learning how people from the different cultures prepare and use all the parts of a goat," said John Hadley, 44, a middle school janitor who lives nearby and is one of five part-time employees who help out at the slaughterhouse on Saturdays.
He said many African customers like to eat the heads, while Mexicans often keep the stomach to make soup.
Some skin the goat carcasses, while others burn off the hair with a propane torch or over a fire smoldering behind the slaughterhouse.
Either way, the customers who come out clearly aren't ready to embrace all of the new ways of their adopted home.
"We get a lot of fathers out here teaching their sons things they learned from their fathers and grandfathers," said Hadley. "It's really neat to see all these people keeping their . . . cultural traditions alive."

Tim Evans
tim.evans@indystar.com
Source: Google Alerts

More from "Entertainment"
---

Pakistan Denies Allegations Of Air Strikes Involvement In Yemen
A clarification message from the Pakistani embassy in Sana'a denies the rumors of Pakistan involvement on the air strikes against Yemen.
The source was surprised of including the name of Pakistan to the list of countries who participated in last night air strikes on Sana'a and other Yemeni cities.
Ambassador to Yemen Dr. Irfan Shami said, Several international media reports are erroneously reporting that Pakistani aircraft were involved in the air strikes launched by the GCC coalition against Yemen in the early morning of Thursday, 26 March 2015.


OIC calls Yemeni parties to give priority to Yemen interests
The Secretary-General of the Organization of Islamic Cooperation (OIC) Iyad Madani called on all Yemeni parties to act wisely and put the interests of Yemen above all political, tribal and sectarian accounts.
In a statement aired by Saudi Press Agency (SPA), Madani described the developments that are currently taking place in Yemen as "serious".
Madani urged all parties to avoid the military option and to response to the international and regional efforts that call for a comprehensive national dialogue to find a peaceful way out of the deepening crisis in Yemen


UN envoy says Yemen on 'rapid downward spiral' as tensions rise
Yemen stands on the brink of civil war amid deepening political tensions and an uptick in sectarian violence, United Nations Special Adviser Jamal Benomar warned [Yesterday] as he explained that only through dialogue could the country achieve a peaceful political transition.
Briefing the Security Council via video conference in a rare Sunday session, Mr. Benomar told the UN body that Yemen was on a "rapid downward spiral" as the conflict took on "worrying sectarian tones and deepening north-south divisions."
"Emotions are running extremely high and, unless solutions can be found, the country will fall into further violent confrontations," Mr. Benomar declared. "Events in Yemen are leading the country away from political settlement and to the edge of civil war."
The situation in Yemen has been rapidly deteriorating since the country formed a new Government in November 2014 aimed at ending a period of political turbulence and bringing about a full transition towards democracy. Nonetheless, the country has continued to be plagued by violence and mass political demonstrations despite UN efforts to bring about a peaceful political resolution


Yemen's unity, stability face huge threats : Egyptian FM
Yemen's unity and stability are under huge threats, which casts serious consequences for the Arab region and the international peace and security, Egypt's Foreign Minister Sameh Shoukry said on Monday.
"Yemen is facing multiple challenges, which makes it imperative to help Yemen and drag it away from the edge of the abyss ", Shoukry said in his speech during the Arab League Council meeting at the ministerial level held in Cairo.
He reiterated Egypt's support for the institutions of the state in Yemen to carry out their national responsibilities in maintaining the unity of Yemeni territory.


Humanitarian response plan requires US $747.5 mln for 2015: UN
The United Nations announced on Sunday the launch of the humanitarian response plan for Yemen for 2015 with an amount of US $747.5 million to deliver humanitarian aid to 8.2 million people.
Humanitarian Coordinator in Yemen Johannes Van Der Klaauw said that the latest developments in Yemen confirm the importance of continuing humanitarian aid and expanding its domain to reach millions of vulnerable Yemeni people.
"Despite the political unrest in Yemen, the humanitarian community will continue to work in Yemen at its full capacity and within strong partnerships with local communities and local partners," Klaauw added.
He said that the humanitarian agencies are adhered to continue to deliver emergency humanitarian assistance and to provide protection services for people within the vulnerable groups.
He called on all donors and concerned parties to support such efforts and provide humanitarian response plan for Yemen during the current year.


UN envoy denies deal with Houthis on presidential council formula
The UN envoy to Yemen Jamal Benomar has denied what was reported by some Arab and Yemeni media about an alleged deal between him and Houthis' leader on a presidential council formula.
"I deny altogether these erroneous interpretations", the UN envoy said.
Those who sit at the dialogue table to negotiate with the Houthis (Ansarullah) are Yemeni parties, including the party of the person who made the false statements referred to above, Benomar added.
The UN envoy's role is limited to facilitating the negotiation process and mediation between the parties, and therefore he is not a party to the negotiations, he explained.
He went on: "The UN envoy will not be a party to any agreement because he represents a neutral party that does not have political interests in Yemen."
The presidential council formula is not the idea of the UN envoy, but it is an option adopted by several negotiating parties", he affirmed.


UNSC calls on political parties to reach political agreement
The United Nations Security Council (UNSC) renewed on Wednesday its call for all political parties in Yemen to implement the Council's relevant resolutions, especially the resolution 2201.
The council urged Yemeni political parties to reach a political agreement based on the Gulf initiative and the Peace and National Partnership Agreement (PNPA), confirming its respect to the unity, sovereignty and territorial integrity of Yemen.
Chaired by Francois Delattre, the ambassador and Permanent Mission of France to the United Nations in New York, the UNSC confirmed its support for the efforts made by the UN Special adviser on Yemen Jamal Benomar.
In closed consultations which lasted for more than two hours, Delattre said, "We have heard Benomar's briefing over the latest developments in Yemen, reviewing our concerns the lack of political solutions as well as growing of terrorist threats due to the ongoing security vacuum."


Blast in fireworks store in Sana'a, no causalities: Police
A fireworks store was exploded in Shoub area in the Capital Sana'a on Sunday evening, an official security source said.
"There are no casualties," the official said. "The material losses were limited to the windows in the neighboring houses."
He said that the civil defense in collaboration with citizens managed to put out the fire