no comments in "Entertainment"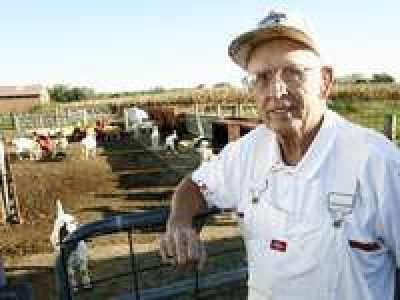 From Yemen to Indiana, then to see the goat man
Tim Evans - Farmer witnesses traditions the world over as immigrants flock to slaughter their own meat

HAZELWOOD, Ind. -- The sun is just beginning to peek over the horizon, but a crowd has already gathered at Tom Prince's farm.

It's an international group; a half-dozen languages echo in Prince's metal-sided barn as a man kneels over a bleating goat and says a brief Muslim prayer, then cuts the animal's throat with a swift slash using a long, sharp knife.
It's hard to imagine a more unlikely scene -- in Indiana or just about anywhere else in the U.S. -- than the early morning gatherings that take place here.
Since 1999, Prince has operated a self-service slaughterhouse 20 miles west of Indianapolis, specializing in providing goat meat to the area's growing international community.
His card reads "You Buy -- You Kill -- You Dress -- You Take Home," and business is booming.
The 80-year-old Prince holds court inside the spotless facility from 7 a.m. to 1 p.m. every Friday and Saturday, selling about 50 goats each weekend. In the weeks before Muslim and other religious holidays, sales often double.
Prince speaks in a slow Southern drawl. It's decidedly domestic compared to the array of languages spoken by customers who have made their way to Central Indiana from Morocco, Yemen, Nigeria, Eritrea, Togo, Kenya, Pakistan, Mexico and other places around the globe where goat is a dietary staple.
"I never thought I'd know so many people from different countries," said Prince, who developed his taste for goat -- often said to taste like a sweet mix of beef and pork -- as a child in rural Tennessee during the Depression.
In the past few years, goat meat has become available in a growing number of grocery stores and specialty markets. But Prince's business continues to grow -- even though he doesn't advertise or have a Web site -- thanks to word of mouth.
The attraction for many is the freshness of the meat and the low price. Prince sells goats for $1.40 a pound based on their live weight, and a 70-pound goat will provide about 35 pounds of meat -- so the meat costs customers an average of about $2.80 a pound, or $98.
For some, butchering their own meat helps maintain a link to cultures they've left behind.
Still others, including the large number of Muslims who buy from Prince, prefer to kill and butcher the animals themselves to ensure food preparation standards of their faith are followed.
Prince said he doesn't know a lot about Islam, but he is savvy enough as a businessman to make sure his operation meets their needs -- including situating the killing table so it faces east, toward Mecca.
Muslim customers like Ahmed Awad, 37, Indianapolis, say they appreciate the nod to their faith. A native of Yemen, Awad has been coming to the slaughterhouse about once a month for the past year to buy meat for his family.
"You can buy goat a lot of places," he explained, "but I want to kill it myself."
Prince raised and sold goats for years, but he didn't open the slaughterhouse until after he ran into trouble with state and local authorities.
"When I moved out here in 1969, I bought four or five goats just for myself," he said. "Then an African fellow came out and asked me if I'd sell him some. I sold him two and he said he'd be back next week for two more, and that's what really got me started."
In those days, Prince let customers butcher the animals in an old corncrib next to his barn. But as more people came to buy goats, the increasing activity -- along with the odd mix of visitors it attracted -- led to complaints.
"A government inspector drove up one day and told me I couldn't kill any more goats here," he said.
So Prince quit selling his goats, but former customers and others who heard about the "goat man" kept calling. The requests prompted him to get back into business and do it right, building a do-it-yourself slaughterhouse that complied with state health and sanitation standards.
"It's interesting learning how people from the different cultures prepare and use all the parts of a goat," said John Hadley, 44, a middle school janitor who lives nearby and is one of five part-time employees who help out at the slaughterhouse on Saturdays.
He said many African customers like to eat the heads, while Mexicans often keep the stomach to make soup.
Some skin the goat carcasses, while others burn off the hair with a propane torch or over a fire smoldering behind the slaughterhouse.
Either way, the customers who come out clearly aren't ready to embrace all of the new ways of their adopted home.
"We get a lot of fathers out here teaching their sons things they learned from their fathers and grandfathers," said Hadley. "It's really neat to see all these people keeping their . . . cultural traditions alive."

Tim Evans
tim.evans@indystar.com
Source: Google Alerts

More from "Entertainment"
---

Death Stole Them But Their Work Immortalized Them
Yemen has lost many women who have struggled in highlighting the role that women have played in social advancement. Death took these bright minds from Yemen, however, they have left a huge impact in Yemenis hearts and minds that cannot be erased.
In this special issue, National Yemen highlighted stories and achievements of three great women who passed away, though their achievements are still discussed. We are especially pleased to showcase that disabled Yemeni women also have much to contribute


Yemeni-Omani relations discussed in Cairo
Foreign Minister Abo Baker al-Qirbi discussed Sunday with Yousuf Bin Alawi Bin Abdullah, Minister Responsible for Foreign Affairs of Sultanate of Oman, aspects of the Yemeni-Omani distinctive relations and means to enhance them.


Yemeni, Saudi FM discuss issues of common concern
Foreign Minister Abo Baker al-Qirbi met Sunday with Saudi Arabia's Foreign Minister Prince Saud al-Faisal, in the meeting's sidelines of the 141st regular session of the Arab foreign ministers in Cairo.


Decrees identify, form Constitution Drafting Committee actions, members
The Presidential decrees Nos.(26& 27) for 2014 were issued Saturday determining the work mechanism of the Constitution Drafting Committee and forming the committee's members.
The first decree includes six chapters containing objectives and principles, constitution drafting committee and its general secretariat, the committee's mechanism of action, the preparation and publication of the constitution's draft, consultations and amendments, and finally the last chapter is on the final provisions.


FM partakes in Arab FMs meeting in Cairo
Foreign Minister Abu Bakr al-Qirbi headed on Saturday for Cairo, Egypt, to participate in the meeting of the 141st regular session of the Arab foreign ministers.
The meeting to kick off on Sunday at the Arab League's headquarters would discuss many important files, topped by the preparations for the upcoming Arab summit to be held in Kuwait on 25-26 of this month, al-Qirbi said.


Four terrorists, including Saudi, killed in attack in Abyan
Terrorist militants attacked on Saturday a checkpoint of the 115th Brigade in Lawder town in Abyan province, a military official said.
They were equipped with explosive belts, grenades and heavy machineguns, he said, adding that four of the attackers, including a Saudi national, were killed.
Two soldiers were killed and one other injured in the attack, the official said.


GPC delegation meets Prime Minister of Djibouti
General People's Congress (GPC) delegation met Prime Minister of Djibouti, Abdualqader Kamel in their visit to the country. During the meeting, both sides discussed bilateral relations and ways of developing them as well as discussing a number of issues of common interest between the two countries.
The occasion of the GPC delegation visit was to attend the 35 Conference of the ruling Party in Djibouti, which took place during the period from 3 until 4 March.


Statement Of GPC and its Allies on Security Council Resolution 2140
The General Congress Committee of the General People's Congress and the Higher Council of the National Democratic Coalition held an extraordinary meeting presided by Ali Abdullah Saleh , the president of the GPC ,during which they examined The Security Council Resolution 2140 on Yemen .
The General Congress Committee and the Coalition parties appreciated the resolution's reaffirmation of strong commitment to the unity , sovereignty , independence and territorial integrity of Yemen , its welcoming the outcomes of the comprehensive National Dialogue Conference which