no comments in "Entertainment"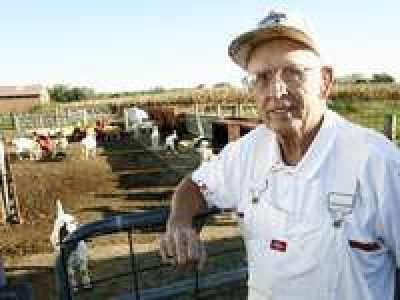 From Yemen to Indiana, then to see the goat man
Tim Evans - Farmer witnesses traditions the world over as immigrants flock to slaughter their own meat

HAZELWOOD, Ind. -- The sun is just beginning to peek over the horizon, but a crowd has already gathered at Tom Prince's farm.

It's an international group; a half-dozen languages echo in Prince's metal-sided barn as a man kneels over a bleating goat and says a brief Muslim prayer, then cuts the animal's throat with a swift slash using a long, sharp knife.
It's hard to imagine a more unlikely scene -- in Indiana or just about anywhere else in the U.S. -- than the early morning gatherings that take place here.
Since 1999, Prince has operated a self-service slaughterhouse 20 miles west of Indianapolis, specializing in providing goat meat to the area's growing international community.
His card reads "You Buy -- You Kill -- You Dress -- You Take Home," and business is booming.
The 80-year-old Prince holds court inside the spotless facility from 7 a.m. to 1 p.m. every Friday and Saturday, selling about 50 goats each weekend. In the weeks before Muslim and other religious holidays, sales often double.
Prince speaks in a slow Southern drawl. It's decidedly domestic compared to the array of languages spoken by customers who have made their way to Central Indiana from Morocco, Yemen, Nigeria, Eritrea, Togo, Kenya, Pakistan, Mexico and other places around the globe where goat is a dietary staple.
"I never thought I'd know so many people from different countries," said Prince, who developed his taste for goat -- often said to taste like a sweet mix of beef and pork -- as a child in rural Tennessee during the Depression.
In the past few years, goat meat has become available in a growing number of grocery stores and specialty markets. But Prince's business continues to grow -- even though he doesn't advertise or have a Web site -- thanks to word of mouth.
The attraction for many is the freshness of the meat and the low price. Prince sells goats for $1.40 a pound based on their live weight, and a 70-pound goat will provide about 35 pounds of meat -- so the meat costs customers an average of about $2.80 a pound, or $98.
For some, butchering their own meat helps maintain a link to cultures they've left behind.
Still others, including the large number of Muslims who buy from Prince, prefer to kill and butcher the animals themselves to ensure food preparation standards of their faith are followed.
Prince said he doesn't know a lot about Islam, but he is savvy enough as a businessman to make sure his operation meets their needs -- including situating the killing table so it faces east, toward Mecca.
Muslim customers like Ahmed Awad, 37, Indianapolis, say they appreciate the nod to their faith. A native of Yemen, Awad has been coming to the slaughterhouse about once a month for the past year to buy meat for his family.
"You can buy goat a lot of places," he explained, "but I want to kill it myself."
Prince raised and sold goats for years, but he didn't open the slaughterhouse until after he ran into trouble with state and local authorities.
"When I moved out here in 1969, I bought four or five goats just for myself," he said. "Then an African fellow came out and asked me if I'd sell him some. I sold him two and he said he'd be back next week for two more, and that's what really got me started."
In those days, Prince let customers butcher the animals in an old corncrib next to his barn. But as more people came to buy goats, the increasing activity -- along with the odd mix of visitors it attracted -- led to complaints.
"A government inspector drove up one day and told me I couldn't kill any more goats here," he said.
So Prince quit selling his goats, but former customers and others who heard about the "goat man" kept calling. The requests prompted him to get back into business and do it right, building a do-it-yourself slaughterhouse that complied with state health and sanitation standards.
"It's interesting learning how people from the different cultures prepare and use all the parts of a goat," said John Hadley, 44, a middle school janitor who lives nearby and is one of five part-time employees who help out at the slaughterhouse on Saturdays.
He said many African customers like to eat the heads, while Mexicans often keep the stomach to make soup.
Some skin the goat carcasses, while others burn off the hair with a propane torch or over a fire smoldering behind the slaughterhouse.
Either way, the customers who come out clearly aren't ready to embrace all of the new ways of their adopted home.
"We get a lot of fathers out here teaching their sons things they learned from their fathers and grandfathers," said Hadley. "It's really neat to see all these people keeping their . . . cultural traditions alive."

Tim Evans
tim.evans@indystar.com
Source: Google Alerts

More from "Entertainment"
---

Three terrorists elements arrested in Lahj
A military raid on houses in Hota town of Lahj province resulted on Sunday in arresting three terrorists elements, a military source at the Fourth Military Region Command said.
The military source said that a number of automatic weapons and RPG launchers and silencer pistol were found during the raid, noting that the military and security services are still investigating and pursuing the remnants of the terrorist elements and cells who fled from the area.


EU denounces diminishing transfer in Yemen
The European Union has denounced any act aiming at diminishing the political transfer in Yemen, stressing that parties involved in armed clashes must abandon their weapons they seized from state's army and to abide by effective laws.
In a release issued by the EU Commission today on the occasion of the International Day of Democracy under the motto "Sharing Youth in the Democratic Process," it made it clear the world is focusing on involving youth in the democratic process.
"Half of the population in Yemen is under 15 years and one third of the population is between 15-29," the release said. The released added that the Yemeni youth cannot wait more as they are aspiring for more prosperous future and calling for a new Yemen people share power and resources away of dominance of any group or individuals.


Yemen, US discuss bilateral cooperation
Deputy Prime Minister and Minister of Telecommunications and Information Technology Ahmed Bindaghr met here on Sunday with US ambassador to Yemen Matthew Tueller.
During the meeting, they discussed the current situation and latest political developments in Yemen and its security repercussions on the security situation in the capital and the country as well.
Bindaghr called on the sponsor states of the Gulf initiative to continue to support the efforts of President Abd Rabbu Mansour Hadi to succeed the political settlement in the country.


President Hadi receives sheikhs, social figures of Heziaz area
President Abd-Rabb Mansour Hadi on Saturday met with a number of Sheikhs, dignitaries, and social figures from Heziaz area, southern the capital Sana'a.
Hadi during the meeting said that Yemen now is facing critical situation due to current Houthi escalation in and around the capital Sana'a, which needs more caution and avoiding not entering in a conflict with Houthi armed militias.
"We don't mind, and under the constitution and laws, to organize peaceful protests, but trying to storm government facilities, schools, police stations or houses is something forbidden,'' President Hadi said.
He urged everyone to bear his national responsibility in order to avoid fighting in the capital


Yemen, UK discuss arrangements of Yemen Friends meeting
Yemen's ambassador to the United Kingdom Abdullah al-Radi met on Friday in London with British Minister of State for Middle East Affairs Tobias Ellwood.
In the meeting, al-Radi and Ellwood discussed the underway arrangements for the next meeting of Friends of Yemen Group scheduled on September 24 in New York, as well as the aspects of bilateral cooperation between the two countries.
The British minister confirmed his country's strong support to President Abd Rabbo Mansour Hadi to complete the entitlements of the transitional stage and translate the outcomes of the national dialogue conference (NDC). He stressed that the international community would not allow any group or party to obstruct Yemen's exit march to the prospects of harmony ,peace, development and prosperity.


US reiterates its keenness to support Yemen
The U.S. ambassador to Yemen Matthew Tueller reiterated on Thursday his country's keenness to support the political process in Yemen and to provide support to Yemen to face the entitlements of the current transitional phase.
In a meeting between Minister of Planning and International Cooperation Dr. Mohamed al-Saadi and the U.S. ambassador, the two sides reviewed the developments at the national arena and the cooperation between the two countries, as well as the underway arrangements for holding the meeting of the Group of Yemen Friends on September 24 in New York.


Yemen, US discuss cooperation in higher education
Yemen and the US discussed here on Wednesday the joint cooperation between the two countries in higher education and scientific research areas.
During the meeting, Minister of Higher Education and Scientific Research Hisham Sharaf and US ambassador to Yemen Matthew Tueller reviewed the measures to dispatch the top 10 high school graduate students to study in the US universities in 2014-2015.
Moreover, they discuss ways to increase the competitive opportunities for Yemeni postgraduate students within the Fulbright US Scholar Program.


President receives phone call from Saudi FM
- President Abd Rabbu Mansour Hadi received on Monday evening a phone call from Saudi Foreign Minister Saud al-Faisal.
During the phone conversation, al-Faisal voiced his country's concern over the current Houthi escalation in and around the capital Sana'a, and in Marib and Jawf provinces.
He also expressed discontent of Saudi Arabia along with the GCC other states over such actions by Houthis that aim to undermine the political settlement process in Yemen in accordance with the GCC-brokered deal.


Arab FMs condemn escalation in Sana'a
Arab Foreign Ministers have condemned political and security escalation in Sana'a, stressing their countries' full commitment to maintain Yemen's unity and sovereignty and rejection of any interference in its internal affairs.
In a statement issued on Sunday at the conclusion of the 142nd regular session of the Arab League Council, the Arab Foreign Ministers urged all Yemeni political forces, including Ansarallah, to abide by the initiative of the Presidential National Committee, which - as they said - is the proper and only solution to tackle the current crisis in Yemen, maintain its stability and security and complete the transition stage.