no comments in "Entertainment"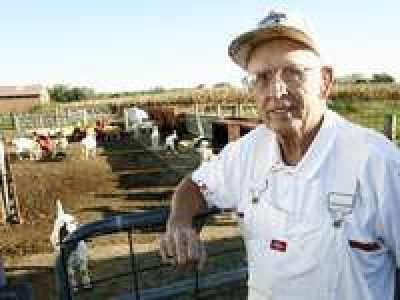 From Yemen to Indiana, then to see the goat man
Tim Evans - Farmer witnesses traditions the world over as immigrants flock to slaughter their own meat

HAZELWOOD, Ind. -- The sun is just beginning to peek over the horizon, but a crowd has already gathered at Tom Prince's farm.

It's an international group; a half-dozen languages echo in Prince's metal-sided barn as a man kneels over a bleating goat and says a brief Muslim prayer, then cuts the animal's throat with a swift slash using a long, sharp knife.
It's hard to imagine a more unlikely scene -- in Indiana or just about anywhere else in the U.S. -- than the early morning gatherings that take place here.
Since 1999, Prince has operated a self-service slaughterhouse 20 miles west of Indianapolis, specializing in providing goat meat to the area's growing international community.
His card reads "You Buy -- You Kill -- You Dress -- You Take Home," and business is booming.
The 80-year-old Prince holds court inside the spotless facility from 7 a.m. to 1 p.m. every Friday and Saturday, selling about 50 goats each weekend. In the weeks before Muslim and other religious holidays, sales often double.
Prince speaks in a slow Southern drawl. It's decidedly domestic compared to the array of languages spoken by customers who have made their way to Central Indiana from Morocco, Yemen, Nigeria, Eritrea, Togo, Kenya, Pakistan, Mexico and other places around the globe where goat is a dietary staple.
"I never thought I'd know so many people from different countries," said Prince, who developed his taste for goat -- often said to taste like a sweet mix of beef and pork -- as a child in rural Tennessee during the Depression.
In the past few years, goat meat has become available in a growing number of grocery stores and specialty markets. But Prince's business continues to grow -- even though he doesn't advertise or have a Web site -- thanks to word of mouth.
The attraction for many is the freshness of the meat and the low price. Prince sells goats for $1.40 a pound based on their live weight, and a 70-pound goat will provide about 35 pounds of meat -- so the meat costs customers an average of about $2.80 a pound, or $98.
For some, butchering their own meat helps maintain a link to cultures they've left behind.
Still others, including the large number of Muslims who buy from Prince, prefer to kill and butcher the animals themselves to ensure food preparation standards of their faith are followed.
Prince said he doesn't know a lot about Islam, but he is savvy enough as a businessman to make sure his operation meets their needs -- including situating the killing table so it faces east, toward Mecca.
Muslim customers like Ahmed Awad, 37, Indianapolis, say they appreciate the nod to their faith. A native of Yemen, Awad has been coming to the slaughterhouse about once a month for the past year to buy meat for his family.
"You can buy goat a lot of places," he explained, "but I want to kill it myself."
Prince raised and sold goats for years, but he didn't open the slaughterhouse until after he ran into trouble with state and local authorities.
"When I moved out here in 1969, I bought four or five goats just for myself," he said. "Then an African fellow came out and asked me if I'd sell him some. I sold him two and he said he'd be back next week for two more, and that's what really got me started."
In those days, Prince let customers butcher the animals in an old corncrib next to his barn. But as more people came to buy goats, the increasing activity -- along with the odd mix of visitors it attracted -- led to complaints.
"A government inspector drove up one day and told me I couldn't kill any more goats here," he said.
So Prince quit selling his goats, but former customers and others who heard about the "goat man" kept calling. The requests prompted him to get back into business and do it right, building a do-it-yourself slaughterhouse that complied with state health and sanitation standards.
"It's interesting learning how people from the different cultures prepare and use all the parts of a goat," said John Hadley, 44, a middle school janitor who lives nearby and is one of five part-time employees who help out at the slaughterhouse on Saturdays.
He said many African customers like to eat the heads, while Mexicans often keep the stomach to make soup.
Some skin the goat carcasses, while others burn off the hair with a propane torch or over a fire smoldering behind the slaughterhouse.
Either way, the customers who come out clearly aren't ready to embrace all of the new ways of their adopted home.
"We get a lot of fathers out here teaching their sons things they learned from their fathers and grandfathers," said Hadley. "It's really neat to see all these people keeping their . . . cultural traditions alive."

Tim Evans
tim.evans@indystar.com
Source: Google Alerts

More from "Entertainment"
---

Saudi aggression continues bombing several governorates
The Saudi aggression continued on Sunday to launch airstrikes on several governorates in the country.
A security source said Saudi war jets launched a number of raids on different parts of Hajjah governorate, destroying the building of the Roads and Bridges Authority in Haradh town in addition to many air raids carried out by drones in the town.
The Saudi warplanes also launched many raids on al-Hamara area of Lahj governorate, which led to numerous fatalities, including women and children. More than 16 sorties were carried out against areas of Muthalath al-Anad, al-Anad Air Base, Abain and Karesh, the source said.
In Dhamar governorate, the Saudi warplanes launched an airstrike targeted the Yemeni Economic Corporation building in Ma'abar city.


UN: Yemeni IDPs number doubled
The United Nations has announced that the number of Yemeni internally displaced persons (IDPs) due the military aggression had doubled in less than two weeks.
In a statement issued on Wednesday, the United Nations Office for the Coordination of Humanitarian Affairs (OCHA) said that the number of Yemeni IDPs had increased twice in 19 governorates since 17 April 2015 when 150 thousand Yemeni IDPs were registered.
It warned of the gravity of situations in Yemen because of the aggression.
The statement pointed out that the big number of IDPs are from the northern Hajjah governorate, in addition to southern Al-Dhalea and Abyan governorates.


AI calls for probing into Yemen's civilian deaths by Saudi-led airstrikes
Amnesty International has called for investigating the killing of hundreds of civilians, including scores of children, by the Saudi Arabian-led airstrikes across Yemen.
"The month-long campaign of air strikes carried out by Saudi Arabia and its allies has transformed many parts of Yemen into a dangerous place for civilians," said Said Boumedouha, Deputy Director of Amnesty International's Middle East and North Africa Programme.
"Millions of people have been forced to live in a state of utter terror, afraid of being killed at home. Many feel they are left with no choice but to move away from their destroyed villages to an uncertain future."
The UN has stated that more than 550 civilians have been killed including more than 100 children since the military campaign began on 25 March.
Amnesty International said it has documented eight strikes in five densely populated areas, which are Sa'ada, Sana'a, Hodeida, Hajjah and Ibb, noting that several of these strikes raised concerns about compliance with the rules of international humanitarian law.
According its research, Amnesty International said at least 139 people, including at least 97 civilians, 33 of whom were children were killed during the strikes, and 460 individuals were injured, at least 157 whom are civilians.


OIC appeals to support Yemen with medical aid
The Organization of Islamic Cooperation (OIC) has appealed member states and civil society organizations (CSOs) to provide humanitarian aid to the Yemeni people, especially medical supplies to cope with the big number of injured as a result of the military aggression.
The Secretary General of the OIC Iyad Madani said, in a statement issued Monday, that the OIC is holding consultations with several civil society organizations that have consultative status in the organization to provide food and medical and humanitarian assistance to the Yemeni people.


Pakistan calls on resolving Yemen's crisis through dialogue
Pakistani Prime Minister Nawaz Sharif has renewed his country's desire to resolve Yemen's crisis in Yemen through talks, revealing that his government urges Iran to play a role in bringing various Yemeni parties to the dialogue.
In his statement issued Monday, Sharif said that his country wants to resolve Yemen crisis through talks.
He added that Islamabad urged Tehran to play a role to bring conflicting parties in Yemen to the dialogue table, the official news agency of Pakistan quoted the Prime Minister as saying in a statement.


Yemen: Zeid calls for investigations into civilian casualties
UN High Commissioner for Human Rights Zeid Ra'ad Al Hussein on Tuesday reminded all sides to the conflict in Yemen to ensure that attacks resulting in civilian casualties are promptly investigated and that international human rights and international humanitarian law are scrupulously respected during the conduct of hostilities in the country.
In addition to hundreds of fighters, at least 364 civilians are reported to have lost their lives since March 26, including at least 84 children and 25 women. Another 681 civilians – possibly more – have been injured. Dozens of public buildings, including hospitals, schools, airports and mosques have been destroyed in airstrikes, through shelling and other attacks.


Ban Ki-Moon Urges Return To Political Talks In Yemen
The UN secretary-general has said that two weeks of Saudi-led air strikes against Yemen, "have turned an internal political crisis into a violent conflict that risks deep and long-lasting regional repercussions".
Ban Ki-moon on Thursday told reporters that he was urging all countries in the region to go beyond national priorities and help the Yemeni people, saying "the last thing the region and our world need is more of the chaos and crimes we have seen in Libya and Syria".


Pakistan's Parliament Rejects Joining Saudi Coalition In Yemen
ISLAMABAD: On day five of the joint parliamentary session on Yemen, lawmakers approved a draft resolution proposing that Pakistan "should maintain neutrality in the conflict so as to be able to play a proactive diplomatic role to end the crisis".
It further said that the crisis in Yemen could "plunge the region into turmoil", calling upon the warring factions in Yemen to resolve their differences "peacefully and through dialogue".
The resolution noted that while the war in Yemen was not sectarian in nature, it had the potential of turning into a sectarian conflict and thereby having a critical fallout in the region, including within Pakistan.