no comments in "Yemen in news"

Yemeni President calls international community to put and end to Israeli violations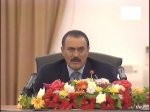 SANA
- Sana'a, Yemen, 12 Oct. (SANA), President Ali Abdullah Saleh of Yemen on Friday called international community to put an end to Israeli violations against the Palestinian people and exert pressures on Israel to accept the Arab peace initiative.
"International community should practice more pressure on Israel to implement international relevant resolutions, particularly in regards to the Arab-Israeli conflict, and establish the Palestinian independent state with Jerusalem as its capital," President Saleh added in a speech on Eid al-Fitr.
"We are following with deep sorrow and pain the latest developments in the region and pressures to which the Arab and Islamic nations are exposed, the matter that requires intensifying efforts to boost the nation's capability to face challenges," Yemeni President stressed.
More from "Yemen in news"
---

Parliament debates National Salvation Government's new program
On Wednesday, Parliament took up debate on the new National Salvation Government's program ahead of a confidence vote expected to be very soon.
The session led by parliament speaker Yahya al-Raiee with the attendance of the parliament members and members of the new cabinet, including prime minister Abdulaziz bin Habtour.
The program was presented by bin Habtour and his cabinet


Saudi aggression launch 24 air strikes on Saada, dropping cluster bombs
Saudi aggression warplanes launched 24 air strikes on several areas of Bakim district in Saada province over the past hours, dropping in some raids cluster bombs, a security official said on Monday.
The official said the strikes targeted Menabih, Thaban, Al Maghram and Al Zamah areas of the border district, killing a mother and her two daughters, as


6 Pakistani sailors killed in Saudi airstrike off Mokha, others still missing
Six Pakistani sailors were killed overnight when American-Saudi aggression fighter jets hit directly their boat off the coast of Mokha in Taiz province, an official said on Monday.
The official said the boat was carrying 12 Pakistani nationals fishing on the Red Sea when it was air attacked, killing six Pakistani fishermen while the others were still missing.