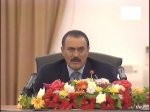 SANA
- Sana'a, Yemen, 12 Oct. (SANA), President Ali Abdullah Saleh of Yemen on Friday called international community to put an end to Israeli violations against the Palestinian people and exert pressures on Israel to accept the Arab peace initiative.
"International community should practice more pressure on Israel to implement international relevant resolutions, particularly in regards to the Arab-Israeli conflict, and establish the Palestinian independent state with Jerusalem as its capital," President Saleh added in a speech on Eid al-Fitr.
"We are following with deep sorrow and pain the latest developments in the region and pressures to which the Arab and Islamic nations are exposed, the matter that requires intensifying efforts to boost the nation's capability to face challenges," Yemeni President stressed.