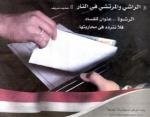 almotamar.net
- The Yemeni ministry of transport on Sunday turned over a number of officials to the general prosecution after it was proved they were involved in financial and administrative violations, an action comes under the efforts the government is exerting for fighting corruption.
Reliable sources at the ministry of transport said the leadership of the ministry sent a director general and number of administrative units at the ministry to the general prosecution for their involvement in financial and administrative violations.
Althawra.net website quoted sources at the ministry as saying the officials were turned over to the prosecution after preliminary investigations proved their committing of those violations. The sources pointed out that the measures are part of the treatments and reformation of some failures in the ministry and combating corruption as well as protection of public property.
Official sources had mentioned last week that a number files of influential personalities, politicians, military and security officials and some of those considered to be part of the authority would be referred to the Supreme National Anti-Corruption Authority in prelude to send them to the general prosecution, among them a former defence minister in addition to persons in the government and parliament.
These measures are part of implementation of president Ali Abdullah Saleh's programme and the programme of the General People's Congress government that stipulated fighting financial and administrative corruption and part of the package of reforms Yemen is implementing with the help of the World Bank.