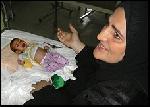 almotamar-net
- Al-Jawf-The medical team for controlling diseases and epidemics survey, that affiliates to the ministry of public health and population, could control the increasing cases of diarrhea among children in al-Khab and al-Shaaf districts of al-Jawf.
Consultant of the ministry of public health for epidemics affairs Dr. Yasin Abdul-Wareth, head of the team, said that efforts of the team obtained fruitful consequences as it could limit the spread of the disease among children under five years.
Most of 51 infected children quickly responded to the medicine the team offered for them and the number of deaths among children due to the disease noticeably decreased, said Abdul-Wareth.
He said that no death case registered since the treatment campaign started on Wednesday, January 18. He said that the ten deaths occurred before arrival of the the to the area.
The initial tests at the Central Library in Sana'a found out that there was no growth of a microbe or a germ and that the results was negative.