Medical teams control children diarrhea in al-Jawf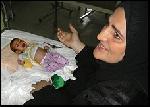 almotamar-net
- Al-Jawf-The medical team for controlling diseases and epidemics survey, that affiliates to the ministry of public health and population, could control the increasing cases of diarrhea among children in al-Khab and al-Shaaf districts of al-Jawf.
Consultant of the ministry of public health for epidemics affairs Dr. Yasin Abdul-Wareth, head of the team, said that efforts of the team obtained fruitful consequences as it could limit the spread of the disease among children under five years.
Most of 51 infected children quickly responded to the medicine the team offered for them and the number of deaths among children due to the disease noticeably decreased, said Abdul-Wareth.
He said that no death case registered since the treatment campaign started on Wednesday, January 18. He said that the ten deaths occurred before arrival of the the to the area.
The initial tests at the Central Library in Sana'a found out that there was no growth of a microbe or a germ and that the results was negative.
---

Saudi aggression wages 21 airstrikes on Hodeida
Saudi aggression coalition waged 16 air raids on a bridge the province of Hodeida overnight, while the enemy warships shelled Al-Tohayta district in Hodeida.
A security official source said that the aggression coalition warplanes waged 16 raids on the bridge linking directorates of Al-Tohayta and al-Torba, completely


Saudi aggression wounds 3 women, girl in 42 airstrikes over 24 hours
Saudi aggression warplanes and its mercenaries continued targeting the civilians and their properties in several provinces over the past 24 hours, a military official said on Thursday.
The 42 airstrikes targeted the provinces of Sana'a, Sa'ada, Mareb, Taiz, Hajjh, Jizan.
Three women and a girl were wounded in the airstrikes on the civilian targets.


Somali community denounces Saudi criminal airstrike on Somali refugees
The Somali community in Yemen denounced the Saudi aggression coalition's airstrike against the Somali refugees off the Yemeni Red Sea port city of Hodeida.
In a statement obtained by Saba, the Somali community denounced the aggression coalition targeting the boat carrying Somali refugees in the Red Sea, near


Saudi paid mercenaries pounded in Taiz
The artillery of the army and popular forces shelled gatherings of Saudi-paid mercenaries in Taiz province, a military official said on Tuesday.
The shelling the mercenaries in al-Kadahah area of al-Ma'afarah distrit, Salah area, behind al-kanday wabar, al-Mukalal and Usayfarah areas, the official added.


Foreign, Agriculture Ministers meet FAO Resident Representative
Minister of Foreign Affairs Eng. Hisham Sharaf and Minister of Agriculture Ghazi Al-Ahwal met on Tuesday with the Resident Representative of the Food and Agriculture Organization of the United Nations (FAO) in Sana'a Dr. Salah El Hajj.
The meeting reviewed aspects of cooperation between Yemen and FAO, especially with regard to the food security situation in Yemen.