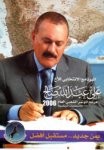 almotamar.net
- Chairman of the non-governmental investment authority for the implementation of President Ali Abdullah Saleh's election platform Dr Ahmed Omar Bamashmous said the authority has completed the structure and regulations of carrying out it job and the programmes of implementation.
He said the organisation has drawn up detailed programmes concerning the activities of axes and areas included in the platform and the members have made tangible programmes each in line with his field of specialization.
In a statement published Thursday by 236 September newspaper Bamashmous made it clear that the programmes were prepared in a form of a book and were delivered to offices of the presidency office. He expects there will be a meeting of the organisation with president Saleh where there will be discussion of the programmes and in the light of that the committee will publish its field work.
The work of this non-governmental organisation focuses on accurate division of axes of the election programme of the president in all its aspects in addition to analyses of its topics. It will put a vision on how to implement the programme and fix a time span for that as well as what has been implemented by all institutions of the state. Afterwards the organisation will present recommendations to the president of the republic on each matter the axes of the programme have covered at all levels.