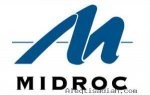 almotamar.net
- A meeting was held at the Free Zone in Aden included the Saudi Group Mabruk of Al-Amoudi that is decided to construct a sugar factory at the free Zone of Aden at a cost estimated at $300 million, the leadership of the Islamic Bank which finances the project and the German company of BMA specialised in manufacturing equipment and machines of sugar factories.
At the meeting the governor of Aden Ahmed Mohammed al-Kuhlani affirmed keenness of Aden governorate leadership on encouraging investment projects in the city and in translation of directives by president Ali Abdullah Saleh aimed at pushing the process of investment in implementation of the president's election programme for preparing investment climate including the offer of all facilities for overcoming difficulties for investors.
Head of the Free Zone in Aden talked in the meeting about the privileges and investment opportunities in the Free Zone as well as taxation exempts and other facilities stipulated in the investment law in Yemen.
Representatives of Al-Amoudi group talked on stages of the project and construction and the importance of building it in Yemen and its participation in employing labour and that the production capacity of the factory will cover Yemen and Africa needs.
The representative of the German BMA company affirmed that the company would use modern technology in the project to be built in Aden.