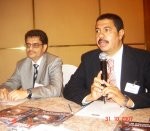 almotamar.net
- Yemen's minister of oil and mineral Khalid Mahfoudh Bhah denied Wednesday any side effects of the Jabal Al-Tair Island volcano on sea oil sectors situated in the Red Sea.
Bahah explained at the opening of promotional a symposium on open sectors and the 4th international competition for oil investment are very far from volcano periphery and there was no concern about them.
During his response to questions by the world companies taking part in the symposium Bahah confirmed there were no problems concerning the border block near the Oman and Saudi Arabia or in the sea areas facing the African coast? He pointed out that border demarcation with the two countries contributed to development of cooperation and determining the oil blocks and expansion of cooperation.
Bahah called on world oil companies to benefit from the large opportunities of oil and natural gas in Yemen and to enter in a partnership with the Yemeni government for developing the oil sector. Bahah also welcomed foreign investments, affirming that Yemen is a virgin country and has open fields and companies should begin competition now better than later when it can be more difficult. He said Yemen has already signed 83 oil agreements and no agreement has been cancelled and that embodies credibility of the government of Yemen in respecting its pledges.
On his part Eng. Nassr al-Hamidi deputy of the Exploration and Oil Production Establishment said Yemen's oil reserves amounted to 10. 4 billion barrels and its gas reserves amount to 18.2 trillion cubic meters while in the previous period it was 16 trillion cubic meters.