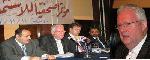 almotamar.net
- NAMG Company Ltd announced in Sana'a Sunday it is prepared to invest in $70 billion-worth projects in Yemen in the next twenty years.
The agent of the company in Yemen Eng. Nabil Mujahid al-Quhali said Sunday in a press conference held for the company in Sana'a that his company NAMG Ltd, which is active in fields of Finance, Construction, Exploration and Production for Crude Oil and Consultancy for Design, Feasibility and Evaluation is prepared to $70 billion in projects of infrastructure , construction of wind wind-generated power stations, indicating that the company has concluded a basic agreement with Yemen's Electricity Ministry to develop a feasibility study for supply of a wind farm to produce 1000 Mw.
Al-Quhali added that the company is ready to bear all costs of survey and study for financing the projects planned to be constructed and the government of Yemen has to give the company the suitable sites, pointing out that the company's capital is $390 billion and is prepared to in invest in Yemen in basic projects amounting to $70 billion.
The company pointed out in a pres release published Sunday it intends to build and finance 12 investment projects in the next ten years and those projects are the building of oil refinery on Red Sea coast with a production capacity of 225 thousand bpd. This is to be constructed in a two phase basis of bpd and 110,000 bpd. Our proposal is for a refinery that produces very low (7%) Fuel Oil, so there is little wastage and maximizes the returns from the processing. During the BOT period, the refinery will undergo a constant updating process to ensure it runs efficiently during that lifetime, ensuring that, at expiry and handover in full to the Government of Republic of Yemen, the plant will remain an advanced site.
Another projects proposed by the company are to build another oil refinery in Aden, designing and construction of a railroad linking Yemen to Saudi Arabia with increase of shipment capacity via the railroad directly to the main ports and the linkage between cities. Other projects proposed by the company are the building of supply of ready power stations, exploration of minerals in addition to building modern residential units and financing projects of water and electricity and development of airports as well as building tourist resorts and development of other tourist projects.
It is to be mentioned that the company of NAMG Ltd is active in electric energy; oil explorations and its headquarters are in America, Cyprus. Singapore and it is owned and operated by British.